A view at the top - Jonathan Kirby considers the Open final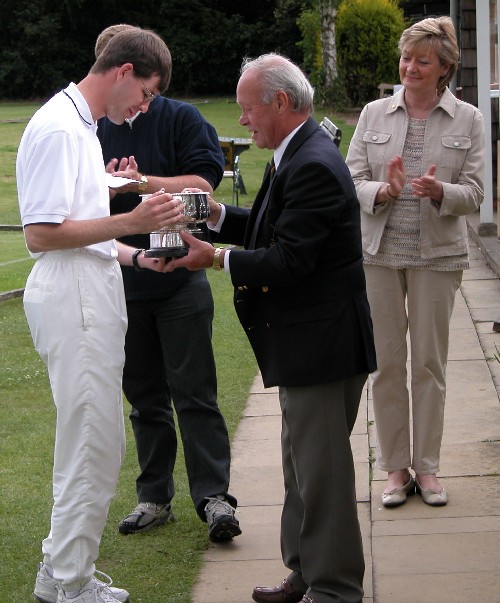 Jonathan Kirby receiving his trophy at the 2004 Open
by Jonathan Kirby
11th July 2006 (
AC - Championships
)
Nick Parish asked the Nottingham list "What was the consensus on whether Reg was right to peg out one ball after missing the peg out?", Jonathan answered:
I didn't hear a consensus view, but I think he was probably right to do so.
If he didn't then Rob could go to 1b with a leave than only gave Reg a 30yd shot that he probably wouldn't finish from if he hit (Reg's balls open on each other but both wired from both of Rob's balls). Rob would still have a sextuple to do and his completion rate in the match so far was only 50%, but in the conditions I would give him a greater chance than that of finishing. As it was, Rob could fairly easily get his first ball to peg with a hammer leave, but, after Reg went to corner IV, I thought that Rob had a lowish chance of picking up a break without giving away a shot. As it happened, he did leave a shot (of about 16 yards at the peg, with balls behind; the sort of shot which Reg had been practising all week).
The final was probably the only major final ever to have both players completing sextuples. That was almost inconceivable before the final of the World Championship in 2001, the first time in a major event when the sextuple was deployed clearly as a winning tactic rather than just for showmanship. In that final Reg completed two sextuples but both players failed a sextuple in the third game.
More recently, in fact only two months ago at the Coles Championship, the same Cheltenham lawn 8 saw Robert overcome Reg 3-2 with both players completing sextuples, but the Coles Championship is not a major event like the Open. In fact for me, the Open final was more interesting for the number of peeling breaks which failed. Three of the games saw a player seemingly snatch defeat from the jaws of victory. In the first, Robert was hampered after getting a lot of hill after a straight rover peel, missed and then lost the game. In the fourth, he broke down with the difficult part of the break done, and lost two turns later. Crucially in the fifth, it was Reg's turn to have trouble with a straight rover peel. He looked to be about two feet straight in front, and I was expecting him to play an Irish peel to send the peelee about seven yards. Presumably keen to avoid Rob's error with the hill, Reg opted not to have an Irish peel, but played the stop shot so gently that the peelee hardly reached the hoop. Although he partially recovered and did have another chance to finish in the turn, this ultimately led to him losing the match.
Final: Fulford beat Bamford -2qp +25sxp +26qnp -8sxp +1 Another unusual feature of the match was that, until the last game, the number of peels was more than the number of turns.
Game 1: 7 turns, 10 peels
Game 2: 7 turns, 7 peels
Game 3: 4 turns, 5 peels
Game 4: 10 turns, 10 peels
Game 5: 10 turns, 4 peels
Total: 38 turns, 36 peels
For the statistically-inclined, my semi-final match with Rob probably set a record for the lowest number of turns in a five-game match. The total was 27 turns, with the games being 6,5,5,6,5. Usually at least one game will not see croquet taken on the first four turns, meaning at least 7 turns in the game.
Quarter-final: Fulford beat Kirby -17tp -26tp +25qp +24sxp +26tp
A supershot was laid in each game, with Rob going first. In game 1 I chose not to shoot on turn 2, and Rob hit and went round on turn 3. I hit the lift, Rob missed his, and I finished. In game 2 Rob chose not to shoot, I hit, Rob missed, and I finished. After that we were shooting on turn 2. In games 3 and 5 I hit and had the defensive leave I wanted but Rob went round anyway, with a pop in game 3 causing him to fail to make 3b. In each game I missed the shot and he finished. In game 4 Rob missed on turn 2, but I missed on turn 3 and he went to 1b with two pops. I missed the tea lady and he finished.
Total: 27 turns, 22 peels.
The difference between the standard of shooting in the opening here and in the final is mainly due to the East boundary on lawn 8 being less good, and the players in the final choosing to shoot down it repeatedly. That said, I hit my one shot down that boundary in the doubles final, a match very unusual for doubles in that 9 consecutive shots were hit in it.
---