The Compton Summer Tournament Report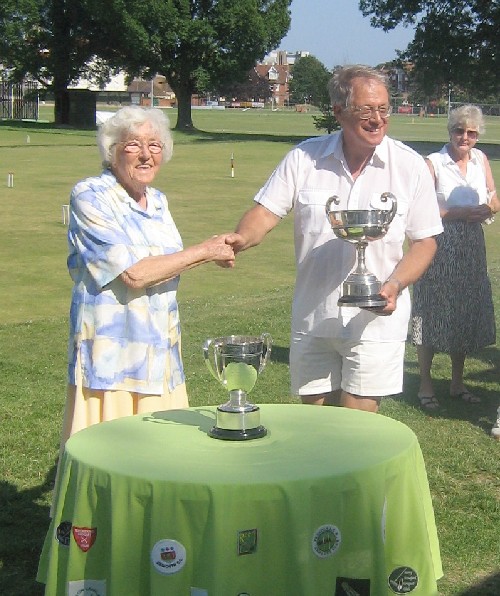 Roger Wood gets the A-class trophy
by Carter Moody at Compton
June 28 - July 2 2006 (
AC - Mixed
)
The tournament attracted players from the Sussex County, (Southwick), Hurlingham and Medway Clubs. This was the first tournament with the club's new Dawson balls and new Jaques hoops. The lawns were dry and fast, in spite of the crows pecking out the grass plugs from the old hoop holes every morning and the was weather fine and sunny.
The Doubles Tournament, over the first two days was competed for by eight pairs, divided into two blocks of four. On Day one, in Block A, Mark Hamilton and Daphne Gaitley had 26-0 win in their first match, and a comfortable win in the second on time. In Block B the first day ended with all four pairs registering one win each. The following morning in Block A, Mark and Daphne had their third win, also on time. In Block B, Graham Thompson and Tom Dixon, topped their group and qualified to play Mark and Daphne in the afternoon for the grand final. Tim Smith the director, paired the second, third and fourth of each group against each other, with a prize for all four winners. The Kirke-Green Bowls were won by Mark and Daphne with four wins out of four.
In the Singles Advanced event, with fourteen entries, Roger Wood of Compton won the Horsburgh Cup, with six wins out of six, beating Roger Alexander of Medway in the final game. With the match fairly even, Roger had clips on two back and the peg, with Robert's both on 4 back. As time was called Robert narrowly missed the long lift at the opponents balls in corner 2 and Roger went on to peg out in final turn.
Brian Stone, also of Compton won the Anstey Cup, for handicap play with four wins out of five. The result was in doubt right up to the end as any one of three players could have won.
The trophies were presented by Betty Salmon, the Club President. The Horsburgh Cup dates back to the 1900's and is named after the Rev Horsburgh (probably a founder member) who won it in 1903, 1904 and 1905. Other winners include some very famous names in croquet: Miss D.D. Steel, Mrs Ionedes, Lord Tollemache, Rev. G. F. H. Elvey, (later Vicar of Willingdon and a Compton Member), Dr Wiggins, Keith Wylie, Bryan Lloyd-Pratt and "Tiny" Tyrwhitt Drake.
As well as directing the Doubles Event, Tim Smith prepared an excellent ploughman's lunch each day. Frances Low directed the handicap events, and like Tim, also organised similar lunches for the next three days prepared by Carol Dixon.
The Saturday culminated in a much enjoyed Fish and Chip supper, some consolation for England sporting failures that day against Sri Lanka and Portugal.
---