David Openshaw won the Scottish Open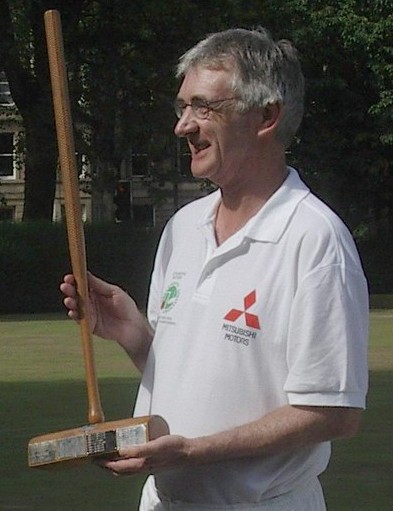 David Openshaw with the Moffat Mallet (the oldest croquet trophy)
by Samir Patel
17th July 2006 (
International
)
The lawns at the Meadows club are in good condition albeit with a few patches. As converted bowls lawns, they have lots of space to move the courts around, so the boundaries are good although the different texture of the patch joining the two old lawns is a little disconcerting at first. Courts were of a good overall pace (for the technically minded, timed at 10-11 seconds at 1030) which proved testing, particularly as they sped up under a hot sun later in the day. Rather oddly, the Omega hoops were putting up some resistance.
Four of the morning games looked to be heading for a quick +x tp finish before Martin, Dave, Bob and Chris all found interesting (and different) ways to put down a triple between four-back and peg!
Report by Chris Dent and Bruce Rannie
A maximum field of fourteen players gathered for the 2006 Scottish Open
Eight Scots Including Exiles, Five English, and Joern Vinnen Who was Visiting From Germany. "The Courts were of a Good Overall Pace (for the Technically Minded, Timed at 10-11 Seconds at 1030) Which Proved Testing, Particularly as They Sped Up under a Hot Sun Later in the Day
Rather oddly, the Omega hoops were putting up some resistance" - Samir Patel.
All of the seeds survived the single game first round, the closest score line being Martin Murray's +17 against David Appleton. Martin M and Bob Burnett both managed to hit the peg with their peelees before the end of almost-TP turns, the former on the way to Rover, the latter for (we think) the first competitive TP grievous at Meadows. Both however succeeded with triples in subsequent plate games.
The first quarter final to start (and also the last to finish) was Patel-Rannie, Samir taking the third after Bruce failed an opportunistic TPO which began with a 20 yard 4b peel while placing an escape ball for the TP on partner. Bob had a clinical +26tp in the first against Dave Nick, but Dave took the remaining games to go through. After a slightly scrappy first David Magee took the second +26tp to defeat Chris Dent, the triple game being even more notable for seeing no croquet strokes until turn 11. Meanwhile, David Openshaw was looking in ominous form following his defeat in the final the previous year, beating Martin M
24 +25tp.
David O continued as he had left off in the quarters, beating Dave Nick
21tp +13. Meanwhile Samir was playing himself into form ("I had been
approaching hoops from bits of the court I never usually visit") taking a tense first against David M +3tp and a clinical second +25tp, David's point being a pop.
Outside the main event, Brian Murdoch was riding high in the consolation event, and Fergus McInnes had the best single result by a non-seed, a
14 victory over Martin M. In amongst his customary 'wrong side of bed'
games manager Chris completed two TPs to tie with David O and Samir for the peeling prize (and awarded it to himself, the others having taken other prizes as finalists.) Ray Lowe had a successful first venture north of the border, winning half of his games, and Joern was delighted to win his final game +13 against Martin Stephenson (a number of us are looking forward to the possibility of some croquet in Germany next year.)
The final was an exciting affair, both players having chances as David eventually triumphed +15 -17 +19 over Samir. After being the beaten finalist in 2005, this year he was presented with the Moffat Mallet, the oldest croquet trophy in the world.
Meanwhile, in the plate semis Chris and Bruce had qualified to play Dave and David M respectively. Neither of these was close, Bruce and Dave winning +26 and +23. The latter did not take the chances he was given in the final, and Bruce continued his excellent run of form by winning the Edinburgh Plate +18, having triggered to -0.5 for the first time on the Saturday.
Results
David Openshaw bt Ray Lowe +24
Martin Murray bt David Appleton +17
Dave Nick bt Martin Stephenson +22
Bob Burnett bt Brian Murdoch +21
David Magee bt Fergus McInnes +26
Chris Dent bt Joern Vinnen +26
Openshaw bt Murray +24 +25tp
Nick bt Burnett -26tp +1 +20
Magee bt Dent +6 +26tp
Samir Patel bt Bruce Rannie -13 +20 +9
Openshaw bt Nick +21tp +13
Patel bt Magee +3tp +25tp
David Openshaw beat Samir Patel +15 -17 +19
Plate Knockout
Dent bt Burnett +4
Rannie bt Murdoch
Nick bt Dent +23
Rannie bt Magee +26
Rannie bt Nick +18
Peeling Prize
Openshaw, Patel and Dent on 2 TPs each.
Full report and photos to follow on the SCA website.
Incidents of Note
Probably Samir's first Bo3 win with 2 triples.
Croquet was first taken in game 2 of Dent-Magee on turn 11.
Murray beat Burnett +4tp in two turns after a failed TP from Bob.
---