Stephen Mulliner won the COWhorn, Paul Salisbury won the COWbell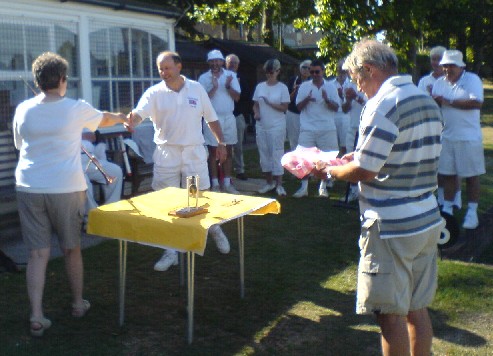 Stephen Mulliner gets the horn
2nd August 2006 (
AC
)
Compton Open Weekend, Eastbourne: weather hot and humid; lawns moderate, somewhat greener after heavy rain the previous weekend; new Dawson balls; new Jaques hoops, very firm in solid ground. This year's entrants included two previous winners (Stephen Mulliner 1982; Kevin Carter 1995) returning to the fold after longish absences, together with three others (Dave Kibble 2001; Rutger Beijderwellen 2002, 2005; Tim Wilkins 2003, 2004) from the recent past - sadly other winners (George Noble 1996; Phil Cordingley 1985, 1986, 1999, 2000) were otherwise engaged. Newcomers Julie Hudson and Gerard Healy were welcome additions to a good field.
Rutger started the proceedings in some style with a well-executed, sixth turn, quadruple peel against Gordon Hopewell in a game lasting just 45 minutes. However, at this point his luck ran out - he met an in-form Louise Bradforth, fresh from dispatching Kevin Carter to the Swiss. Rutger's sextuple attempt was rudely halted at H6 and Louise proceeded to 4-back with one ball and the peg with the other. Rutger hit in with thoughts of a delayed TP but missed the return roquet after firmly running 1 back, ending up 3-4 yards from the end of B-baulk which allowed Louise to finish. But for the misfortune at rover in the first game of the best-of-three semi-final, the scoreline in Louise's straight games victory over Dave Kibble would have been +26(TP) +26! In the other half of the draw Ian Vincent progressed to his semi with good wins over Jerry Guest and Tim Wilkins - there he met Stephen Mulliner who had swept all before him in the first two rounds, but conceded a close-fought first game in which Ian won the two ball ending having peeled Stephen's rover and pegged out both balls with Stephen on H6 and himself on penultimate. When play resumed on Sunday morning Ian came to grief at H3 in the second game and Stephen pounced to win with a triple; in the third Ian got one ball round but Stephen hit the lift and went on to complete a second triple.
So to the final featuring a lady for the first time and two absorbing games in which Stephen's tighter leaves probably proved decisive. Stephen had an early break with R in the first leaving a diagonal spread. Louise hit the long lift but needed a couple of turns (plus opponent's misses) to get going, taking U to 4-back. Stephen lifted Y at H2 and missed into C4. Louise then took K to the peg, with a latish 4-back peel on U, but the balls did not fall quite as she wanted, frustrating her straight double peel attempt, and her leave saw R SW of H2, Y mid-way between H3 and the peg and her balls in C4. Stephen lifted Y hit the short lift and finished with a triple peel. In the second game Stephen hit Louise's C2 ball on turn three and went to 4-back leaving all three balls near the west boundary level with hoop 6. Louise missed into C2 whereupon Stephen took U to the peg, completing all 3 peels on partner, but missed attempting a cut rush on partner to the peg after rover, enabling Louise to take Y to 4-back. Some sparring ensued with both players narrowly missing but eventually K hit and Stephen finished, duly respectful of the play of his opponent.
Paul Salisbury emerged as clear winner of the Swiss, triggering a handicap change to -1/2, his only loss of the weekend being to Dave Kibble. Paul's game against Rutger again saw Rutger in QP mode, this time peeling Paul's 3-back ball and pegging out both rovers with the other clips still on H1. At this point Paul joked to Rutger that he, Paul, was the one-ball champion, only to be reminded that Rutger was, having won the Winchester one-ball tournament earlier in the year. Some cagey play followed with each advancing to H3 when, undaunted, Paul made H3, pulled off a long roll approach to H4 and continued his break to penultimate. In the subsequent cat and mouse Paul managed to finish without Rutger scoring again - a notable victory.
The Kibble kountback in the knockout ("KKK" - possibly letting slip the true intentions of the originator?) revealed Gerard Healy as the recipient of the COWpat, fortunately returned in good order by last year's "winner" despite dire threats of cremation.
Hilary Smith, Tim Smith and Ian Vincent gallantly stepped into the breach as caterers and managers on Saturday allowing the advertised manager to slope off to wedding for which he is most grateful!
Knockout for the COWhorn
Round 1
Jack Davies beat Peter Quinn +10
Stephen Mulliner beat Julie Hudson +23
Ian Vincent beat Jerry Guest +3
Tim Wilkins beat Tom Weston +20(TP)
Rutger Beijderwellen beat Gordon Hopewell +26(QP)
Louise Bradforth beat Kevin Carter +20
David Kibble beat David Hopkins +14(TP)
Paul Salisbury beat Gerard Healy +26
Round 2
Stephen Mulliner beat Jack Davies +24
Ian Vincent beat Tim Wilkins +11
Louise Bradforth beat Rutger Beijderwellen +10
David Kibble beat Paul Salisbury +3
Semi-Finals
Stephen Mulliner beat Ian Vincent -6 +24(TP) +17(TP)
Louise Bradforth beat David Kibble +13 +26
Final
STEPHEN MULLINER beat Louise Bradforth +3(TP) +16
3rd Place
David Kibble beat Ian Vincent +23 +7
Swiss for the Cowbell
Winner: PAUL SALISBURY (5 wins)
4 wins: Jack Davies, Jerry Guest
3 wins: Kevin Carter, Gerard Healy, Dennis Shaw
2 wins: Rutger Beijderwellen, Julie Hudson, Tom Weston, Tim Wilkins
1 win: Jon Diamond, Gordon Hopewell, David Hopkins, Peter Quinn
Ace Peeler: Rutger Beijderwellen; Runner up: Stephen Mulliner
COWpat: Gerard Healy
---