David Maugham won the Tyneside Advanced Tournament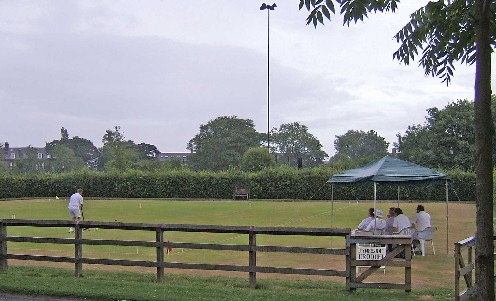 by Derek Watts at Tyneside
7th August 2006 (
AC
)
David Maugham won the Tyneside Advanced Tournament in fine style with a stunning 26sxp win over Dave Nick.
After going round to 1-back, Maugham left Nick's balls cross wired at hoop 1, Dave Nick elected to try his luck with a jump shot over the hoop which missed, leaving Maugham to carry on and win the game by completing his third sextuple.
The weather was hot and humid finishing with rain which also saved itself for the final!
The tournament was a well run event by Manager Maugham, there were 3 sextuples and 4 triples, a "cross wire" where the hoop was run to make a roquet! and excellent lunches & teas served by Sheila Watts. The players enjoyed the Saturday evening out a local hostelry in Gosforth Park.
Full Results
David Maugham beat beat Peter McDermott +16tp, Phil Errington +18, Bruce Rannie +21sxp, Derek Watts +22sxp, David Appleton +26tp, Gail Curry +10 and Dave Nick +26sxp
Dave Nick beat David Turner +4, David Appleton +26, Phil Errington +26tp, Bruce Rannie +19tp, Gail Curry +4, Peter McDermott +8
Bruce Rannie beat Derek Watts +6, Gail Curry +13, Peter McDermott +19 and David Appleton +21
Gail Curry beat Martin Stephenson +26, Derek Watts +22 and Peter McDermott +7
Derek Watts beat Martin Stephenson +18, Phil Errington +8 and David Turner +8
Phil Errington beat David Appleton +16 and David Turner +10
David Appleton beat David Turner +20 and Martin Stephenson +22
Peter McDermott beat David Turner +15 and Martin Stephenson +17
David Turner beat Martin Stephenson +16
Martin Stephenson beat Phil Errington +8
Handicap Changes
Martin Stephenson from 5 to 6
---