Rutger Beijderwellen won the Bristol Open Weekend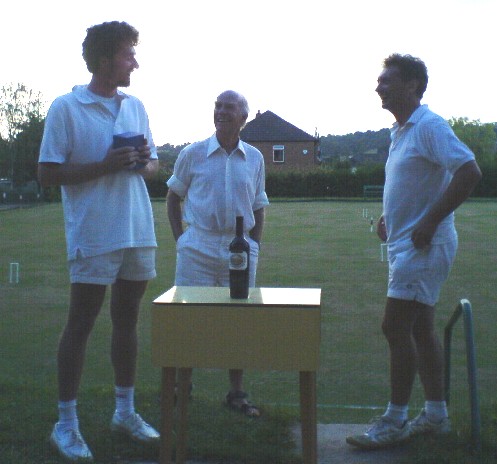 by Dave Kibble at Bristol
7th August 2006 (
AC
)
Bristol Croquet Club's decision to switch the A-class and B-class tournaments, so that the former would be played on fast tricky lawns proved a great success this weekend. When coupled with the decision to abandon the trivially easy Omega hoops in favour of cast iron led to some challenging conditions. The soft ground still meant that the hoops were fairly easy, but poor hoop approaches needed hoop shots to be better than "in the general area of the jaws". Peels required more precision, and there were a lot more hampered post-hoop strokes seen too.
The best-of-three final between Pete Trimmer and Rutger Beijderwellen was an interactive match played on a very tricky lawn with many declined hoops and long hit-ins. The second was possibly the most interesting when it reduced to a one-ball with some very impressive play from both contestants. About 20 club members were thrilled to see the match, which lasted until well after tea. The Goacher-Duckworth third-place play-off was less interesting for spectators, with the experienced local players perhaps showing greater mastery of the club's show lawn, though several times the Goat was seen to chastise himself for a poor position with his characteristic thigh-slap. Ed Duckworth eventually triumphed, but was disappointed to once again miss out on the trophy, though this time it was not available for presentation because the holder was not able to play due to other commitments on the new date and had not made arrangements for its return.
Lunches and teas were very much to the usual high standard; all-in-all a great tournament.
---