Martin Leach won the Norwich B-Level Advanced Tournament (The Amtrak Trophy)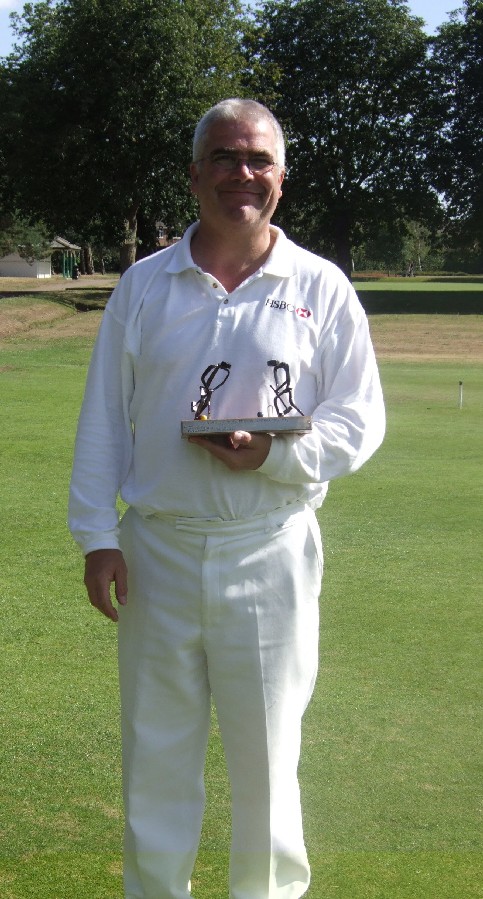 Photograph: Ian Storey
by Neil Chalmers at Norwich
7th August 2006 (
AC
)
The four patches of fresh green at Eaton Park which greeted the 14 entrants were in stark contrast to the burned brown areas in the rest of the park, a tribute to the efficiency of the irrigation system. Saturday was very hot, Sunday cooler with an occasional breeze.
Five rounds of seven games were played with an unprecedented 21 of the 35 games going to time. This contrasts with last year when 12 entrants played 36 games on 3 lawns with only 4 games going to time. No explanation since tournament conditions, balls and time limits were identical and 80% of the entrants were the same. A few triples were attempted with Ian Storey coming nearest to success, but in two separate triples his rover peels failed. There was even an attempted TPO which the player, who shall remain nameless, agreed was somewhat foolhardy considering his opponent's forward ball was already on rover!
The finish was frighteningly close - for the manager! If Martin Leach had lost his last game against Terrey Sparks four players would have been on 4/5. However Martin obliged, pegging out to win the game and Tournament with 5/5, and a handicap reduction from 3½ to 3. Mike Percival was runner-up with 4/5 after defeating Ian Storey in a Colin Hemming Mark II shoot-out between two balls placed just over a ball width apart from 6 yards. Easy when one is trying to hit either of a pair on a boundary, but very difficult when the target is the gap!
---