Martin Granger Brown won the Tompkinson Shield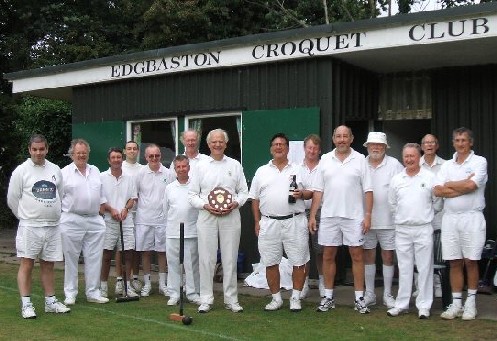 by Andrew Gregory at Edgbaston
23rd August 2006 (
AC
)
Martin Granger Brown retained the Tompkinson Shield, being unbeaten for the second year running.
Following torrential rain on Friday, the lawns started a bit squidgy, but dried quickly to an easy pace. We were fortunate to have very little rain over the weekend.
The tournament was restricted to handicaps between -1/2 and 3. This seemed a popular idea, as the tournament was over-subscribed. Most games were competitive, and indeed of the four minus players, only Kevin Carter was in contention at the end of Saturday.
He faced Paul Swaffield on Sunday morning. Paul, emboldened by two triple peels on Saturday, tried a TPO, but was fatally hampered after 1-back. So the key game on Sunday afternoon was Carter v Granger Brown. I missed the opening, but I saw Martin's clip on 2-back with Kevin going round to 4-back. Kevin attempted a diagonal spread, but failed the wiring and left a target of ball by peg and his own two balls. Martin duly punished this, and made two hoops with the forward ball and a strong leave. Kevin took an aggressive shot, leaving Martin an easy break, which he took peellessly to the peg. Kevin missed, Martin finished. Meanwhile, the only other player with one loss was Bill Sidebottom, but he lost to Ian Parkinson (who gained the prize for most brownie points). This left Martin a clear winner. Martin was steady and solid as ever - only Daniel Mills scored more than 9 points against him.
It was good to see some players new to Edgbaston, including Jonathan Lamb from Montevideo. Even better to see some old faces, especially Peter Dorke returning to tournament play after many (20?) years. Sadly he was in competition for the Wooden Spoon, with the key game being against Ken Jones. Ken pegged out Peter with Peter's other clip was on 4-back, Ken's on 3. For reasons of space, and tact, I will not give the ball-by-ball commentary, but Ken won by 2.
Results Summary
1. Martin Granger Brown 5/5 (+48 Handicap points)
2. Paul Swaffield 5/7 (+36) 2 triple peels
3=. Kevin Carter 4/6 (+10), Ken Cooper 4/6 (+10), Ian Parkinson 4/6 (+42), 6=. Daniel Mills 3/5 (+34), Bill Sidebottom 3/5 (+1)
8. Gary Bennett 4/7 (-14)
9. Mike Hammelev 3/6 (+10)
10. Nigel Polhill 3/7 (0)
11. Jonathan Lamb 2/5 (-21)
12. Paul Salisbury 2/7 (-56) 1 triple peel
13. Andrew Gregory 1/5 (-42)
14. Ken Jones 1/6 (-18)
15. Peter Dorke 0/5 (-40)
Full Results
Sidebottom bt Lamb +10
Cooper bt Carter +15
Bennett bt Hammelev +23
Swaffield bt Parkinson +20tp
Polhill bt Dorke +24
Mills bt Salisbury +4
Granger Brown bt Gregory +24
Parkinson bt Jones +13
Swaffield bt Polhill +19
Hammelev bt Dorke +21
Bennett bt Cooper +19
Carter bt Salisbury +3
Granger Brown bt Mills +9
Polhill bt Gregory +16
Sidebottom bt Swaffield +11
Lamb bt Cooper +10
Parkinson bt Bennett +15
Jones bt Dorke +2
Carter bt Hammelev +26
Swaffield bt Salisbury +15tp
Granger Brown bt Sidebottom +15
Mills bt Gregory +12
Polhill bt Lamb +2
Hammelev bt Parkinson +12
Carter bt Bennett +5
Salisbury bt Jones +19tp
Granger Brown bt Polhill +17
Carter bt Swaffield +11
Sidebottom bt Mills +13
Bennett bt Jones +18
Parkinson bt Lamb +6
Cooper bt Salisbury +26
Gregory bt Dorke +23
Hammelev bt Salisbury +7
Cooper bt Polhill +18
Swaffield bt Bennett +15
Granger Brown bt Carter +17
Lamb bt Jones +16
Parkinson bt Sidebottom +13
Mills bt Dorke +25
Cooper bt Hammelev +18
Salisbury bt Polhill +17
Bennett bt Gregory +23
Swaffield bt Jones +14
---