Keith Aiton won the Northern Championship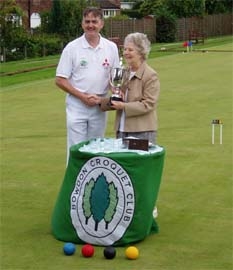 (Photo: John Wastell)
by Ian Lines at Bowdon
29th August 2006 (
AC - Championships
)
Keith Aiton won the 2006 Championship of the North of England at Bowdon, beating James Death +13tp, +16tp, +18tp, to win the Faulkner Cup for his first time. The games in the final were almost error free, with supershot openings and James getting the first ball round on each occasion. However, Keith was hitting lifts, popping and doing tight hoop leaves, so in the 3rd game James tried for a sextuple, but came to grief very early by taking off from 2 into the back of hoop 1.
The Consolation Event (The Tollemache Plate) was run as an 8 player knockout for those with the best percentage wins after the first 3 days. There was a 3 way tie for the last 2 places between Marcus, Richard and David Harrison-Wood, and although David got the unlucky bye, he and Richard both qualified by beating Marcus. In the final of the Plate, Sam Tudor played Ian Lines. Sam put out a supershot near the peg, Ian went to maximum length on east boundary, Sam missed into corner 4, Ian missed partner from A baulk, Sam missed from corner 4, Ian went to 4 back with a diagonal spread. Sam then hit the long lift and went to 4-back with a B spread, Ian missed the long lift and Sam finished with a very tidy delayed triple to win +17tp.
The presentations were made by Bowdon President Sheila Black, who thanked all those involved in setting out the lawns and hoops, particularly Colin Irwin for his tireless efforts in setting hoops and mowing the lawns during the event, and also all the various Bowdon members who laid on truly excellent lunches and teas. The Bowdon lawns were described by Keith as currently the best in England, although due to recent rain they were fairly easy paced. Andrew Davies earned a handicap reduction to -1, and Sam Tudor went to -2 - a notable achievement.
First Round
Second Round
Quarter-finals
Semi-finals
Final
Winner
Robert Fulford

Robert Fulford
+26sxp -26 +26tp

Robert Fulford
+26tp +25sxp +13otp

Keith Aiton
+17tp +23tp -26tp +25tp

Keith Aiton
+13tp, +16tp, +18tp

Richard Dickson
David Goacher

Ian Lines
+11tp -14tp +4tp

Ian Lines
Stephen Mulliner
Andrew Davies w/o

Sam Tudor
+25tp +19tp

Keith Aiton
-2tp -26tp +15tp +25tp +15tp

Andrew Davies
Ailsa Lines

Sam Tudor
+25tp +26tp

Sam Tudor
Colin Irwin

Colin Irwin
+22 -14 +13

Keith Aiton
+17sxp +15

Phil Cordingley
Jerry Guest

Keith Aiton
+20 +26tp

Keith Aiton
Rutger Beijderwellen

Rutger Beijderwellen
+11tpo +8qp

James Death
+2 -6tp +16tp +10

James Death
-17 -5sxp +12tp +26tp +15tp

Jack Wicks
Tim Wilkins

Ken Cooper
+6 +17

James Death
+15 +24

Ken Cooper
Martin Granger Brown

James Death
+26 +21tp

James Death
Marcus Evans

Marcus Evans
+16 +26tp

David Maugham
-15tp -8tp +25 +26sxp +8

Steve Comish
David Harrison-Wood

David Harrison-Wood
+16 +13

David Maugham
+14tp +17tp

David Mooney
Steve Lewis

David Maugham
+26tp -26stp +11tp

David Maugham
Plate
| | | |
| --- | --- | --- |
| Martin Granger-Brown beat Ailsa Lines +13 | Tim Wilkins beat Steve Comish +26tp | Steve Lewis beat Jerry Guest +10 |
| Richard Dickson beat Martin Granger-Brown +24tp | Jack Wicks beat Phil Cordingley +9 | Robert Fulford beat Steve Comish +24 |
| Marcus Evans beat Tim Wilkins +7tpo | Andrew Davies beat David Mooney +6 | Tim Wilkins beat David Harrison-Wood +26tp |
| David Goacher beat Steve Comish +25tp | Jerry Guest beat Ailsa Lines +23 | Andrew Davies beat Phil Cordingley +12 |
| Jack Wicks beat David Mooney +17 | Colin Irwin beat Ken Cooper +15 | Steve Comish beat Martin Granger-Brown +24tp |
| Richard Dickson beat Steve Lewis +14tp | Jack Wicks beat Andrew Davies +24tp | David Goacher beat Tim Wilkins +10tpo |
| Ailsa Lines beat David Mooney +19 | David Harrison-Wood beat Jerry Guest +26tp | Phil Cordingley beat Martin Granger-Brown +22 |
| Steve Lewis beat Ken Cooper +17 | Colin Irwin beat Richard Dickson +26tp | Jack Wicks beat Steve Comish +17 |
| Tim Wilkins beat Andrew Davies +17 | Ian Lines beat Martin Granger-Brown +25tp | David Mooney beat Jerry Guest +4 |
| Steve Lewis beat Colin Irwin +17tp | Steve Comish beat James Death +9 | Jack Wicks beat Tim Wilkins +22 |
| Phil Cordingley beat Ailsa Lines +13 | Richard Dickson beat Ken Cooper +25 | David Goacher beat David Harrison-Wood +12 |
| Jack Wicks beat Marcus Evans +23tp | Ken Cooper beat Jerry Guest +26 | Andrew Davies beat Colin Irwin +26 |
| Richard Dickson beat David Harrison-Wood +22 | Steve Lewis beat Rutger Beijderwellen +21 | David Goacher beat Sam Tudor +12tp |
| Steve Comish beat Phil Cordingley +25tp | Ian Lines beat Marcus Evans +10 | Jack Wicks beat Ken Cooper +19 |
| Jerry Guest beat Martin Granger-Brown +25 | Tim Wilkins beat David Mooney +4 | Rutger Beijderwellen beat Ailsa Lines +16tp |
| Andrew Davies beat Richard Dickson +13stp | Sam Tudor beat Steve Lewis +16 | Jerry Guest beat Jack Wicks +17tp |
| Marcus Evans beat Ken Cooper +16 | David Goacher beat Phil Cordingley +26 | David Harrison-Wood beat Colin Irwin +4 |
| Tim Wilkins beat Rutger Beijderwellen +26tp | Ian Lines beat Steve Comish +6 | Jack Wicks beat Steve Lewis +16 |
| Jerry Guest beat Marcus Evans +26 | Sam Tudor beat Richard Dickson +13 | Martin Granger-Brown beat David Mooney +10 |
| Colin Irwin beat Rutger Beijderwellen +25 | David Goacher beat Ken Cooper +17tp | Tim Wilkins beat Steve Lewis +26tp |
| David Harrison-Wood beat Phil Cordingley +17 | Ailsa Lines beat Andrew Davies +7 | Richard Dickson beat Marcus Evans +24 |
| Phil Cordingley beat David Mooney +17 | David Harrison-Wood beat Marcus Evans +11qp | Ken Cooper beat Andrew Davies +14 |
| Colin Irwin beat Ailsa Lines +8 | Phil Cordingley beat Tim Wilkins +23 | Marcus Evans beat Martin Granger-Brown +4 |
| Richard Dickson beat Ailsa Lines +22tp | Ken Cooper beat David Mooney +9 | Colin Irwin beat Martin Granger-Brown +24tp |
Quarter-Finals
Ian Lines beat David Maugham w/o
Sam Tudor beat Tim Wilkins +7
Jack Wicks beat Richard Dickson +3
David Goacher beat David Harrison-Wood +10
Semi-Finals
Sam Tudor beat Jack Wicks +18
Ian Lines beat David Goacher +25
Final
Sam Tudor beat Ian Lines +17tp
results and photos on the Bowdon website
---