Sport 2006 - croquet showcased at Groombridge Place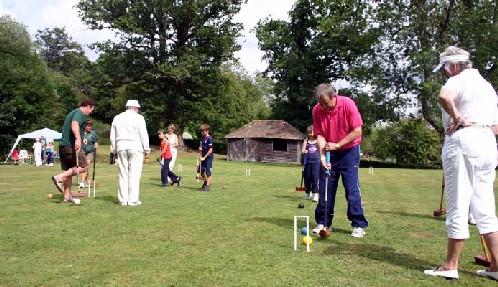 by Jon Diamond
30th August 2006 (
Other News
)
Sport 2006 was an innovation, showcasing some 40 different sports in a single venue and sponsored by Sport England amongst others, to encourage participation in sports of any kind. Groombridge Place was the chosen location this weekend, with publicity attempting to attract people from over South East England. Since we are the closest club to Groombridge (a mere 5 miles) the Croquet Association had nominated us to participate.
Groombridge Place is a lovely old medieval moated manor house, reconstructed in the 17th century, now trading on its location for the filming of Pride and Prejudice, with They managed to provide a flat enough lawn, albeit with some rabbit holes and somewhat lengthy grass, which we shared with the bowlers from The Grove Bowling Club. So given that Sport 2006 had forecast between 10,000 and 12,000 attendees we thought it worthwhile to put on a show, which was organised by Jon Diamond.
A gazebo was purchased and, whilst the forecast was for showers, a pretty fine and sunny Saturday ensued, but boy were we glad of the gazebo on Sunday.
The event started slowly, but by the middle of Saturday there were 3 groups of players on the lawn simultaneously, with people queuing for a go! When we had a chance to pause for breath and look around the show it looked like we were about as busy as any other sport.
We don't know how many people we introduced to Golf Croquet, but it must have been over 100, with an age range of 7-70. At times we had 12 people on the single lawn, with a queue! We expect some to come to Tunbridge Wells; but there was significant interest in others in the region from people as far away as Dulwich, Reigate, Gravesend, Canterbury, Brighton and Worthing. So hopefully we've contributed to membership at other clubs too.
Our impression was that there were nowhere near the original 10-12,000 target, our best guess being probably 2,000-2,500. So the event may not happen again, but if it does we should certainly attend, and now we know what to expect! One definite message is to bring some short mallets for the children.
Thanks are due to all the club members helping - Mick Belcham, Miriam Reader, Carolyn and Frank Gunstone, Pauline and Roger Morris, Stan Oxenbury and Jane and Selwyn Ward, together with two ex-members Barbara and Brian Kitching who now play at Southwick (Brian is also on the CA's Marketing Committee). It was hard work, but enjoyed by all.
---