Samir Patel won the Spencer Ell Cup
[<<] [>>] by Phil Cordingley at Nailsea & District Croquet Club
6-10 September 2006 (AC - Championships)
Name
1
2
3
4
5
6
7
8
Won
1
Samir Patel
1

+18
+7

+12
-14tp

-8
+18

+5tp
+20

-22
-4

+8tp
+13

+6
+17

10
2
Phil Cordingley
2=

-18
-7

+13
+6

-4
+10

-26tp
+4

+20
+15

+8
+11

-20
+20

9
3
Richard Dickson
2=

-12
+14tp

-13
-6

-7
+?

-24
+?

+17tp
+18

+15
+13

+26
+15

9
4
David Magee
2=

+8
-18

+4
-10

+7
-?

-10
-?

+4
+?

+26
+7

+15
+2

9
5
David Harrison-Wood
5

-5tp
-20

+26tp
-4

+24
-?

+10
+?

-14
+25

-5
+12

+24tp
+11

8
6
Jerry Guest
6

+22
+4

-20
-15

-17tp
-18

-4
-?

+14
-25

+4
-16

-15
+24

5
7
Sarah Burrow
7=

-8tp
-13

-8
-11

-15
-13

-26
-7

+5
-12

-4
+16

+5
-10

3
8
Roger Jenkins
7=

-6
-17

+20
-20

-26
-15

-15
-2

-24tp
-11

+15
-24

-5
+10

3
Day 1
Conditions were bright at first, clouding over towards late afternoon/early evening. Lawns hard & fastish (11.2 Plummers, I am told). Hoops firm and narrow with variable approaches, so plenty of early sticking. All in all, a hard but invariably fair test. Play finished comfortably by 18:30. The event got off to an early managerial cock up when I told those that asked that play started at nine thirty, when in fact the conditions say ten. Thus it was that David Harrison-Wood's and Roger Jenkins' first round games started half an hour after everyone else, a cardinal error from which many managers have failed to recover. Amazingly, these were in fact the first two games to finish. Rather be lucky than good, as I always say. Samir Patel set the early pace, winning his first two games by narrow margins and in far from clinical fashion, but nonetheless both with TPs. In the final round of the day he faced his fellow Eights debutante Richard Dickson, who was winless thus far. Not surprisingly Samir prevailed to remain undefeated. David Magee joined him on 3/3, winning by increasingly comfortable margins. Jerry Guest failed to join these two by losing to Roger Jenkins in the final round. Roger himself produced the luckiest shot of the day from the vicinity of hoop 4 he ran 6 (his hoop) when shooting at two balls a yard to the side. David Harrison-Wood got off the mark in the last round with a tidy TP. This report brought to you courtesy of the kind, albeit unknowing, cooperation of the chap in Avening Close with the unsecured wireless network.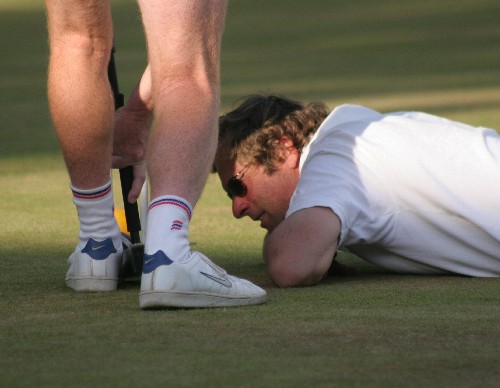 Richard Dickson refereeing the Panther (photo: Samir Patel)
Day 2
Round four saw the clashes of both the Titans (Magee and Patel, both undefeated) and the Rabbits (Burrow and Dickson, both winless). Of the Titans, David prevailed to become the first outright leader. Of the Rabbits, Richard got off the mark, despite failing to peg out from three yards by electing to play a roll. David Harrison-Wood completed his second consecutive TP with the aid of a rush peel of 4b from just off the east boundary level with the peg. In round 5 David Magee maintained his unbeaten record to 5/5 with a N attritional win against Jerry Guest, while Samir got back to winning ways with a quick win over Phil Cordingley, while David Harrison-Wood completed his third consecutive win following two straight losses. Sarah Burrow got out of the unenviable position of being the only winless player by beating Roger Jenkins. In round 6 the battle of the Davids saw Harrison-Wood hand David Magee his first defeat, to the gratitude of the rest of the field. Patel was thus able to join him at the top of the leader board on 5/6 by struggling home against Roger Jenkins, after Roger had helped by sticking in rover with the second ball. Richard Dickson showed his nerves, if any, had dissipated by beating Jerry with a TP. In the worst game of the tournament to date, Phil Cordingley eventually overcame Sarah Burrow in near darkness by taking off to corner 2, hitting hoop 6 (his hoop) but sitting in front of it. With partner for the peg, he ran hoop six, hit the double in corner 2 and finished. Still all to play for for most.
Day 3
Conditions continue to get more difficult as Day 3 dawns with not a cloud in the sky. Richard Dickson and Jerry Guest win quickly, the latter over joint leader Samir Patel. Phil Cordingley looked well set to hand David Magee his second defeat when for peg and 3 back against 1 and ball box, but a succession of 25+ yard roquets by David ended when from the last he played an increasingly controlled break to win by four. The final game, also a three ball ending, span out for four hours when Sarah Burrow finally hit and finished when for peg alone after David Harrison-Wood had clanged penult. After lunch Phil beat Roger quickly, and David Harrison-Wood beat Jerry easily. Samir lost his second game in a row, this time to back marker Sarah Burrow, but temporarily at any rate lost no ground to David Magee as his epic with Richard Dickson was pegged down. In round 9, Samir stopped the rot by beating Phil after being potentially a break away from defeat, not in the least due to good shooting, having hit on the fourth turn and two lifts. David Magee continued to keep the pressure on by beating Sarah Burrow. Jerry Guest beat Roger Jenkins to consign the latter to a share of last place, and David Harrison-Wood and Richard Dickson pegged down, with Richard well ahead.
Day 4
No time for full report today, as tournament dinner beckons (Chinese take away in club hut). Top five still mathematically in contention, with Samir in the box seat with 9/12, David Magee lurking with 7/10 with two pegged down, and Richard Dickson on 8/12 after seven consecutive wins. Undefeated today were Cordingley & Dickson, while Burrow, Guest and Magee failed to register a win.
Day 5
Final day, and in the morning Phil Cordingley beat Richard Dickson in a hard fought battle, but both were consigned to the also-rans as Samir Patel beat David Harrison-Wood reasonably easily. David Magee eventually prevailed over Roger Jenkins in a four and a half hour pegged out epic. Thus Samir and David Magee were now the sole contenders, with David two wins behind but with two pegged down games in hand. Thus David potentially having four games still to complete from two thirty in the afternoon. The spectre of this nightmare scenario receded somewhat when David lost to Phil in round fourteen, leaving Samir with his fate in his own hands playing Jerry Guest. Having pegged Jerry out, Samir embarked upon a potentially Cup winning two ball break from 2 back, only to clang penult, also Jerry's hoop. Needless to say, Jerry hit and finished, leaving David Magee with the two pegged down games to win to force a play off. In the first, he was penult alone against David Harrison-Wood's peg and rover, but with a lift. The lift at the peg ball was missed and Harrison-Wood had a leave. This shot was also missed, and Harrison-Wood finished, thus sealing Samir's victory. David Magee eventually finished his final pegged-down game with a +2 win over Jerry Guest at about 7.25 this evening. Just as well he was not in a play-off against Samir as looked possible earlier in the day!!!
---