Jeff Dawson won the Chairman's Salver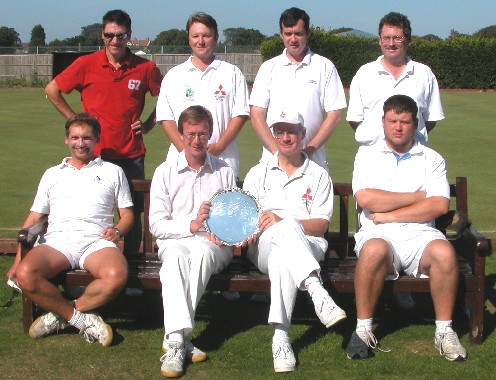 From back left: 5 7 6 8 4 2 1 3
by Chris Patmore at Hunstanton
7-10 September 2006 (
AC - Championships
)
On day 1, the weather was sunny but windy (with gusts). Standing in the far corner of Hunstanton croquet club (corner 3 on lawn 1) I eventually found some wireless reception. Windy up till today when it became smelly. Big moon, high tides, flooded sewage system? Lawns excellent thanks to Jeff R.
On Sunday morning, with Goacher's game the last to finish, as per usual, there were three players still in contention. The chances of the dreaded three way tie were diminishing however. LemonOnion was on a delayed TP against Goat.
A play-off was needed as both Jeff Dawson and Ian Lines were on 11 wins, it started at 2:30PM. Sam Tudor had 10 wins.
Dawson beat lines +21tp to become the second three-times winner.
I make that 29 TPs in the event of which 1 TPO, 1 OTP.

Name
1
2
3
4
5
6
7
8
Won
1
Jeff Dawson
1

+26tp
-25

+12tpo
+17tp

-23
+26tp

+26
+17

+3
+26tp

+4
+2tp

-25
+26tp

11
2
Ian Lines
2

-26tp
+25

-20tp
-26tp

+13
+17

+26tp
+26tp

+20tp
+4

+15
+13tp

+26tp
+18

11
3
Sam Tudor
3

-12tpo
-17tp

+20tp
+26tp

+14
+26tp

-26tp
+3otp

+13
+3tp

+26tp
-19

+26tp
+15

10
4
David Goacher
4

+23
-26tp

-13
-17

-14
-26tp

-25
+4

+24tp
+26tp

+12tp
-11tp

+4
+18tp

7
5
Tony Le Moignan
5

-26
-17

-26tp
-26tp

+26tp
-3otp

+25
-4

-26tp
-26

+2
+17

+26
+10tp

6
6
Ian Burridge
6

-3
-26tp

-20tp
-4

-13
-3tp

-24tp
-26tp

+26tp
+26

+26
-17

+25
+16tp

5
7
Chris Patmore
7

-4
-2tp

-15
-13tp

-26tp
+19

-12tp
+11tp

-2
-17

-26
+17

-16
+7tp

4
8
Chris Williams
8

+25
-26tp

-26tp
-18

-26tp
-15

-4
-18tp

-26
-10tp

-25
-16tp

+16
-7tp

2
---