Tony Le Moignan won the European Championship (updated)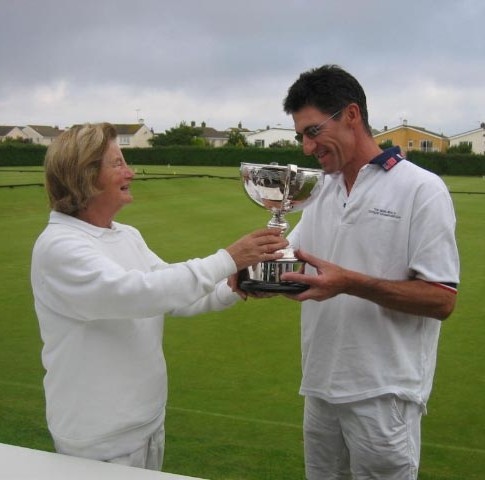 Jersey Croquet Club Captain, Elizabeth Medway, presents the Cup
by Sarah Burrow at Jersey Croquet Club
19th September 2006 (
International
)
Tony Le Moignan recorded a magnificent 3-1 victory over Stephen Mulliner to become the title holder.
High standard match with two fifth turn triples seeing the score 1-1. Lemon took the third +25 and in the fourth Lemon went to 4-back, Mulliner hit the lift and laid for a sextuple but Lemon then hit the tea-lady and completed his TP.
Samir Patel beat Cliff Jones 2-1 in the 3rd place play-off.
Sarah Burrow beat Phil Cordingley 26tp to win the plate event.
Other Things of Note
Gerard Healy met the young Czech player first round on the first morning. Gerard plays the brown ball onto the lawn and David, through his interpreter, asks which two of the remaining three balls were his. A great intro to European croquet for Gerard and we now know the Czechs only play primary colours and therefore only ever single bank.
One European player wasn't sure of the lift/contact rules and laid up diagonals every time he went to 4 back as he was too embarrassed to ask oppo.
The same player had also forgotten there was no such thing as a draw and having pegged out Phil Cordingley and having drawn level in the final turn of the match, he then decides he might as well take a full lawn pot shot at Phil's ball on A baulk as he could then take off to 4-back to win. Imagine his surprise when Phil gets another turn with oppo ball next to him and needing 3-back. Phil wins +1T.
The annual real ale/cider festival went down a treat on Thursday night although conversation had slumped into some kind of multi national babble by pick-up time.
Samir Patel Adds...
The final started at around 11:00 with a SuperShot opening from Stephen leading to fifth-turn finish in the first game little more than 30 minutes later after Tony missed his lift against the dream leave into corner IV. Stephen +26tp.
In the second game, Tony chose to go first, and went to 4-back third turn after another supershot, leaving three balls near west boundary, which Stephen missed into corner II. Tony seemed to get the balls too close together, and ended up making hoop 1 off opponent, with the hoop 2 pioneer only a couple of yards off the boundary. However, he completed the delayed TP with little fuss. Tony +26tp.
The third game after a lunch break, saw the only error of the match, with Stephen getting hampered after hoop 1 after hitting his lift. Tony never got going on his TP, and finally laid up with an OSL. Stephen missed and Tony finished. Tony +25.
The match then paused for a media break, which seemed to involve what must be standard sports interview questions, such as to Tony "how do you feel at the moment". A. "I feel like I would have prefered a best of three".
In the fourth game (now single-banked after the 3rd/4th place play-off was moved to another lawn), Tony once again got going first on fifth turn. Stephen hit and went to 1-back with a tea-lady. (He said that he didn't want Tony to have a low-pressure shot to win with his backward ball.) Tony instead hit the tea-lady, and completed his standard TP without little hassle (although he said it didn't feel like that on the lawn).
Tony Le Moignan beat Stephen Mulliner -26tp, +26tp +25 +20tp
Last 16 Knockout
Stephen Mulliner (England) beat Bruno Hess (Germany) +26sxp
Phil Cordingley (England) beat Ken Jones (Wales) +21
Cliff Jones (Wales) beat Kevin Wells (Isle of Man) +26tp
Sarah Burrow (Jersey) beat David Hajn +23
Samir Patel (England) beat Danny Davids (Switzerland) +22
Gerard Healy (Ireland) beat Simon Carlsson (Sweden) +26
Bruce Rannie (Scotland) beat Boris Dourthe (France) +16
Tony Le Moignan (Jersey) beat Kevin Garrad (Isle of Man) +24tp
Quarter-Finals
Stephen Mulliner beat Phil Cordingley +17tp +26tp
Cliff Jones beat Sarah Burrow +3, +4
Samir Patel beat Gerard Healy +16, +16tp
Tony Le Moignan beat Bruce Rannie +15, -16tp, +13tp
Semi-Finals
Stephen Mulliner beat Cliff Jones +12tpo, +12tpo
Tony Le Moignan beat Samir Patel +25tp, +17
3rd/4th Place
Samir Patel beat Cliff Jones -16, +25tp, +26tp
Final
Tony Le Moignan beat Stephen Mulliner -26tp, +26tp, +25, +20tp
---