Keith Aiton won the Southern Championship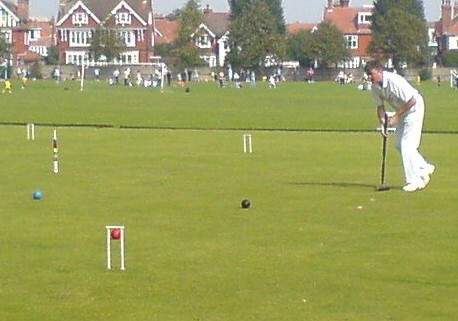 Keith Aiton, winning with great precision
by Wixy at Compton
19th September 2006 (
AC - Championships
)
First Round
Tudor vs. Aiton was the pick of the first round matches:
Game 1: Tudor TPO'ed Aiton 4th turn. Keith had squeeze. Tudor missed from hoop 2 with hoop 1 ball. Keith finished. +14OTP
Game 2: Tudor +17TP
Game 3: Tudor to 4b 2nd turn, balls just out of corners II & IV. Keith hit partner in corner 4, miss-approached hoop 1 shot at the corner II ball, missed. Stabber got to 2b & 4b on 4th turn. Keith finished in two turns, +11TP
Game 1: Duckworth against Wicks. Duck won +26TP 6th turn, after a 'NICE!' opening. Wicks chose to go in, Ed chose Blue & Black. So Wicks laid a supershot with Black, then placed Red on the end of B-baulk. Duck manufactured a standard duffer opening, Wicks then missed the duffer, running Penult off the south boundary.
Game 2: Wicks +12tpo. 4th Turn TPO with a POP. Quality then disappeared but Wicks won a while later after leaving Duck about 20,000,000,000 shots.
Game 3: Wicks +17, nothing much to report.
Farthing beat French +23TP, +10
Patmore beat Tuttiett: +26TP, -26TP, +25TP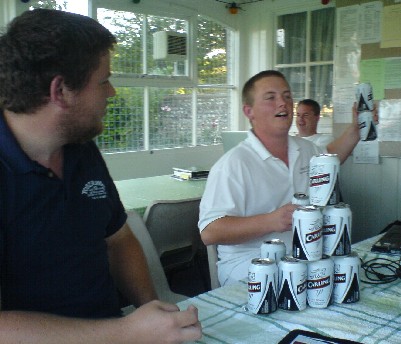 Not sure if it was Wixy's birthday sing-along...
Second Round
Magee beat Dent +23, -26, +16
First game: Magee managed to rush peel all 3 peels, and rushed on to the peg!
Parish beat Wilkins +7, +14
Harrison-Wood beat Bradforth: +26TP, +4TP
Kibble beat Daniels -8, +2TP, +26TP
Game 2: Kibble was seconds from going out but Daniels failed a straight rover peel, giving Kibble all the balls to win in 2 turns.
Beast beat Guest +26TP, +26TP
Showed his class winning both on the 6th turn.
Death beat Trimmer +18QP, +2STP
Game 2: Death had a 3 ball STP after Trimmer had pegged out one ball with his other for Rover.
Farthing beat Wicks +26TP, +17TP
No errors.
Aiton beat Patmore -26TP, +26TP, +26TP
Corner 3 openings in games 1 & 2. Dispute in game 2 about whose mallet was a yard long. Keith's is bigger than Patmore's, however Patmore's is the correct size. *shrug*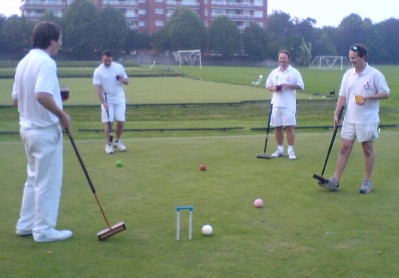 ...or the one-handed GC, that made it a fun weekend.
Quarter-Finals
Death leading Harrison-Wood 1-0 over night. +12TPO
Maugham beat Magee +26TP, -13OTP, +17TP
Game 2: Beast ran hoop 1 with Magee's ball in corner II. Beast 'christed off' reception ball, played large roll putting a ball to 3 going to Magee's ball. Whilst playing the stroke he done some 'head shit' on himself and managed to put the striker's ball off and give Magee a rush to the ball at hoop 3. Magee won in 2 turns.
Conditions are very easy. Hoops putting up little to no resistance.
Semi-Finals
Aiton beat Death 2-1 to reach the final, Maugham beat Farthing 2-1 in the other semi.
Final
Aiton beat Maugham +26tp, -26tp, -26tp, +14otp, +26tp with one error in the match (K failed hoop 1 first break, first game); there were 5 shots hit (2 3rd turn and 3 4th turn (1 after a break)); and there were 9 shots missed (3 3rd turn, 2 4th turn (1 after a break), 3 lifts and 1 after the error).
---