Centre Stage final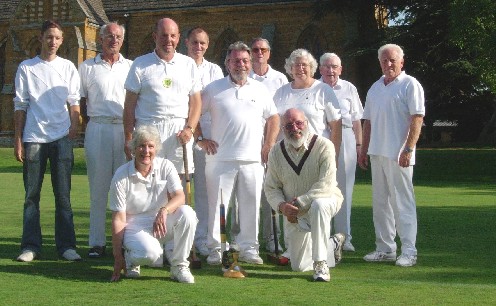 by Rosemary Longbottom at Northampton
21st September 2006 (
GC
)
Ten players from as far a field at Yorkshire and Bath gathered at Northampton Croquet Club on 10 September to play the final of the Centre Stage Golf Croquet competition. The weather was hot and sunny after a very foggy journey for most of the players.
Many thanks go to the Northampton CC for making the contestants welcome. The event was expertly managed by Mr Pat Wright.
The competition was played in two blocks of five with the winners of each block playing the second placed from the opposite block.
The semi-final results saw winner of block 1, John Bee of Watford (Cassiobury), playing Richard Keighley of Leighton Linslade. Richard won 7:4. The winner of block 2, Derek Blow of Southwell, played Don Martin, also of Southwell, and won 7:5.
The final between Richard and Derek proved to be a hard fought game with Richard Keighley winning 7:4.
Pat Wright presented Richard with the Centre Stage Egg Cup trophy donated by Syd Jones of Croquet for Leisure and small memento trophies were given to winner and runner up.
---