Blewbury beat Beverley in the Secretary's Shield Final 4-3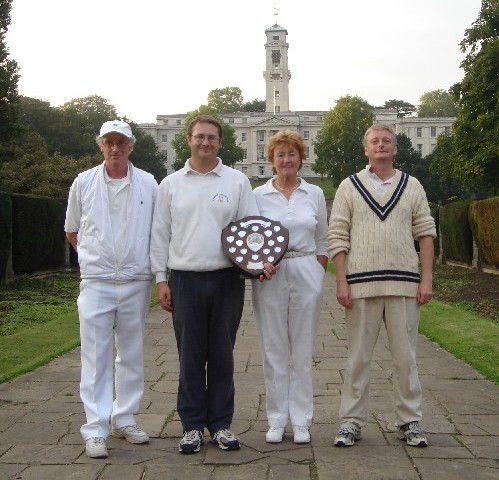 John Spiers, Nick Butler, Avril Ragoni-Machiavelli and Stuart Parks
by Ian Vincent
26th September 2006 (
AC - Secretary's Shield
)
After much negotiation, the final of the Secretary's Shield (the competition for winners of last year's Federation Leagues) was held at Nottingham today, Monday 25th September. It was the battle of the
B's: Beverley v Blewbury. Conditions would have been good for seamers at the somewhat delayed start, but the sun broke through to give a pleasant early-autumn day. A rough measurement of the speed of the freshly mown lawns was 9.9 seconds on the Plummer scale.
Demand for refereeing seemed intense, with at least half a dozen shots at balls in or near hoops, two (unsuccessful) wiring claims, a shot at a ball replaced by the double-banker while the striker's ball was in flight and the several attempts at roquets after staggering through a hoop. Two of those were 'flat' hammer strokes, with the non-striking end of the mallet being swung through (rather than over) the hoop while the striker faced away from the target, both of which were successful. Unlike Tiger Wood's 9-iron, a yellow ball was retrieved from the stream after only a short delay.
The Southerners took the doubles with a neat double peel, but Beverley won both the morning singles. Nick Butler, fresh from winning the Treasurer's Tankard, levelled the score with the first afternoon game to finish. Avril Ragoni-Machiavelli then took Blewbury ahead and the decisive result came in the match between the Johns, where Blewbury's John Spiers won by +2, with all four clips on the peg, after John Kennedy had earlier got cross-wired when about to finish. Shortly afterwards, Mike Evans took the final game to give a 4-3 margin, hardly the 7-0 complained of in earlier rounds!
Congratulations to both teams for getting this far, and to Blewbury on their victory.
Results
Nick Butler & Avril Ragoni-Machiavelli bt Colin Fletcher & Mike Evans +13
John Spiers lost to Robin Edwards -17
Stuart Parks lost to John Kennedy -5(T)
Nick Butler bt Colin Fletcher +16
John Spiers bt John Kennedy +2
Stuart Parks lost to Mike Evans -13(T)
Avril Ragoni-Machiavelli bt Robin Edwards +9(T)
---