Surbiton beat Bristol 5-2 to win 3rd Inter-Club crown in 2006
[<<] [>>] by Stephen Mulliner
2nd October 2006 (AC - Inter-Club)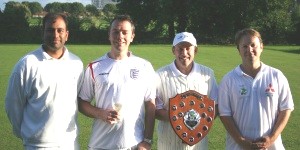 Samir Patel, Chris Farthing, Stephen Mulliner and Chris Patmore
Surbiton beat Bristol 5-2 in the Inter-Club Championship final at Surbiton today, thereby completing the "double" of both 2006 AC and GC Inter-Club Championships to add to the 2005 GC Inter-Club Championship which they won in May. It is likely to be a long time before the feat of winning three inter-club championships in one calendar year is repeated!
However, barely an hour before Chris Patmore completed a TP against Roger Jenkins, the score looked like being 5-2 in Bristol's favour and the visitors deserve commiserations for coming second after a season of consistent good play which included an excellent semi-final win against Colchester.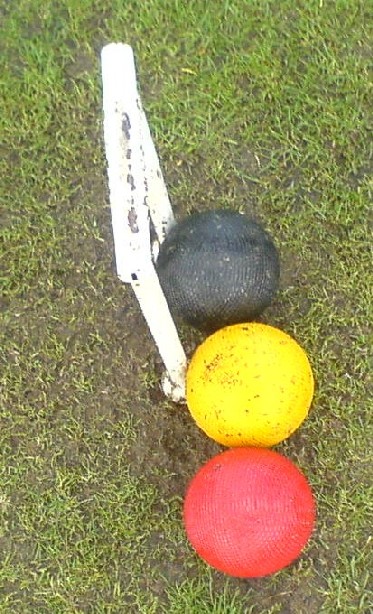 Chris Patmore taking croquet from Y with R
The day was heavily rain-affected and the start had to be delayed for almost an hour after heavy rain caused temporary water logging of Lawns 1 and 2. Little did we know what was to follow. In the doubles, Ed Duckworth reached 4-b without incident and, after a missed lift, David Goacher failed hoop 1 thereby presenting Chris Farthing with a break that came to unexpected grief when, trying to arrange a NSL, he gave himself a horrible short angled 3b and stuck. What then followed brought to mind the fable of the tortoise and the hare but with a different ending. Goacher, presented with all four balls near 3-b, took a characteristic degree of care over his TP and had run 2-b after 34 minutes with two peels done. To be fair, he was playing with great accuracy and it was therefore a shock when, attempting to feather a 2 foot cut on partner into peeling position at rover, he missed the ball completely! The cry of distress the Goat emitted would have melted any heart but Stephen Mulliner was not sufficiently sympathetic to pass up the chance of a quad which he completed in rather less time than David had taken to get to hoop 6. +7qp and a rather fortunate 1-0 to Surbiton.
The singles between Samir Patel and Roger Jenkins had offered both sides opportunities but Surbiton's star appeared to be in the ascendant when Samir completed all three peels of a TPO. Unfortunately he failed to get a good rush to the peg and the peg-out was not a success. Roger took a grateful contact and won +13. However, the greatest glory went to Dave Kibble who completed a quintuple enlivened by two majestic shots which caused his striker's ball to move a net 4 yards (from 4 yards SW of Corner 3 into Corner 3). So what, you ask. Well, the first was a take-off to get position for 3-b, which finished almost off the south boundary. The second was the hoop stroke which nicked the western upright and caused Dave's ball to finish in Corner 3! He then hit a 8 yarder and nonchalantly completed the break including a promotion bombard of partner from south of penult to nearer rover. Very classy stuff and +16qnp and 2-1 to Bristol at lunch.
Lunch took almost three hours - not because of the food and drink , excellent as it was, but because we were entertained to the spectacle of a hailstorm competing with a torrential downpour to see if it could turn the courts white. The answer was no and they merely became lake-like instead. Play eventually resumed at about 3 pm and Chris Farthing made short work of the luckless David Goacher, +26tp and 2-2. However, shortly afterwards, Duckworth appeared to be in full control against Mulliner and both Kibble and Jenkins seemed to have all the play on the other lawn. Given the morning's form and the current positions, a betting man would have tempted to have a quick fiver on Bristol winning 5-2.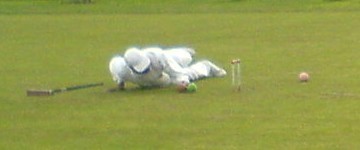 Samir Patel seals victory with a Rover Peel
However, the Duckworth TP failed at hoop 5 although Ed's ball had not got into the jaws and when Stephen failed to run an angled rover from three yards to hit him, Ed gratefully continued with what became a delayed DP. This looked like finishing until Ed glued his striker's ball to rover when trying a slightly long Irish peel. Two breaks later and Stephen had escaped +3 tp and Surbiton were 3-2 ahead.
However, while this was going on, the early advantage of the Bristolians in the other singles had evaporated. Both were first to 4-back but the Surbitonites hit their lifts, went to 4-b and tripled out +17tp when the visitors missed their lifts.
So ended a fascinating match and Nigel Graves, as a member of Council, kindly deputised for Stephen Mulliner (as CA Vice -President and trophy presenter) so that the trophy could be presented to Stephen Mulliner (as Surbiton captain)!
---