Chairman's Salver report
[<<] [>>] by Ian Burridge
2nd October 2006 (AC - Championships)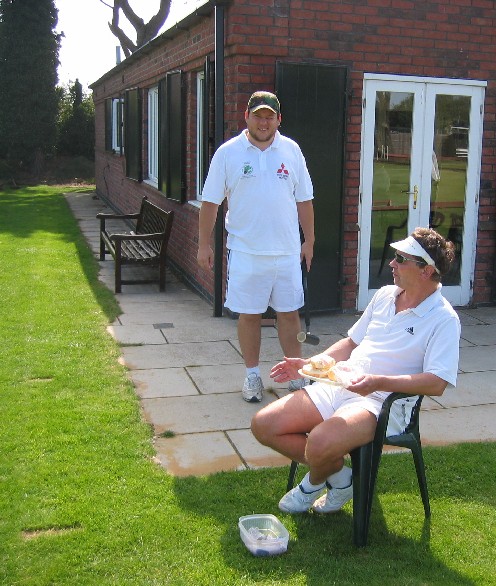 Stabber and The Goat
(Photo: Chris Williams)
The length of this report is a tribute to David Goacher, both the antics he gets up to and the time he forced the rest of us spend waiting for him. If you cant be bothered with it all I will create an edited version for the gazette.
Eights are horrible as you stand around waiting for the event to start, will you be the miserable sole on 0/4 wanting to go home rather than play 3 more days of croquet at dinner on the first night, or will you be one of the bouncy lively ones near the top raring to go the next morning. Just when things can't get worse you get lumbered with writing the report despite not being last to arrive, the supposed determination criteria. Indeed Ian Burridge and Sam Tudor decided to set the standard for the rest of the event turning up first and having to wait for everyone else and for the club to be unlocked. The lawns had good quality grass, were easy paced and the hoops were easy without being trivial and tended not to get much easier as each day progressed, the boundaries were locally poor in places, but fine for shooting down. All those who had been before thought that they had improved since their previous visit, a tribute to the work of groundsman Jeff Race.
Holder Jeff Dawson quickly dispatched of Tony Le Moignan despite failing 2-back on his first break only for Tony to stick in hoop one and spend the rest of the game looking as if he has just remembered why he failed to complete the last eight he played in. Nobody had predicted that Chris Williams (Statto) would win and rightly so given his shocking display of form in his six error victory over Chris Patmore who didn't look like he could hit a barn door. Tudor took the first all Welsh clash against Burridge (in this the first Chairman's with 3 Welshmen since 1984) in a reasonable quality game. David Goacher, in his 20th consecutive eight, set his stall out for the week when pegged down against favourite Ian Lines, one break all after 2 and a half hours.
Statto understandably hadn't been watching but if he had done he might have avoided falling down the same cliff as Lines had against Goacher on the west boundary of lawn one to gift Burridge his first win in round two. This and the other round two games hadn't even started when Tudor beat Patmore with the first triple of the tournament, making Burridge feel both old and slow. Le Moignan dispatched the Goat who was by now beginning to look quite out of form and Dawson completed a TP to beat Lines who didn't take croquet.
In the club house "World of Croquet" was getting a good read by the out players, given recent correspondence, Burridge was surprised to see the use of an analogy between chess and croquet. It is something of a clue to when the book was written that the tice opening is compared to P-K4, these days it is more likely to found in the obscure/unsound chapter of any opening book. The book is actually very good and the chapter on cannons is particularly good, most players would benefit from reading it. Burridge was using the advice to good advantage when picking up his first break for the second consecutive game with a corner two cannon for hoop 1 a shot he actually learnt from the book (now we have moved on from the Barlow era all the cannons described actually work again!) Tony was then particularly hard done by as he made a standard triple ("part of every good player's armoury"!) look easy for once. Unbeaten Tudor and Dawson clashed and it started brilliantly with a Dawson TPO on turn 4. Sam got himself a four foot angled 45 degree angled jump at hoop 1, his trademark shot but on this occasion he failed. If croquet was a team game where different members could come on to play different shots Sam would be the long angled jump shot player for the World Champions. The game then degenerated slightly with Sam having one further turn of croquet before Jeff finally finished him off to take the outright lead on 3/3. Lines beat Patmore in a slightly scrappy affair and Goacher was last to finish again by some time; winning what to be fair was a relatively interesting tactical affair with Williams +4.
Tudor was again the lucky person able to start without waiting for the Goat but this time he was dispatched in quick time by Le Moignan. Lines, the most prolific peeler of those playing, completed his first against Statto. Burridge had Dawson on toast needing to play a 4 ball break from hoop 1 to the peg to win but came to grief at four-back and when he failed to finish again after another Dawson error Jeff wrapped up the game to take a commanding lead in the event on 4/4. Goacher improved slightly to beat Patmore but still didn't look like a likely winner.
Patmore achieved his 5th loss of the day at the tournament meal (held early as this was the only day Burridge wasn't commuting) in the first game of spoof and Jeff proved that he could be beaten at something in the next. Earlier in the day the manager, Patmore, had set us the task of creating a new croquet term. Our early offering of "Lining", placing the pilot ball between you and the hoop when approaching a hoop so that it prevents you from being able to run it on the floor, may have a 10% chance of sticking but no more. In the evening our attention had switched to nicknames and particularly the lack of them for Ian and Jeff. Although the shopkeeper was OK for Jeff people shouldn't be allowed to invent their own, so we will have to try and get our alternative BH to stick. Lines appears to be one of those people who has the personality capable of rendering themselves nickname proof. Statto in conversation with Burridge, Lines [and Dawson] came out with an early winner for quote of the week when saying "there is a lot of partner swapping goes on in New Zealand", in a tone of voice that suggested it was a phenomenon unique to that country. Tony had been researching all day the competitors' attitude towards golf croquet and Goacher said that he was quite a regular player at Bristol playing in the annual club tournament in which he revealed other entrants included such golf croquet aficionados as David Kibble.
Tudor beat Lines with a 6th turn TP after an uncharacteristic breakdown by Lines having hit the lift. Le Moignan kept up his record of winning every game in which he scored a point whilst making sure that Williams did not take croquet for the second game running. True to his word of the night before Burridge ensured that Goacher was not last to finish for the first time gifting him two breaks as his hoop stroke appeared to disintegrate. Dawson and Patmore both retained their 100% records as Jeff won his third Riggalled game of the event, although Patmore showed some form that suggested he would soon break his duck.
Burridge confirmed his total loss of confidence with an abysmal performance against Lines who completed his second TP, despite looking error prone himself. Only Tudor could now be considered to be playing well, nobody else looked likely to play an errorless game. Dawson lost his 100% record to Williams. The rest of the players were getting used to watching Goacher and his occasionally bizarre shot selection and he didn't disappoint at the end of his TPO against Tudor. He opted to play a two yard peg out as a split shot and it duly missed, after only about 30 seconds thought he then rushed partner to the east boundary and laid up a yard apart. Sam picked up his hoop 1 ball took the forgotten contact and finished. To be fair to David watching him playing well is as interesting as watching paint dry but when he is a bit below form he gives you time to savour every move and decision. Patmore looked like winning his first game but his rush to peg from the south boundary hit rover and the game was pegged down with Le Moignan having a six yarder, which he chose not to take, with his hoop 1 ball with partner on 4-back.
Tudor had already got more than a round ahead again with a 5th turn 26tp demolition of Williams. Once a lawn was available Burridge joined him in the clubhouse having beaten Patmore +26. Lines finished another triple against Le Moignan who didn't have croquet. Which left us watching Goacher again who as usual didn't disappoint. Finishing a TP with a straight rover peel against Dawson he rushed to an unpeelable angle about a foot from the hoop. He adopted a bizarre yoga position to line up the peel and played a shot where the actual aim will remain a mystery to everyone - suffice to say his next stroke was to play away without a peel having been achieved. Dawson missed the ball in the hoop horrendously allowing Goacher to make rover but Dawson hit his last shot before probably the worst hoop stroke of the tournament allowed Goacher to wrap the game up. Tony was convinced at this point that he had had a premonition and knew who was going to win so everyone took the opportunity to name their winner at this point, the scores follow together with that person's prediction:
| | | |
| --- | --- | --- |
| Dawson | 5/7 | Tudor 10 |
| Tudor | 5/7 | Tudor 10 |
| Lines | 4/6 | Tudor Goat 10 Tudor wins play off |
| Goacher | 4/6 | Tudor 10 |
| Le Moignan | 3/6 | Lines (Fact!) 11 |
| Burridge | 3/7 | Goat 10 |
| Williams | 2/7 | Tudor 11 |
| Patmore | 0/6 | Tudor Dawson 10 Tudor wins play off |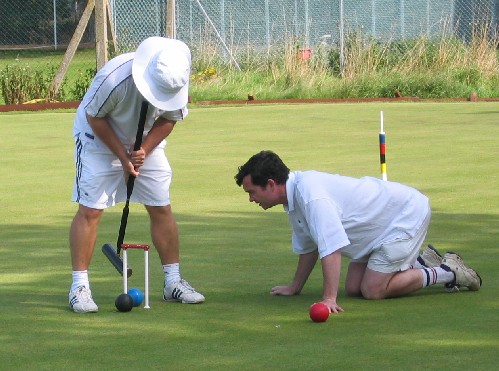 Burridge referees a shot for Patmore
(Photo: Chris Williams)
The second series started with a return match, if this is possible given that it wasn't spotted in round 1, with the four Oxbridge Physicists against the others. They had comprehensively won 3-0 with one pegged down in the first series and a repeat scoreline certainly looked on the cards at the outset. The match got off to a peach of a start for the rest, Patmore appeared to place his first ball in corner 3 and Statto traditionally put his ball into corner 1 only for Patmore to walk to third corner place his ball on the corner spot and played his 6" rush towards hoop 2 but somewhat predictably failed hoop one having rolled up. Tudor responded to the pressure of favouritism well with a +3tp victory after Burridge had failed a tricky penult and peg finish, getting caught out by the same hill that had foiled Goacher's TP in the previous round. Lines looked like completing another robotic TP against Goacher but came to grief an Penult before eventually taking the game an hour or so later. Dawson won a good quality game with Le Moignan +17. Patmore took his game with Williams with a TP after Williams had failed his own. Another victory for the physicists.
Overnight the police attempted to move Goacher on from just outside the club where he had pitched his tent but sweet talking David managed to see them off, promising not to do it again. Presumably when the police returned later in the evening to investigate a ram-raid on the adjoining cricket pavilion they might have hoped that the man in the tent would have been able to help them with their enquiries, but he had slept through the event oblivious.
Round 9 started with the smell of sewage wafting across the town presumably something to do with the 20 year high tide. Jeff played an errorless game, hitting a lift to beat Tudor +17tp. Burridge again ensured that Goat wasn't last to finish going down 26tp no croquet in 90 minutes. Le Moignan won with a TP against Williams after the latter had failed his own and Lines made it four TPs in the round for the first time against Patmore.
Stabber failed his trademark shot again 3rd turn against Lines but after the resulting seven yarder was missed Sam won two turns later. Burridge shut out Le Moignan again but couldn't complete his second standard TP of the event. Goacher equalled Edgar Jackson's record of 87 wins in the Chairman's Salver with his TP against Williams and Dawson beat Patmore +2TP after Chris had failed to peg out through rover at the end of his own triple.
Round 11 saw the four contenders play the non-contenders. Williams suffered his 4th no croquet loss of the event to Dawson. Lines sent his Irish peel at rover off the lawn against Burridge but a rover and rover triple failure, far worse than any of Goacher's that had previously been so gleefully criticised, gifted the game back to Lines. Le Moignan put up a better showing for the also-rans with a TPO against Tudor a game he looked like winning when Sam shot at and duly missed wired balls in corner one from corner three when he was for hoop six. However he refused to play a makeable sweep shot after penult and played away, Tudor hit the resulting 13 yarder and finished from hoop 2. It was Patmore who finally disposed of one of the contenders with a TP after Goacher had missed a three yarder to follow on from his missed five yarder that had conceded the first break.
Dawson employed the same trick as he had against Williams in the previous round against Burridge, failing to make his diagonal spread to ensure that he only had a standard TP to do to win +26tp. Tudor beat Goacher +26tp despite sticking in hoop one at the first attempt. Whilst Burridge and Goacher were watching and listening to the football scores Ian innocently asked what the paper arrow stuck to David's radio was, to uncover a little gem. David's kinesiologist has told him that affixing these arrows (hand drawn in pencil stuck on with sellotape) pointing upwards to household gadgets such as TV's and radios would deflect the electro-magnetic rays from them upwards rather than them entering the room. The four physicists all of whom I would generally regard as mild mannered men were asked their opinion on the matter with the following responses:
"What a F***ing Muppet"
"What a load of cobblers"
"B*****ks"
"Complete C**p"
Meanwhile Lines was beating Williams and Le Moignan beat Patmore +17 before completing the double over him with the resumption of their pegged down game which he won +2. Goacher and Lines also managed to complete their game from round one game with Goacher taking no further croquet.
Standings after 12 rounds
Dawson 10
Tudor, Lines 9
Goacher, Le Moignan 6
Burridge 4
Patmore, Williams 2
The tension started to creep in during round 13, Tudor missed a big double in the opening, broke down at two back on his first break and when Patmore failed his TP Tudor missed a nine, twenty five, twenty and twelve yarders before Patmore wrapped the game up. Dawson Lines saw Jeff stick in hoop one turn five and hoop two on turn 7 after Lines had joined up. Lines uncharacteristically finished in three turns only attempting the first peel straight when Jeff asked what happened to the TP Ian's reply was "he sort of bottled it". Burridge completed his second TP against Williams and Goacher made sure that Le Moignan had no hope of getting his afternoon flight with a +4 victory finally surpassing Jackson's record at the third attempt to prolonged applause.
The final round saw Dawson play his best turn of the event to complete a delayed TP against Goacher and guarantee at least a play-off, Goacher having missed in the opening when Dawson had failed hoop 2. Tudor put the ball going to hoop 3 off in a Hogan roll (Hogan Drive?) but in a very poor game eventually beat Williams. Patmore and Burridge produced an equally forgettable game that Patmore won convincingly in the end. Lines was back to his robotic best with a no croquet +26tp against Le Moignan to force a play-off.
Dawson, Lines 11
Tudor 10
Goacher 7
Le Moignan 6
Burridge 5
Patmore 4
Williams 2
(Career Chairman's Salver wins Goacher 88, Jackson 87, Dawson 83, Cordingley 73)
This produced a play-off ensuring that those who turned up to watch at lunchtime got something to see. I had left but understand it was far from a classic and hopefully ANOther will provide further details, however Dawson won with another TP to become only the second person to successfully defend the Salver, the other being our old friend the Goat.
The tournament ended with the top four ranked in the top 20 in the world and it is fair to say that they were a different class to the other four competitors. It was nine years since I had last played an eight and I certainly hadn't changed much, an average of an error a game, good shooting and a poor peeling record pretty much summed up my play a decade ago and it was no different this time. Now however this form gets you in the bottom half of the Chairman's Salver rather than the President's Cup. The staggering fact for me was that in the event my opponents only made 10 errors against me (5 of them in two games), I used to expect that many in the President's and probably three times as many in the Chairman's. All four games where I failed to finish saw me immediately shaking hands with my opponent at the end next turn there were no last shots with which to save the game like there were in the good old days.
Tudor's lack of experience eventually cost him, there had been early signs of the nature of his eventual demise to Patmore when his shooting had deserted him against Burridge when he acquired the favourites tag but he still made it to the final day before falling short. His overall standard of play was excellent, particular his single ball shots and he certainly had a higher standard of play against him by his opponents than Lines or Dawson. His tendency to send pioneers well past the corner hoops had become apparent long before the Hogan Drive and this regular failure to play within the box formed by the outside hoops will cost him more dearly in difficult conditions.
Dawson's play was excellent once he had a break established but he was much weaker at getting going than several others in the event [this was written before the play-off - honest!]. Good shooting also made sure he made it to the final day in contention. He was definitely fortunate to be on 6/8 at the end of day two but he capitalised well on his early good fortune, taking over from Tudor who had been the best player on the opening days
Lines has no real weaknesses and one strength, his peeling. He could be relied upon to make a mistake a game but his shooting and peeling were just enough to make up for this. He wasn't actually as clinical as usual with his TPs failing three that had got to the point where they were easier to finish that fail but fortunately for him all three went unpunished.
Goacher was visibly out of form and it is a credit to his general standard of play that he was briefly able to haul himself into contention before his errors caught up with him in the second series.
Le Moignan appeared to take a while to adjust the standard of play but looked very solid once he had, indeed given a few more big shots in his repertoire when required he might have been able to mount a challenge.
Patmore's shooting was not up to the required standard but once he had managed to get a bit of play under his belt his general play was as good as the others in the three places above him.
Williams was the unfortunate person to get into the event on his early season/last seasons form but came into the event out of form. His shooting was not of the required standard as his four no croquet losses show and he was significantly more prone to making an error mid-break than all the other competitors.
Finally a thank you to all the members at the Hunstanton club who with their catering and support helped make this an enjoyable event for all the players.
---