James Doll-Smith won the National Croquet Challenge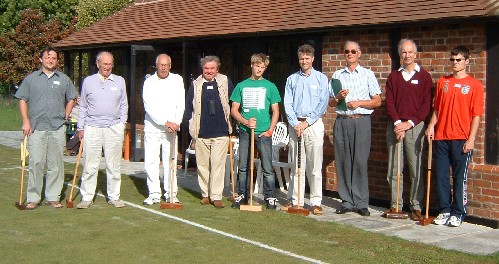 The 8 semi-finalists, with James in the centre (photo: Jim Bartlett)
3rd October 2006 (
GC
)
The final of the National Croquet Challenge was played at Blewbury Croquet Club on 30 September, and won by sixteen year old James Doll-Smith.
The Challenge, sponsored by Bestinvest, was a Golf Croquet competition open to garden players who did not have an official handicap.
Advertisements in the national press evoked about 300 expressions of interest, leading to 134 entrants, of whom about 80 actually turned up to play at 18 different clubs. 32 players qualified to play in four area finals, and eight made their way through to the national final.
The lawns at Blewbury were in excellent condition, and despite intermittent heavy showers the weather was mostly kind. All present were impressed by the standard of play by competitors who, for the most part, were experiencing full sized lawns for the first time. The players were divided into two blocks of four, with all playing all. The block winners and runners-up then played two semi-finals , a final and a third-fourth playoff.
The final, between James Doll-Smith and Anthony Shewell, was a closely fought affair, with neither player able to establish a commanding lead.
With James leading 6-5 and Anthony looking favourite for the twelfth hoop James produced two excellent shots, twice narrowly avoiding the peg first to clear Anthony's ball and then to take position with his own ball. Anthony's final attempted clearance served only to nudge James's ball into a slightly better position, and James made no mistake with his final shot to clinch the match 7-5.
Results
Block A
James Doll-Smith bt Alastair Clephan 7-6
HJ Ireland bt Tim Beaumont 7-6
Doll-Smith bt Beaumont 7-2
Clephan bt Ireland 7-4
Doll-Smith bt Ireland 7-4
Beaumont bt Clephan 7-4
Doll-Smith 3 wins
Clephan 1 win, 17 points
Beaumont 1 win, 15 points
Ireland 1 win, 15 points
Block B
Ryan Marsh bt Tim Smith 7-1
Anthony Shewell bt Brian Knight 7-2
Knight bt Marsh 7-7
Shewell bt Smith 7-5
Smith bt Knight 7-1
Shewell bt Marsh 7-2
Shewell 3 wins
Marsh 1 win, 15 points
Smith 1 win, 13 points
Knight 1 win, 10 points
Semi-Finals
Doll-Smith bt Marsh 7-5
Shewell bt Clephan 7-2
Final
Doll-Smith bt Shewell 7-5
---