Croquet Dynamics Project
[<<] [>>] by Bill Arliss
4th October 2006 (Other News)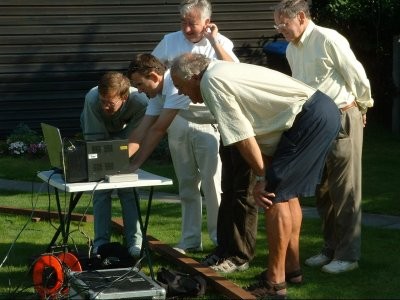 It must have been at least a triple tap!
It all started as an idea by the Golf Croquet committee to resolve the refereeing problems of double taps in Golf Croquet when two adjacent balls are hit along the line of centres. A search was made on the internet to find some means of filming such strokes at high speed. This resulted in contact being made with a high speed video consultant, Mark Johnson, who is based in the Manchester area. Mark's primary area of expertise is as a sport's analyst and he was very interested in our project. He volunteered his services for a day at considerably below the normal commercial rate.
The matter was considered by the CA's Management Committee who decided to back the venture as long as it was expanded to include a full variety of strokes from both Association and Golf croquet. It is fully recognised that croquet will never get close to the situation we have with the major sports where high tech cameras can be brought into to continuous use. However we felt that if a good understanding of exactly what happens when mallet meets ball meets hoop etc could be gained from high speed filming, it would give our laws committees an excellent basis for instructing our referees on how to interpret all the factors that can be recognised by human ears and eyes.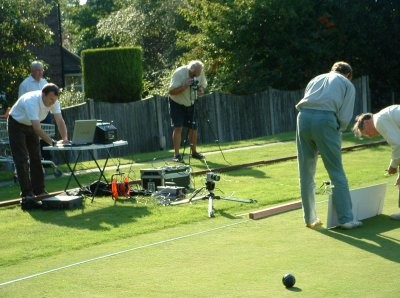 All systems go!
A team from the CA comprising Bill Arliss, Alan Pidcock, Barry Keen and Ian Lines met the video consultant at Bowdon on Thursday 20 Sept with a task list of over 70 different shots. The weather turned out to be perfect, with bright blue skies and a cooling breeze all day giving ideal lighting conditions. This enabled us to complete our full list of shots which included single ball shots, double tap situations with two balls, croquet strokes, hoop running, jump and hammer shots played with a variety of strengths. As well as the close up high speed videos, a standard video of the player performing the actual shots was also take to give some measure of reality to the high speed clip. Initial reviews of all the high speed clips have shown excellent results with top class resolution and clarity even at frame speeds of 8000 per second. However the actual filming was only the start to the work, all these mini clips have to be assembled and interpretations added by our laws committees to produce the final report. This will inevitably take some time but we believe the end results will be a useful resource for both referees and players worldwide.
It has been agreed that all the work will be made available to all at a later date but not until our own laws committees have studied all the results and have agreed what interpretation should be placed upon them.
---