Barry Gould won the Guildford & Godalming Handicap Tournament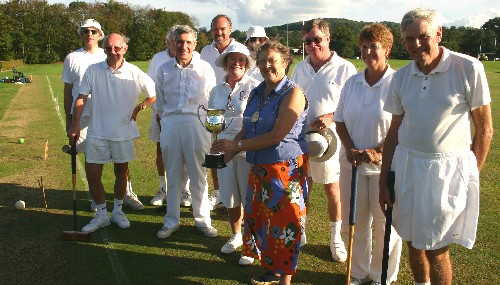 The Mayor of Guildford, Councillor Angela Gunning with competitors
by Mike Huxley at Guildford & Godalming
23-24 September 2006 (
AC - Handicap
)
In what, despite the presence of the remains of Hurricane Gordon in the western approaches, turned out to be glorious weather, 10 stalwarts ranging in handicap from 8 to 20, competed for the Chapman Challenge Cup. The Bray system was used to shorten some of the games, with the result that only 5 ran to time. Competitors cane from far and wide: Hunstanton, Ramsgate and Ryde, as well as more local clubs.
Barry Gould (Guildford and Godalming), the defending cup-holder, successfully defended, with 4 wins out of 5.
Neil Coote (Reigate Priory), with the best 3 wins was runner-up
Maggie Holland (Woking), playing in her first singles tournament, came a very creditable third, also with 3 wins
The Mayor of Guildford, Councillor Angela Gunning, paid the club a visit on the Saturday afternoon. We think she enjoyed herself. Having promised her husband that she would be home by 5.30pm, she was still at the club at 6.15!
The manager's special award went to Patricia Duke-Cox for a thrilling come-back in her 4th game, with opponent on peg and peg. She made up a 16-point deficit to win +2
Handicap Changes
Patricia Duke-Cox 10 to 11
Neil Coote 14 to 12
---