President's Cup 2006 Report
[<<] [>>] by Marcus Evans at Jersey
14th November 2006 (AC - Championships)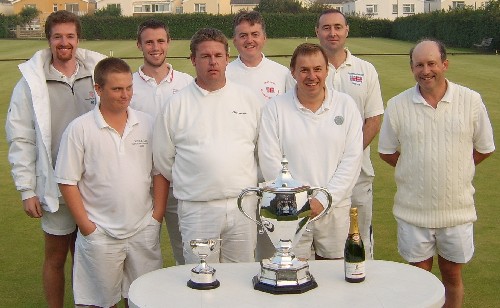 I'm not sure if I can compete with Ian Burridge on length, and I certainly can't on humour, but I will have to try in order to do justice to an excellent 3 days of croquet.
The lawns had been superbly prepared by the Jersey groundsmen and members, and were cut every morning before play, but the weather, while excellent for the time of year, kept them very easy-paced throughout - they were timed at about 9 seconds on the Saturday morning. Lawn three in particular had a pronounced slope from West to East, but nearly all the hoop areas were perfect and most boundaries were fine. Hoops remained firm and well-set throughout, but the ground was soft enough to bully them and they certainly couldn't be described as difficult. All this meant roughly a third of the games were entirely error-free, with several more finishing quickly after one or two mistakes, which allowed the manager to complete all the scheduled rounds inside three days - something of a relief to him personally, as his flight left at 3pm on the Sunday, leaving little time for any play-offs!
Further statistics of note include: the event contained 46 triple peels or better in 56 games, two fewer than last year's record number, but TPOs seemed more successful than last year with 3, and only 2 OTPs. I maintain that this is because this year all but one TPO had two balls pegged out, making a finish from the contact much less likely. In several games a failure to take the opportunity to TPO was punished by the opposition hitting in and finishing.
In every game, the winner of the toss chose to go first, and in all but one the other chose red and yellow. The supershot opening was by far the most common choice, with all but 2 games starting this way. The most common response appeared to be divided fairly equally between going to the maximum length position on the East boundary, corner II, and trickling at the supershot ball from the end of A-baulk. Trickling from corner I was also popular, followed by shooting hard, corner IV, and putting the second ball a couple of yards East of the first. It's hard to say which was the most successful, but to me it appeared that the standard of shooting was so high that the best option was to try to hit the supershot 2nd turn, or if not go as far from baulk as possible, the 13-yarder to corner II being just not long enough to be credible.
The N/MSL seemed the most popular leave, while the diagonal spread continues to be effective. The 1-back leave only really worked when the sextuple was completed, and there was only one player in the field for whom this was a winning tactic. This event also saw a number of "defensive leaves", which is the term I shall use for one ball in corner IV, the other ball on the West boundary level with the peg, and one's own balls joined in corner II a yard apart on the West boundary. Again, I felt that this offers too short a shot, but its consistently effective use by Fulford in particular shows that it does indeed make it unlikely that the opponent will get a break if they lift the West boundary ball. The leave with one ball on the back of hoop 1 was, I believe, hit every time it was used, and is probably too attacking when the other opponent ball is for 1.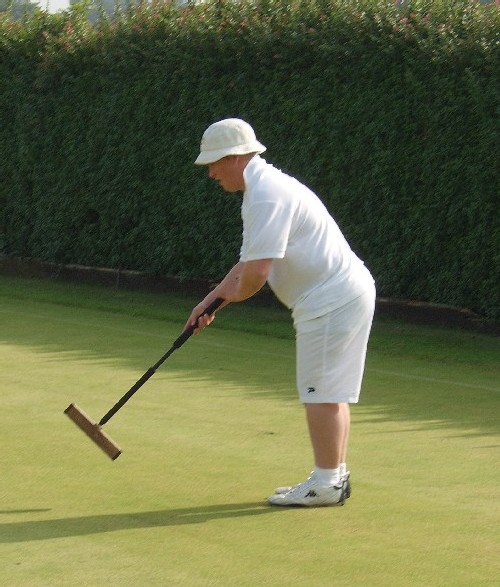 The tournament got off to a good start for Keith Aiton when not only did he have to pay £15 each way for his mallet to go on the plane in a guitar case (while Mark Avery simply left his sticking out of a sports bag), but he also had his suntan lotion confiscated by security. While perhaps not critical for Jersey in October, he will have to be more careful on the way to Australia. Most of the players congregated at the club the day before the start of play to do some practice, which was much appreciated. Once the hoops had to be removed for court preparation, the players entertained themselves with a game of "Croquet Bowls". Those who have been to Jersey CC will know that there is a large, closely-mown bank running between courts 1 & 2 and 3 & 4. With the stop boards between 3 & 4 removed, it is possible to play from the south boundary of lawn 4, up the bank, and back down on to 3. Thus one can play a "jack" and then hit croquet balls towards it in this manner, the scoring being identical to lawn bowls. Avery excelled at this, mainly by hitting it harder than most others, while Robert Fulford struggled initially before winning one or two shots. This proved to be an almost complete reversal of the result of the actual croquet.
Dinner that evening provided further entertainment when it was revealed that David Maugham had offered odds of 2-1 against Mark Avery finishing in the top 3. Mark had put £25 on (in the event of him finishing joint third, the bet would apparently be declared void), but no-one else was tempted. Indeed, later in the week people were queuing up to offer him longer odds!
Rutger Beijderwellen joined us the next morning asking where everyone was the day before. Apparently he had arrived at the club at 5.30pm, shortly after everyone else had left to watch the football. It was thought that, despite this lack of practice, he may have a psychological advantage over the rest of the field as the only non-England supporter. However, there were no large divots on the lawn to hamper Marcus Evans, who quickly despatched him +26tp 5th turn (the two biggest swingers being first to finish), shortly followed into the clubhouse by David Maugham with a 6th turn win against Keith Aiton by the same score. Robert Fulford was next beating Jack Wicks +26tp in seven after Wixy took off the lawn immediately after hitting 4th turn, becoming the first victim of lawn three's East boundary. Stephen Mulliner took slightly longer to see off Mark Avery, having been hampered after 6 on his first break which allowed Avery to go to 4-back. However, he later made three more hoops with that ball and finished next turn, after Mark missed the lift, with a nice delayed triple, +17tp.
In Round Two David Maugham, as the winner of the toss, opted to go in (rather than his customary choice of red and yellow) for the first time in about 100 games (other than a few against Fulford). He claims that usually it doesn't matter, but this time he felt that conditions were easy enough to warrant a little more respect. Amusingly, Evans started a 2nd turn break against him, but despite having some control he stuck in hoop 3. Maugham rush peeled it from B-baulk and finished in two turns, +23tp. Keith beat Rutger +17tp after Rutger, making an MSL, rolled partner off the East boundary (lawn 3 again). This conceded a near-perfect double from B-baulk which Keith hit and finished, having got to 4-back himself earlier on. Mulliner had the first chance against Fulford but missed after making hoop 1 on the 3rd turn, handing Rob an easy break. He went to 4-back with one POP (leaving Stephen on 1 and 3), leaving a ball near corner IV, a ball on the West boundary level with the peg, and his balls one yard apart on the West boundary just south of corner II. Stephen missed this from B-baulk and Rob finished, +24tp. Wicks eventually beat Avery +24 in a poor game in which Mark had a few errors and misses. Maugham offered to sell him the bet for £30 - Mark thought about it but declined.
Bodgerwelly recorded his first win in Round Three, a smooth +26tp over Wixy. Muppet did the same by beating K +25tp after Keith had sent a ball off approaching 2. The Kid had a surprising +26 win over The Bunny in which he attempted the 4-back peel unsuccessfully five times, but eventually had a fairly tight leave from which Rob missed for the third time in the game. Finally, Beast triumphed over the Short Man +3 in an entertaining finish. Maugham had reached peg and peg, with Stephen still for 1 and 1, after failing the straight rover peel of a triple. Mulliner went to 1-back with the standard leave, and was going reasonably well on his sextuple when he over-hit the rush to penult on his straight triple. With one of Dave's balls already in the jaws of 3, he made the last two hoops and managed to jaws Dave's other ball in 1, sending partner (for penult) to near corner II before pegging himself out, conceding contact. This obviously made it difficult for Dave to finish on that turn, being unable to rush either of his balls closer than seven yards from the peg. Fulford, in the clubhouse, pointed out that Dave could simply take contact from partner in 1 (lifting the ball in 3) and just play a little roll through the hoop, leaving a wired rush to the peg. However, the position of the ball in 1 apparently made that difficult, so Dave simply lifted it to A-baulk and played a 1-foot shot, wired from Stephen's ball, knowing he would get a wiring lift with the ball in 3 next turn which would give him a rush to the peg. Mulliner took the only shot he had, from near corner II to the ball in the jaws on 3, but this missed so Dave took his lift and finished, +3.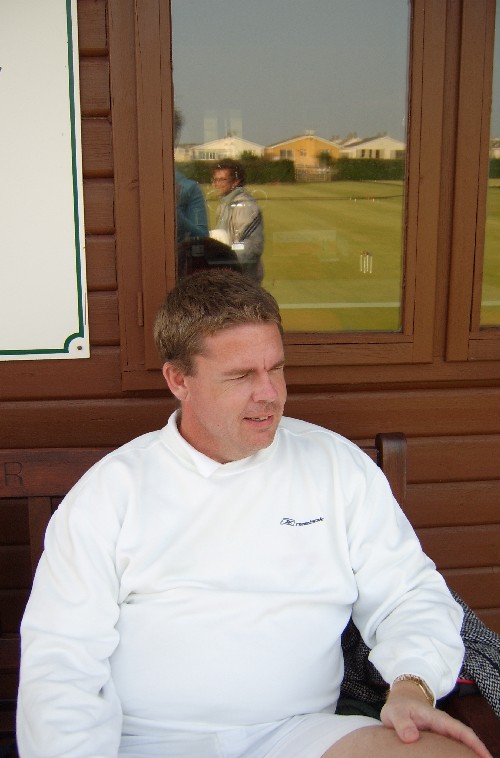 Mark Avery recorded the upset of Round Four by beating Dave Maugham, +26tp. Dave now offered to sell the bet for £20, but Mark, confidence boosted, refused. Keith then beat Stephen by the same score, shortly before Fulford beat Rutger +25sxp after Rutger failed hoop 2 on the 3rd turn, giving Rob all the balls for the third time in four games. Rob finished despite his rush to 2-back hitting the peg, after jawsing the 4-back peel. Finally Wixy beat Marcus +9otp in a rather poor game. After a slow start Wicks got to 4-back. Marcus played a terrible long lift shot which hit the in-lawn ball, 1 yard away from the aiming point, luckily cutting it off the lawn close to the other ball. The TPO was routine, with 2 off as usual, but Evans played several poor shots in the ending, giving Wicks too many easy chances which he accepted with aplomb.
The fifth and final round of the day provided two interesting games. Mulliner hit in on the 4th turn against Evans, had a look at a 1-back leave but failed the cross-wire so went to 4-back with an NSL instead. Marcus elected to take the shot at the East boundary balls from hoop 4, hitting through the hoop. The shot was clean and well-struck but missed by nothing. Stephen then failed 3, and then missed the lift with his 4-back ball after Evans went to 4-back with a defensive leave. After a bit of messing about, Evans got in again and failed to get position for a TP, so took on the TPO instead. In the sixth big pass-roll of his turn, he clanged into the back of hoop 3 after rushing up after 4 with one peel done and stayed there, forcing him to retire to corner II. Mulliner had all the balls for his double peel before hoop 6, but only managed to jaws the first peel going to 4-back. The attempt to promote partner through penult after 4-back resulted in the promoting ball blocking the hoop and the peelee going through by a couple of inches, so he elected to rush peel it through 6. This dislodged the other ball, but peelee remained a few inches due North of penult. Stephen then played an Irish peel of penult and ended up with a good position for the straight rover peel, which he completed. He then rushed partner into the back of rover where it stuck, so he put it over to the West boundary, put Marcus's 4-back ball near 4-back, and went to corner II, leaving Marcus's hoop 5 ball about an inch off the end of A-baulk. Evans took contact from this with the 4-back ball and attempted to cross-wire Stephen at hoop 1 (more big rolls), joining up near 4-back. Mulliner hit the failed cross-wire and laid a 1 yard rush to peg on the end of A-baulk, with Evans's 4-back ball on the East boundary level with 4-back and the other ball in corner II. Evans hit partner from corner II, played some good aggressive shots to get the delayed triple going, and finished, +2tp.
Meanwhile, Fulford and Maugham were having a good game - Rob went to 1-back on the 4th turn with 1 POP, but the leave offered Dave "only a 27-yarder" (Rob's words!). Dave duly hit and went to 4-back with two POPs, but failed to put Rob's 1-back ball in the jaws of 2 and ended up with an OSL, which Rob missed. Dave then played a poor turn in which he only peeled 4-back going to 2-back, which was then failed. Rob thought about an SXP starting at hoop 3 but elected to DPO Dave instead, leaving his balls in corner IV and near the North boundary in front of 1-back. Dave took contact from the corner IV ball, took off to the other ball and managed to rush it so 1-back wasn't in the way, but the roll to 2-back was short and he failed the hoop (off Rob's peg ball). Rob hit and made a very good leave with Dave in corner I and his own balls joined up in corner III with the peg ball wired from Dave and not rushable to near 2-back. Dave hit his second tea-lady of the game and finished, after a perfect rush (i.e. as near as he could get) and a better roll-up to 2-back, +8. By this time Rutger had beaten Mark +17tp in a game both players described as "rougher than it sounds", and Jack beat Keith +17 after failing the straight rover peel and then hitting the lift when Keith got to 4-back.
All this left David Maugham the early pace-setter on 4/5, with Wicks, Evans and Fulford close behind on 3/5, and the rest struggling a bit to keep up but still very much in contention. Most went for dinner at an excellent Chinese where history, I believe was made: Wixy failed to transfer any sweet and sour sauce to the front of his shirt. Red wine was however deposited on to Sarah Burrow's white jacket, with Maugham spilling a second glass all over yours truly's trousers in attempting to mop it up. Dave's fortune cookie then revealed that "The next cloudy day will be lucky for you." As the previous two had been gloriously bright and sunny, which was forecast to continue, Dave decided not to get his hopes up too much. Besides, it is of course bad luck to be superstitious.
Day Two began with Maugham beating Wicks +26tp on the 6th turn. Fulford was next in with a +15sxp win over Aiton, who had got to 4-back on the 4th turn. Rob missed but Keith got hampered after 1, allowing Rob to go to 1-back with a rarely seen ladies sextuple leave, popping Keith's backward ball to 3. Keith missed and Rob finished. Mulliner then beat Beijderwellen +17tp, having gone to 3-back on the 3rd turn and then failed the quadruple at hoop six with one peel done. Rutger went to 4-back but Stephen hit the lift and finished with a nice delayed triple. Avery went to 4-back on the 3rd turn against Evans with a West boundary leave. Marcus hit and TPOed with two off, Mark rolled into hoop 4 off the contact and took long angled position at hoop 1. Marcus hit his 10 yarder and got round to 2-back before mis-approaching and Waltering off. Later on, with Evans for penult, Mark hit and made a few hoops before failing 6. Soon after he missed another long shot to a boundary from which Marcus finished, +8tpo.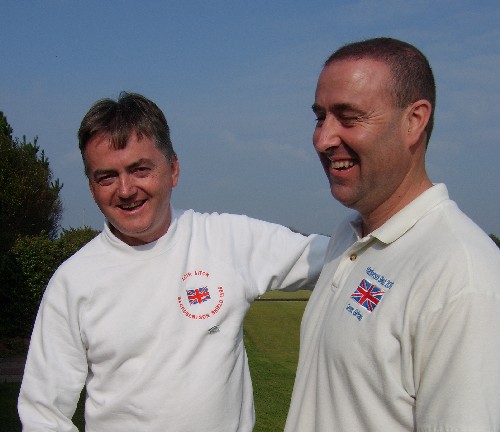 In the last match of the first series, Keith beat Marcus +24tp after going to 4-back 3rd turn. Evans hit but never really got going, and played some poor shots before mis-hitting a roll and then missing the resulting 8-yarder before 3, from where Keith finished. Avery beat Fulford despite hitting his first shot into the jaws of hoop 5 on the second turn, attempting a trickle at the supershot ball. Rob hit and went to 4-back with a dream leave. Mark missed the (slightly) shorter shot but Rob rushed into the peg and was forced to run an angled hoop 1 to the North Boundary, where he missed an 8-yarder. Mark finished smoothly in two turns. Wixy completed his first peeling turn of the event (his claim for an OTP against Marcus was denied) by beating Mulliner +6tp, who failed his sextuple attempt when for 6 and 2-back. Jack somehow contrived to take a few turns to get to 4-back, and then failed hoop 2 after Mulliner missed the lift. This allowed Stephen to take his hoop 6 ball to peg, but his diagonal spread was wide open and Wicks managed to rush partner to the perfect spot on the East boundary by shooting from where the balls lay, from which he finished comfortably. The crowd (supplemented by a growing army of Dutch fans who turned out to be Rutger's family) then had a good hour's worth of entertainment from Beijderwellen vs. Maugham, which my notes record only as a "27 turn error-fest with lots of long hitting-in," which is a reasonable summary. On turn 23 Avery became confused and claims he saw Dave take off from corner six, but to be fair to him (for once) the game was a bit mind-numbing. Rutger eventually came through to win by 14.
Round Eight saw an unusual opening in Wicks versus Fulford. Jack laid an anti-duffer, Rob responded with a 14-yard West boundary tice, and Jack just joined. Rob duly hit and went to 1-back, and finished +26sxp after Wixy missed the tea lady by nothing. Maugham beat Aiton +17tp in an error-free game: Dave went to 4-back with a West boundary leave 3rd turn, Keith hit and went to 4-back with one POP, putting the 4-back ball on the back of hoop 1, Dave virtually ran hoop 1 from A-baulk to hit it and finished +17tp. Mulliner beat Avery by the same score after hitting Mark's 4-back leave on the 5th turn. Mark missed his lift but Stephen mis-hit a four-footer near the 4-back ball. Mark had another leave, Stephen mis-hit his 17-yarder but hit it anyway and finished. Mark asked Dave to void the bet "as a mate". Dave politely declined. Finally Beijderwellen beat Evans +19tp in a poor game in which Marcus managed to run hoops 3, 5, 6 and 1-back by a total of less than a yard. This predictably turned out to be fatal in the end.
Round Nine got off to a flier when Mulliner (playing Maugham) hit on the 4th turn and promptly played a wrong ball, eliciting the surprising claim from Fulford that he (Rob) plays a wrong ball every three tournaments or so. This gave us all hope, but sadly this event wasn't one of them. Anyway, this let Maugham in, but he missed after making hoop 1. Stephen went to 4-back, but Dave hit the lift and went to 4-back with what he described as a "tight OSL" - a ball in corner II, the other oppo ball on the East boundary level with the peg, with his balls joined in corner IV. Mulliner missed but Dave, rolling to hoop 4 from 25 yards away after making 2, managed to get cross-wired. Stephen then had a leave and finished next turn, +15tp. Fulford beat Evans +17, going to 1-back after Marcus inexplicably misapproached 4 on the 3rd turn. However, he surprisingly failed an angled 4-back with only the rover peel still to do. Evans went to 4-back but his NSL wasn't sufficiently under control, leaving a double for Rob's 4-back ball from near 2. Rob duly hit and finished, punishing the failure to POP. Keith failed hoop 2 on the 2nd turn against Jack, only for Wixy to fail 1 on the 3rd. Keith went to 4-back with two POPs and an NSL, allowing Jack one more shot before finishing +24tp. Rutger stopped at 3-back on the 3rd turn against Mark but failed his quad when for 3-back and 4-back. Mark went to 4-back but then failed 1 conceding a wiring lift, which Rutger hit with his 3-back ball. He took this to peg with an NSL, but Mark hit and finished, +5tp.
This brought day two to an end, the Beast/Bodger marathon rendering a fifth round impractical. Fulford and Maugham were establishing their superiority with 6/9 each, while everyone else followed closely behind on 4/9, so it was to be all to play for on the final day. With Rob and Dave still to play their second game, everyone else knew they would have to try to win all five of their remaining games and hope the leaders slipped up. The "manager's nightmare" eight-way tie was also still possible, if extremely unlikely.
Whilst on the way to the pub, Mupp managed to cause the closest thing Jersey gets to a traffic jam (sounds more exciting than it actually was), before coming out with this gem: Rob was discussing the schedule for the build-up to the forthcoming MacRobertson Shield: "And on the Tuesday we can be tourists in Melbourne." Mark: "Why do we want to beat tourists in Melbourne?" For those who don't know Mark very well (which included me before this event), I should also point out that this sort of remark was fairly typical of him throughout the tournament (and, apparently, his croquet career). So much so, in fact, that Keith was moved to wonder (earlier the same day, in the clubhouse): "Sometimes I think he might be doing it deliberately." Mark aimed a karate kick at his head in response (not intending to actually make contact), but on its way down his knee bashed a table with considerable force, causing him a fair amount of pain. Hilarity ensued on the part of the onlookers.
Dinner was a raucous affair (as ever when Wixy is involved), with our party apparently causing several quieter groups to leave. This meant we were able to enjoy a post-prandial game of "Killer" at the dartboard. Wixy was eliminated before becoming "live", shortly followed by Marcus and Keith. This left a Rob/Dave final, in which both players had at least two "finishing turns" without being able to capitalise. Despite a fatal habit of repeatedly killing himself, Rob eventually triumphed, in an interesting prefigurement of the croquet.
Day Three dawned cloudier than the previous two, perhaps giving Maugham some hope, but his chances faded with the cloud as Fulford beat him +17tp in what turned out to be the decisive game of the event. No errors were made: Rob went to 4-back on the 3rd turn with a DL, Dave hit and went to 4-back with an NSL, Rob hit the shortish long lift and finished. At the opposite end of the standings, Keith beat Mark +25 after a couple of errors from Mark allowed him to take his 4-back ball to peg, finishing next turn. Rutger beat Jack +11otp in a game containing several misses. Eventually Wixy TPOed but with only one ball off. Rutger missed an 8-yarder into corner I having taken off from corner II off the contact (being for hoop 4 at the time). This allowed Wicks to roll up to 1 but he ran it too far and missed partner near corner II. Rutger shot and missed conceding a 3-ball break but Jack then failed 4 to give Bodger an easy finish. Evans eventually beat Mulliner despite missing a 7-yarder on the 4th turn and then repeatedly cornering, giving Mulliner a break without taking a shot. Evans fingered off the lift, hitting partner on hoop 4 from near hoop 2, and a TPO with two off predictably ensued. Stephen was first to get through hoop 1, but failed 3 with Marcus in front of 2. Marcus made the hoop and lagged to a wired spot near 3, Mulliner went to the side boundary, Evans just nicked the 12-yarder and got round to 2-back before missing into baulk. However Stephen failed to take the opportunity, along with a couple of others later on when for hoop 5. Finally he ran a good 3-back with Marcus in front of penult, but missed the shot and lost a few turns later.
Stephen recovered well in Round Eleven by beating Keith +26tp on the 5th turn. Maugham beat Wicks +20tp after a nice leave by Wixy in which he cross-wired Dave at 1 before cannoning into one of the wired balls in playing his rush to corner III. Luckily this rushed it only two yards, directly down the wired line. This piece of good fortune was then wasted when Jack rolled off the lawn in corner III, conceding a wiring lift. Beast finished in two turns. Avery had the first chance against Evans but stuck in 3. Marcus then messed up the MSL by leaving the hoop-4 ball open from the end of A-baulk, so he played his last shot so that it was on the boundary wired from the hoop 2 ball, giving a pretty but pointless position. Mark hit the long shot anyway and went to 4-back, messing up the NSL in exactly the same way but joining up on the East boundary anyway. Marcus lifted his hoop 1 ball from hoop 4 and hit the long lift but stuck in 1 leaving Mark a 20 yarder from corner IV to win. However this was declined, the shot from hoop 2 to hoop 1 was missed, and Evans played some good shots to finish, including a dodgy half-jump at rover. Finally, Fulford beat Beijderwellen +15tp. Rutger had the first chance, taking a ball to 3-back at the second attempt and leaving a ball on the back of hoop 1 and the other ball in hoop 2. Rob hit the long lift down the East boundary with the ball on hoop 1 and went to 4-back with two POPs and a defensive leave. Rutger hit with his 3-back ball and made one hoop leaving a ball in corner II, Rob's 4-back ball near hoop 4, laid up wired from it in corner IV. Rob finessed this ball to corner I, and Rutger's rush only got the middle of the West boundary. He took off to corner II, but his roll out only got to 8 yards from corner I, and he missed, gifting Rob the innings for the umpteenth time in the event. Rob laid up in corner I, Rutger's balls in corners II and IV. Rutger just tapped the corner II ball back into the corner, Rob laid a slightly better rush, Rutger then went "just north of corner III", someone said; "Must be corner VI!" replied Keith, quick as a flash; and Fulford finished with his usual excellent precision croquet.
Lunch then ensued, which was accompanied by yet another comedy quote from the master himself: Avery: "Come on then Wixy, you know the SP." Wixy: "What's SP?" Mupp: "Err... SP... hmm...".
Round Twelve saw Fulford use the less-common corner IV response to Aiton's supershot ball, on the basis that hoop 4 was in the way of rolling to it. Keith somehow managed to cut it so the hoop was no longer in play, but then rolled up to the middle of the lawn and cross-pegged himself instead. Fulford hit and went to 1-back, finishing +26sxp next turn. Rutger beat Mulliner +26tp despite mis-approaching 1 on the 5th turn. Stephen could only join and Rutger hit his 14-yarder, finishing in two turns. Wicks made it a two-horse race by beating Evans by the same score after laying an anti-duffer. Marcus laid the duffer anyway but Jack hit and went round, finishing with a flawless triple on the 5th turn. Evans's record against Wicks now stands at 0/5, but he maintains Wicks always pulls out a perfect game against him. Readers who remember as far back as Round Four may beg to differ. Maugham finished off Avery +17tp to keep himself in the hunt, and also secure his £25. Mark had the first chance but failed hoop 1 on the 3rd turn. This allowed Dave to 4-back with an MSL, Mark hit the lift and responded in kind, but Dave hit his lift and finished.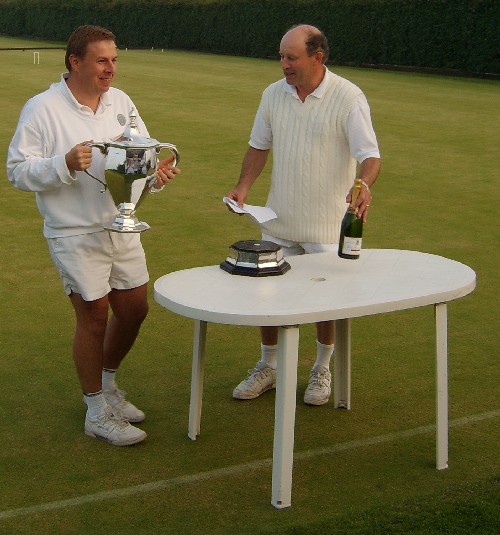 The Beast needed a win in the penultimate round to ensure the race for the cup went down to the wire, with Marcus keen to deny him having lost to him in their previous four games. However, he was unable to take croquet as Dave won +26tp on the 8th turn, peeling 4-back after 3 getting a rush to the other ball on the boundary south of 4. Rob stayed one win ahead by defeating Stephen +14sxp, who put up more of a fight, going to 1-back on the 4th turn. After the tea lady was missed Stephen got going well but failed to even jaws the 2-back peel going to hoop 5, leaving himself hampered on the rush. He took off to a reasonable position and made the hoop, but couldn't hit anything and went to near corner III giving Rob a trivial break. This he took to 1-back, before demonstrating how to complete a sextuple the following turn. Wicks beat Avery to ensure he would owe Dave money with a clinical 6th turn +26tp, while Rutger recorded the same result against Keith, despite messing up his NSL on the 4th turn, ending up with his 4-back ball in corner IV and the other ball halfway up the East boundary. Keith missed, joining up, and Rutger hit in from corner IV, making a better leave. Keith missed the resulting tea lady-length shot by nothing allowing Rutger to finish.
Round Fourteen saw some players understandably more motivated than others. Both Keith and Marcus fell firmly into the latter category, with Marcus laying up for a sextuple on the third turn but deliberately conceding a 9-yarder. As the coldest wind of the weekend bit, however, Keith declined to take the opportunity. Despite rush-peeling 1-back before 1, Marcus only managed to peel 2-back going to 6, before blobbing 1-back. Keith continued to miss so Marcus finished in two turns with no further peels attempted, +26. Meanwhile, Mulliner beat Wicks +25 to draw level with him on six wins, despite failing both a sextuple and, later, a delayed triple. In the important games, Maugham applied what pressure he could be winning +19tp against Rutger. When Dave failed hoop 1 on the 3rd turn things weren't looking good for him, especially as Rob had the first break going in his game against Mark. However, Rutger's break was a little carefree and he was unable to get a hoop 6 pioneer. With this in mind, he successfully cross-wired Dave at 1 after making 5, but failed to get a rush to 6. Rolling up from near 5, he put the forward ball off the lawn. Dave hit from 1 to 6 and went to 4-back with an MSL, no doubt heartened by seeing his doubles partner do what he wanted for once and hit the tea lady Rob had left him on the neighbouring lawn. Mark went to 4-back with a diagonal spread, but Rob hit shortly after Rutger did the same against Dave, swinging the pendulum firmly in his direction. Rutger made him work for it though by failing 3 having taken off from the "worse than death" position, allowing Dave to complete his triple. Soon after Rob finished his TPO with two POPs and two balls pegged out, leaving 1 vs. 3-back. Mark failed to approach hoop 1 and took position, Rob took position at 3-back, Mark narrowly missed the 15-yarder and Rob hit him on the boundary and finished, +13tpo, to become the worthy winner of the 2006 President's Cup.
Stephen Mulliner, wearing his CA Vice-President hat (not literally - it wouldn't fit in his suitcase), did the presentations, commending in particular the catering (which he rightly put on a par with Surbiton's) and hospitality, the quality of which was in inverse proportion to the amount I have mentioned it so far. Lunch each day at the club (including a snack on the Wednesday) was absolutely superb, a different restaurant was organised each evening, and every player who did not have prior arrangements was put up for the best part of a week by a Jersey CC member. Not only that, Sarah Burrow, in addition to doing the vast majority of the hoop-setting and organising many other things, provided a taxi service all over the island each evening for those without transport, to ensure we had a great time both on and off the courts - thank you isn't nearly enough. Stephen also took the opportunity to wish the GB MacRobertson Shield every success in the coming weeks, and while I am rather unqualified to do so, I will close by assessing the performance of those present along with that of the other four participants.
After a slow start in which he seemed to be struggling a bit with his shooting, Robert Fulford played some top quality croquet to make a clean sweep of the second series. While he was gifted the innings on a number of occasions, to be fair this was probably not much more common against him than anyone else, and certainly nobody rolled over against him. As ever it was his consistently precise croquet and lack of errors that took him to his sixth President's Cup. He was also the undisputed pool, darts, and ten-pin bowling champion (hitting three strikes in the tenth frame to clinch victory by a handful of points - is there nothing the man can't do?).
David Maugham was the early leader chiefly thanks to his win over Fulford in the first series. He looked clinical as ever on the triple peels after deciding before the event not to tangle with the sextuple - a sensible choice IMHO, at least for now. His shooting was probably the best in the field - a considerable compliment in this company - and he was perhaps a little unlucky to lose to Mulliner and Beijderwellen. What really cost him however was failing to TPO Fulford in their second game. As with Rob, it's hard to imagine him losing many games in the Mac.
Rutger Beijderwellen suffered from a poor start, but his form increased as his "Orange Army" of fans swelled in number. His shooting let him down more often than usual, however, and he was sometimes guilty of over-elaboration. 7/14 is a good showing for a first President's Cup and he will surely be back next year.
Marcus Evans was in with a chance for much of the event but must get over his apparent mental block about beating Wicks and Maugham before he can be considered a serious contender in this event. He didn't make many errors but when he did they tended to be at critical points (although there are probably not many non-critical errors made in the Pres). His shooting was also not as good as it can be, but like Rutger he should be pleased with 50% and will also return next year all the stronger.
Jack Wicks also had a slow start but showed character in grinding out some wins. He needs to be a bit more consistent with finishing triple peels, and generally cut down on errors, which cost him this time round. However, 6/14 is a very respectable performance for a first-timer and of course this won't be the last we see of him either.
Stephen Mulliner perhaps looked the most error-prone of the eight, but showed this may have been a misconception by consistently completing delayed triples. One or two elementary errors cost him dearly, though, as did his insistence on going for sextuples and quadruples when just stopping at 4-back seemed the best plan. It will be interesting to see if he can maintain his form and mount another challenge next season.
Keith Aiton didn't look quite the player of last year, making too many errors, although he was also a little unlucky in a few games. His all-round game, particularly tactics and shooting, remain strong, and against easier opposition in November he will be tough to beat.
Mark Avery had a largely poor three days of croquet, while not looking like he was playing really badly. His shooting and general play were fine but he seemed to make more errors per game than the rest, which combined with a lot of shots being hit against him consigned him to the wooden spoon. Like Dave, a failure to TPO cost him a couple of games, but with a proven track-record he should do better than this in Australia. Let's leave the final word to him. Discussing the croquet lawn in the garden of the house in which he was a guest along with Mr Mulliner, he commented: "I woke up to the sound of Stephen clonking his balls together in the long grass." Well, at least he won't have that distraction Down Under.
---