USA takes third place MacRobertson Shield final results - Day 13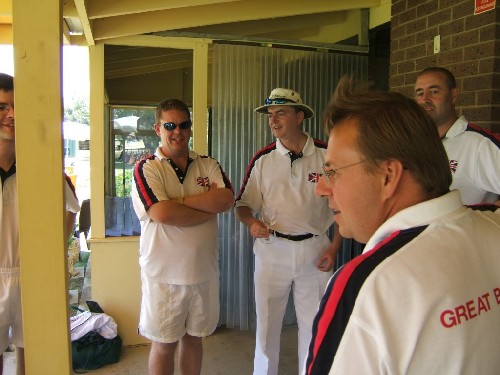 by Kate Fox
2nd December 2006 (
The MacRobertson Shield
)
USA have defeated NZ after singles play at Rich River
USA 12 matches to NZ 6 with 3 doubles matches remaining to be played tomorrow.
GB v Australia - Doubles From Shepparton
Fulford & Clarke defeated Watts & Dumergue 26tp(C)-0; 26tp(C)-11
Avery & Maugham lost to Fleming & Clarke 0-26tp(F); 9-26tp(F)
Aiton & Kirby defeated Bassett & Forster 26tpo (Kirby)-14; 26tp(K)-10
USA v NZ - Singles From Rich River
Jerry Stark defeated Aaron Westerby 2-26tp; 26otp-23; 26tp-0
Jeff Soo lost to Paddy Chapman 0-26tp; 0-26tp
Danny Huneycutt defeated Greg Bryant 10-26; 26-11; 26-9
Damon Bidencope defeated Shane Davis 6-26stp; 26-13; 26-15
Rich Lamm lost to Bryan Wislang 26tpo-14; 0-26; 7-26
Bob Cherry defeated Robert Lowe 9-26tp; 26tp-3; 26tp-23
Summary
GB 14 wins from 15 matches played
USA 12 wins from 18 matches completed
NZ 6 wins from 18 matches completed
Aus 1 win from 15 matches played
The doubles matches scheduled for play at Shepparton have been transferred to Rich River and all the final matches to complete the competition will be at Rich River Croquet Club tomorrow, Sunday 3 December. It should be an excellent day's play.
---