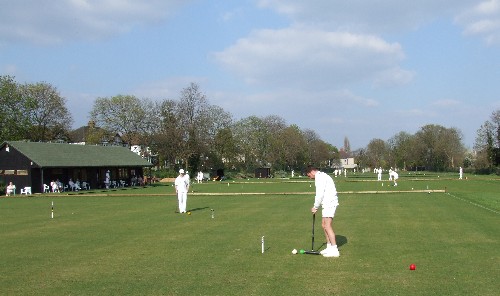 (Photo: Dave kibble)
by Kevin Carter at Surbiton
8th-9th April 2007 (
AC
)
Compared to previous Surbiton Advanced Tournaments at Easter, this event had some unusual aspects:
it was not won by Jeff Dawson or Chris Farthing;
it was warm and the conditions were rather faster then normal;
consequently only 94 games were completed;
and only 20 TPs achieved;
the guest beer was a mild;
Nelson did not break his mallet.
There were 32 players, 21 of which were on scratch or below, and a very flexible Swiss was employed.
At the end of the first day there were four unbeaten players: Samir, Bodger, Mark Hamilton and yours truly. However, Dawson, Patmore, Farthing, Salisbury and others were still in there with just one loss.
On Monday morning I suffered from its being a Monday morning and Mark suffered from sleep deprivation after having to complete an overnight milk round. By the afternoon Rutger was the only one still unbeaten, with Chris Patmore remaining the only viable challenger, so the final was set. Chris had his chance, but Rutger's ruthless precision secured him a TP and the trophy.
An indicator of a successful Swiss event is for as few competitors as possible to go away with no win. Overnight there were five to sort out.
An out of form Tim Wilkins bounced back with a triple and George Noble did so with two. Only one player, who shall remain unnamed, finished with no win (possibly because he was unable to hear everybody urging him on).