A New Competition and a New Star! (Ripon Rowels Singles Competition)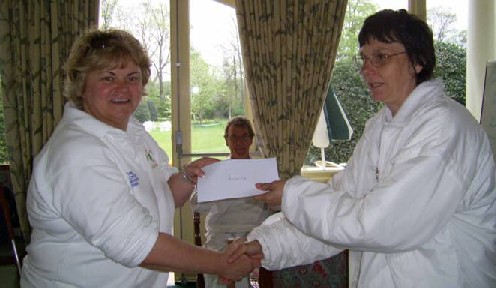 Samantha Curry (Winner) presents second placed Jane Pringle with a cheque for £60
by Freda Vitty at Ripon Spa Hotel
21-22 April 2007 (
GC
)
A new weekend singles competition was held on 21st/22nd April at Ripon Spa Hotel. This was non-residential and players new to competition were encouraged to take part. Unfortunately, due to various other commitments, many of the regular players did not take part, so a small group of 10 players assembled in beautiful weather on the Saturday morning. The Manager (and player), Freda Vitty, had organised one block of 10, all-play-all, in 19-point games.
At the last minute, because of illness, one of the ten had to drop out and rather than rearrange play, a member of staff from the Hotel, who is learning to play the game, agreed to be drafted in; Vlad Stokmars, is a Latvian, who has worked as a waiter at the Hotel for a couple of years and has a degree in Business Management. His main game prior to taking up croquet, was chess having been a Grand Master at home. Strategy and forward planning stood him in good stead when it came to croquet and as the weekend progressed, his game improved and speeded up. Vlad is a very accurate and steady player, who gave several more experienced players tough opposition.
Up until lunch break on the Sunday, the result was in the balance, the final outcome being dependant on games between the top five. Vlad lost narrowly to Jane; Jane lost to Samantha and Freda beat Samantha, leaving the top five positions (in order) Samantha Curry, Jane Pringle, Freda Vitty, Vlad Stokmars and Allan Wood.
Full Results
1st Samantha Curry beat J Pringle 10/8, R Longbottom 10/7, Allan Wood 10/7, F Thompson 10/6, V Stokmars 10/4, T Flexman 10/3, K Deane 10/4
2nd Jane Pringle beat R Longbottom 10/7, F Thompson, 10/8, V Stokmars 10/6, T Flexman 8/6T, K Deane 10/4, M Haslam 10/5, F Vitty 10/6
3rd Freda Vitty beat A Wood 10/9, F Thompson 10/4, T Flexman 8/6T, K Deane 10/4, M Haslam 10/2, Samantha Curry 10/8 and drew against R Longbottom 9/9T
4th Vlad Stokmars beat A Wood 10/4, F Thompson 10/8, T Flexman 10/5, K Deane 10/2, M Haslam 10/4, F Vitty 8/6T
5th Allan Wood beat J Pringle 10/9, R Longbottom 10/7, F Thompson 10/5, K Deane 10/4, M Haslam 10/5
6th Rosemary Longbottom beat F Thompson 10/7, A Wood 10/8, K Deane 10/2, M Haslam 10/5 and drew against F Vitty 9/9T
7th Ted Flexman beat R Longbottom 10/7 A Wood 10/8, K Deane 10/6, M Haslam 8/6T
8th Fergus Thompson beat T Flexman 10/7, K Deane 10/8, M Haslam 10/9
9th M Haslam beat K Deane 10/4, S Curry 10/9
10th K Deane
---