England beat Ireland 42-12 in the Under-21 Golf Croquet International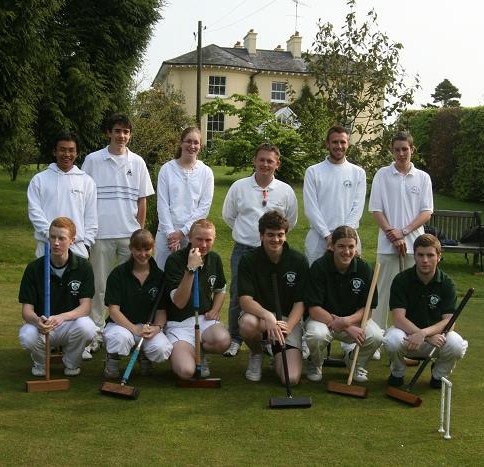 Team photo
by Jack Wicks
28 & 29th April 2007 (
GC
)
Jack Wicks (captain,) Marcus Evans, Eugene Chang, William Gee, Tom Brant & Rachel Rowe travelled to Newcastle, Ireland, on Friday 27th April for the first ever junior international golf croquet match between Great Britain and Ireland. They travelled home on Sunday evening with the shiny new silver plate, after completing a memorable victory over the Irish.
The format included both doubles and singles matches, all were single game 13 point. In total there were 18 doubles matches of which the CA won 14, and 36 singles matches of which the CA won 28, meaning the final score was 42-12.
Individual results were:
| | |
| --- | --- |
| Marcus Evans | 11/12 |
| Jack Wicks | 11/12 |
| Tom Brant | 7/12 |
| Eugene Chang | 8/12 |
| William Gee | 9/12 |
| Rachel Rowe | 10/12 |
Although the results suggest otherwise, the Irish didn't disgrace themselves, in fact many of the games were hard fought, with perhaps competition experience winning though in most cases. The Irish players didn't get down hearted, and continued to fight on, surpassing their target set on Saturday night of 10 wins in total.
The event was a total success, and the possibility of a return fixture next year has already been discussed!
Team Photo
(L-R):
English Team: Eugene Chang, William Gee, Rachel Rowe, Jack Wicks (c), Marcus Evans, Tom Brant
Irish Team: Kieran Murphy, Louise Ireson, Ben Harris, Daniel Johnston, Fiachra Carrol, Andrew Murphy ©
---