Ian Burridge won the Coles Cup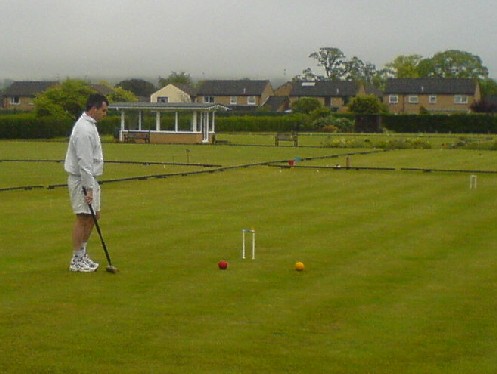 (Photo: Dave Kibble)
at Cheltenham
8th May 2007 (
AC - Championships
)
Ian Burridge defeated Reg Bamford 3-2 in today's best of five final. It was an at times fascinating final, with Burridge twice conceding a contact by going to peg in game 2 and rover in game 3. Both times Bamford set up for a sextuple and made a number of peels before pegging out Burridge and himself to leave one ball each. Burridge had chances in both games, but failed to progress far on a two ball break. Game 4 saw Reg miss a longish roquet after 5. Ian decided to take his 4 back ball to the peg rather than try a triple. He got hampered after 5 when on a 4-ball break to finish, but completed the 4 ball break later.
Ian Burridge writes: by popular demand here is the blow by blow account of the Coles Final:
Practice - persistent light rain, lawn very slow to the point of creating difficulties, hoops easy.
Bamford won the Toss (toss winner went first with blue and black in every game)
Game 1
the rain was now steady with occasional heavy bursts
K to max length spot
R to 7 yards East of peg
U hits K from A -baulk doesn't get rush to 1, takes off short lays up on west boundary with rush on R to U
Y misses 16 yarder from end of B-Baulk at K into corner 1
U Rushes K 6 yards short of Y fails to approach from corner send Y towards corner 4
R hits Y, takes off to B&K, fails easy hoop 1

(I may have missed a couple of turns, I know the above is rough but I remember it as even rougher)

K goes to 4 back peeling R to 2 with a spread (the lawn was now very wet with water spraying up behind balls, play was suspended on some of the other lawns)
R shoots down east boundary missing (reaching corner 4!)

The rain now stopped and the lawn returned to the pace it had been for the practice in the course of the next turn

U breaks down on delayed TP missing 3 yard rush to 6 leaving R a 6 yarder.
R hits completes TPO with little control after straight rover peel. With partner around 3 yards east of the peg decide to go to this first rush it off the south boundary and take off back to the peelee (my aim was to get it about 5 yards E of A baulk and if wasn't for earlier correspondence I would have said I rushed it 4 yards off A-baulk, I am virtually certain it was 3 yards off and it was definitely at least 2 yards off) before retreating to corner 2.
U rolls to 6 hitting peg and bouncing 3 inches to the side, runs six off one wire and hits R picks up break runs three back poorly misses 5 yarder to R at 4-back.
R leaves U a nine yard 4-back and lays Y a rush in corner 1.
U misses Y
Y finishes
The lawn had now dried up a lot and was slow and very easy, hoops were trivial
Game 2
K to 1 yard E of peg
R to max length spot on E boundary
U lags from B baulk to 3 yards in from R
Y misses U from B baulk
U fails easy hoop 1 off partner
R misses from hoop 2 to 1
U gets to hoop 3 with Y retreats to K in corner 1
Y misses R
U goes to peg getting started with a corner 4 cannon leaving U and K across corner 4, K on west boundary level with hoop 2 and U in corner 3.
R takes contact from Y rolls to in front of 5 on south boundary with a rush but with no room to get a ball out.
K misses R
R makes 1 back leave with K 3 yards SW of hoop 1
K misses Y
Y turns down 2 foot slightly angle peel in favour of pegging out U and Y and leaving K between hoops 3 and 4
K fails to split in front of 1 with R behind hoop 2 retreats to middle of east boundary
(No time limit or impasse ruling - SHOCK - IS ANYBODY LISTENING????)
R to corner 4
K to 4 yards S and one yard west of corner 3
R to 12 yards N of corner 4
K misses R into corner 4
R takes 3 yard position at rover
K hits R (might have missed and hit after R failed hoop) makes one with no rush and 2 with no rush, lays up poorly in front of 3 (to avoid wiring lift) with R behind hoop 4.
R Takes position
K runs 3 to the south boundary misses R
R runs rover misses peg hitting hoop 6 and giving K an easterly 4 yarder
K hits R only shaking it, rolls to 4 from behind 2, both balls 5 yards short, runs long angled hoop hits 7 yard return to the peg takes off to 5 runs it getting a rush, fails hoop after poor rush and approach
R hits K and finishes
Game 3
K 13/14 yard super shot
R to W boundary 20 yards N of corner 1
U misses R from B baulk
Y hits R goes to rover with same contact leave except R is 10 yards south of corner 2
K lays a wired rush from R in corner 4
R misses Y
K makes a one back leave as in the previous game
R misses U
U tries to rush out of 1 to make the rover peel fails, completes the one-back peel, jaws the rover peel going to hoop four is always behind on cautiously played sextuple posthumously peels 4-back and penult to leave before pegging out U and Y with K between 3 and 4
Y just fails to approach 1 with K behind 2 takes good position
U goes to south boundary 10 yards west of corner 4
Y misses U
U finishes
Game 4
K to 2 yards east of the peg
R to 20" S of corner 2
U misses R from A baulk
Y misses U
U to 4 back with NSL
R lifted from 4 misses long shot from B baulk
K hills off 4 yarder at hoop 4 pioneer after poor roll from hoop 3
R makes one back leave
K misses Y
Y embarks on sextuple going well with hoop 6 pioneer one yard east of 6 and attempting 3-back peel from a foot roughly dead straight. Spends a long time thinking about shot which is clearly awkward, gets peel through 6 yards but Y hits left hand upright and bounces off to hoop 5 and hills off hoop 6 pioneer (U).
U Hits K 6 yards to the south of itself (Y guarded K's shot) goes to peg with no control whatsoever resulting in K peg high on E boundary with a 2 yard SSW rush on U with R in corner 4 and Y 8 yards N of hoop 1
Y misses treble from B baulk (I don't think it was possible to make a double of U and K, I think it must have been a treble with R in the middle)
K grovels through hoop 5 off U cant hit anything, U is wired from both R (near hoop 4) and Y (hoop 6 pioneer) attempts hampered stroke to get K wired from both too, failing but leaving a good rush to 6.
Y misses K
K finishes
Game 5
K to 11 yard supershot
R to max length spot on E boundary
U misses R from A baulk
Y hits K goes to 4 back with NSL
K (hoop 4 ball) misses short shot from A-Baulk
R fails to jaws 4 foot 4-back peel for standard TP goes to 4-back with a maximum length spread.
U (ball near peg) misses long shot from B baulk
Y finishes
Trophy Presentation
David Magee picks up trophy to hand to Bernhard and it collapses into 4 pieces, the base, the cup, the lid and the knobbly bit on top which it was discovered was held on by a bit of blu-tac! Bernhard hands the hastily rebuilt cup (without the knobble) to me and we manage to fumble the lid to the ground between us, Bernhard pick up the lid and places on my head!
I find reports such as these rather difficult and boring to read, I can now vouch for the fact that they are even harder and no more interesting to write (I know why Rob likes to finish games in 5 or 6 turns now). I would be very surprised if the above is error free, so apologies if anything is completely unintelligible.
First Round
Second Round
Quarter-finals
Semi-finals
Final
Winner
Reg Bamford

Reg Bamford
+12tp, +18

Reg Bamford
+9, +23tp

Reg Bamford
+25, +26sxp

Reg Bamford
+25sxp, +17

Ian Burridge
+4tpo, -8, -13, +12, +26

Martin Murray
Paul Smith
Cliff Jones

Cliff Jones
+15tp, +11

Craig Edwards
Bob Burnett

Mark Gooding
-26, +4tp, +17

Mark Gooding
+12, +2

[Paul Castell replaced him on Sunday]

Jack Wicks
+16, -14, +20tp

Mark Gooding
Paul Castell

Paul Castell
-25, +9, +11tp

Richard Dickson
Louise Bradforth

Brian Fisk
+26, +11stp

Jack Wicks
+14, +8

Brian Fisk
Don Gaunt

Jack Wicks
-2, +25, +20

Jack Wicks
Ian Burridge

Ian Burridge
+6, -4, +24

Ian Burridge
+4tp, +25

Ian Burridge
+10, +23

Ian Burridge
+5tpo, +4

David Foulser
Dave Kibble

Dave Kibble
+25tp, -15, +13

Chris Williams
Ben Ashwell

Ben Ashwell
+16, +14

David Magee
Dave Nick

Dave Nick
+8, -8, +17

Dave Nick
+19, +9

Ian Lines
+5tp, +12

Nick Butler
Nick Evans

Jack Davies
+19, -7, +6

Jack Davies
Dave Trimmer

Rod Ashwell
-15, +15, +22

Ian Lines
+14, +26tp

Rod Ashwell
Andrew Davies

Ian Lines
+20, +26stp

Ian Lines
---