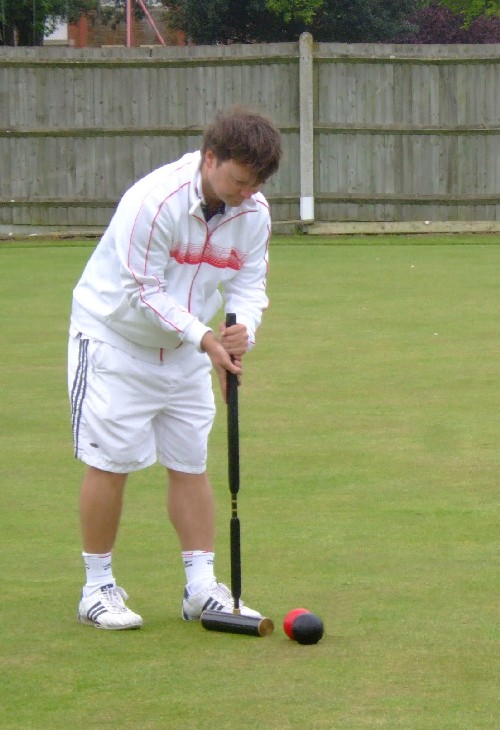 The winner in play (Photo: Ian Storey)
by Ian Storey at Hunstanton
5-7 May 2007 (
AC
)
A good field assembled at Hunstanton over the May Bank holiday for the Robert Prichard Tournament on lawns which received praise from players as being conducive to precision play, and in weather described by one regular as "typically Hunstantonic" but which, thankfully, remained dry.
With one round to play in the Egyptian format Chris Patmore and Jon Watson could not be caught by the rest of the field, and, assuming both won their last game would each finish on 10/11 - but Patmore had beaten Watson earlier in the tournament and would therefore win by who beat whom. However Chris, to the delight of the manager and with his full approval, very sportingly said that under the circumstances he would prefer to play Jon again - effectively a final.
Given freedom from double banking on lawn four Watson gained early momentum but broke down at 3B. Patmore took full advantage of the short roquet left by the incomplete spread, going to 4B with a NSL, and when Watson's shot down the line missed by a whisker Patmore concluded the tournament with an elegant triple.
The cuisine had been excellent, the barrel of ale emptied, and there had been games a-plenty, prompting many to say they had thoroughly enjoyed the weekend.
But my lasting memory will be the great sportsmanship shown - an immense credit to croquet.
| | | | |
| --- | --- | --- | --- |
| Jon Watson | beat | Martin French | +17 |
| Martin Leach | beat | Nick Harris | +2 |
| Jim Potter | beat | Tim Dutton | +18 |
| Celia Pearce | beat | Howard Bottomley | +5 |
| George Collin | beat | Gordon Hopewell | +2 |
| Phil Eardley | beat | Terrey Sparks | +10 |
| Chris Van Essen | beat | Neil Chalmers | +1 (time) |
| Jeff Race | beat | Ian Vincent | +9 |
| George Noble | beat | Tom Anderson | +4 |
| Chris Patmore | beat | Ken Anderton | +16 |
| Tim Dutton | beat | Bryan Saddington | +3 |
| Jim Potter | beat | Martin French | +11 |
| Chris Patmore | beat | Jon Watson | +26 |
| Ken Anderton | beat | Terrey Sparks | +10 |
| Jeff Race | beat | Phil Eardley | +16 |
| Ian Vincent | beat | Celia Pearce | +9 |
| George Noble | beat | Howard Bottomley | +21 |
| Tom Anderson | beat | Gordon Hopewell | +9 (time) |
| George Collin | beat | Martin Leach | +1 (time) |
| Nick Harris | beat | Chris Van Essen | +16 |
| Jon Watson | beat | Neil Chalmers | +23 |
| Chris Patmore | beat | Jim Potter | +26 TP |
| Martin French | beat | Tim Dutton | +22 |
| Howard Bottomley | beat | Bryan Saddington | +11 |
| George Noble | beat | Jeff Race | +3 TP |
| Jon Watson | beat | Phil Eardley | +17 |
| Neil Chalmers | beat | Celia Pearce | +7 |
| Ian Vincent | beat | Chris Patmore | +12 |
| Ken Anderton | beat | Jim Potter | +15 |
| Terrey Sparks | beat | Chris Van Essen | +4 |
| Martin French | beat | Nick Harris | +10 TPO |
| Jeff Race | beat | Tim Dutton | +23 |
| George Noble | beat | George Collin | +8 TP |
| Ian Vincent | beat | Martin Leach | +25 |
| Chris Patmore | beat | Jeff Race | +25 TP |
| Martin French | beat | Bryan Saddington | +23 |
| George Noble | beat | Martin French | +4 |
| Chris Patmore | beat | George Collin | +19 |
| Jon Watson | beat | Jeff Race | +14 |
| Ian Storey | beat | Jim Potter | +17 |
| Howard Bottomley | beat | Terrey Sparks | +12 |
| Ken Anderton | beat | Neil Chalmers | +5 |
| Nick Harris | beat | Phil Eardley | +17 TP |
| Martin Leach | beat | Chris Van Essen | +19 |
| Tim Dutton | beat | Celia Pearce | +16 |
| Bryan Saddington | beat | Gordon Hopewell | +5 (time) |
| Jon Watson | beat | Ian Vincent | +4 |
| Martin Leach | beat | Tom Anderson | +4 (time) |
| Phil Eardley | beat | Chris Van Essen | +9 |
| Jeff Race | beat | Nick Harris | +15 |
| Chris Patmore | beat | George Noble | +16 TP |
| George Collin | beat | Martin French | +14 |
| Howard Bottomley | beat | Tim Dutton | +1 |
| Terrey Sparks | beat | Celia Pearce | +12 |
| Jim Potter | beat | Neil Chalmers | +25 |
| Bryan Saddington | beat | Ken Anderton | +2 |
| Chris Patmore | beat | Nick Harris | +5 |
| Jon Watson | beat | George Noble | +24 TP |
| Jeff Race | beat | Jim Potter | +14 |
| Ian Vincent | beat | Howard Bottomley | +25 STP |
| Tim Dutton | beat | Neil Chalmers | +11 |
| Tom Anderson | beat | Chris Van Essen | +1 (time) |
| Jon Watson | beat | George Collin | +26 TP |
| Martin Leach | beat | Martin French | +24 |
| Terrey Sparks | beat | George Noble | +24 |
| Nick Harris | beat | Celia Pearce | +19 |
| Ian Vincent | beat | Phil Eardley | +4 TPO |
| Jeff Race | beat | Ken Anderton | +3 |
| Jon Watson | beat | Martin Leach | +18 |
| Chris Patmore | beat | Howard Bottomley | +26 TP |
| George Noble | beat | Ian Vincent | +26 |
| Jeff Race | beat | George Collin | +15 |
| Tom Anderson | beat | Terrey Sparks | +4 (time) |
| Nick Harris | beat | Tim Dutton | +15 |
| Jim Potter | beat | Bryan Saddington | +11 |
| Ken Anderton | beat | Martin French | +8 |
| Phil Eardley | beat | Neil Chalmers | +26 TP |
| Chris Van Essen | beat | Celia Pearce | +6 (time) |
| George Noble | beat | Phil Eardley | +5 |
| Jon Watson | beat | Howard Bottomley | +26 |
| Chris Patmore | beat | Martin Leach | +19 |
| Ian Vincent | beat | George Collin | +3 |
| Jeff Race | beat | Neil Chalmers | +16 |
| Nick Harris | beat | Jim Potter | +17 |
| Ken Anderton | beat | Tim Dutton | +19 |
| Martin French | beat | Howard Bottomley | +14 |
| Terrey Sparks | beat | Bryan Saddington | +22 |
| Jeff Race | beat | Tom Anderson | +7 |
| Phil Eardley | beat | Martin Leach | +21 TP |
| Chris Van Essen | beat | Jim Potter | +9 |
| Chris Patmore | beat | Jon Watson | +18 TP |
Handicap Changes
| | | | |
| --- | --- | --- | --- |
| Martin French | 0 | to | +0.5 |
| Nick Harris | -1 | to | -0.5 |
| Martin Leach | 3 | to | 2.5 |
| Jim Potter | 2 | to | 2.5 |
| Jeff Race | 2 | to | 1 |