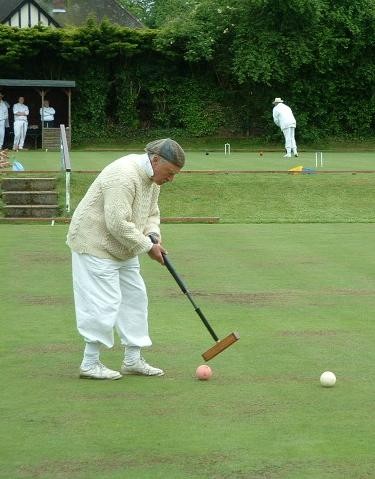 George "Bleriot" Woolhouse in action
by Colin Hemming at Colchester
12-13 May 2007 (
AC
)
Sixteen players with handicaps ranging from 2 to 7 (fifteen regulars and one newcomer) assembled to do battle under manager Colin Hemming's idiosyncratic interpretation of the Egyptian format. This format is closer than usual to Paul Hands' original format, and involves a differential starting index depending on your handicap (the lower the handicap the higher your index), and the eventual winner decided not on the highest index at the end, rather the highest increase in index.
Play commenced on the Saturday in good conditions bit with the expectation of showers. Newcomer Dean Bennison was the first to make a showing, not in the croquet but in what turned out to be an impromptu Fashion Parade (or strictly speaking, I should say Millinery Parade); he was originally sporting a rather dashing brown Fedora, but when the threat of rain appeared to disappear and the sun shone briefly this was replaced with an absolutely stunning silver-grey Stetson. Not a ten-gallon hat exactly, but at least twenty two and a half litres I should say. Regular competitor (not to say old lag) George Woolhouse was quick to respond to this by turning his flat white cap to create the Louis Bleriot look: very 2007, and the perfect complement to his facial hair, also new this year and probably best described as a micro-mini-imperial; very dashing, George, and oh-so up to the minute.
Time limits for the games were two hours plus six Wharrad turns: plenty of time for B-class players to complete their games; first to return to the clubhouse were Terry Mahoney and Ian Storey (both hatless), Terry having prevailed +24 in about an hour and a half. These were closely followed by George Woolhouse (see above), who had made short work of George "Laughing Boy" Winder, who was wearing, believe it or not, a straightforward cloth baseball cap! S-o-o-o last century, George; and your croquet suffered, of course. Games then came in thick and fast, so that by lunch-time everyone was well into his or her second game, apart from the four who had already completed the first two! Remarkable progress by B-level standards.
By the middle of the afternoon, everyone who was going to make a move in the fashion stakes had done so, though mostly just trotting out last year's model (or more probably the last-five-years-model): some were related to other sports and pastimes: Mark Homan had his familiar cricket cap, and Nigel Gardner the Tilley hat so beloved by sailors. Ken Pickett barely qualified with his well-known green eyeshade (was he a bank teller in real life?), but most out-of-touch of all was Neil Chalmers, still sporting his American style NCC hat, despite having been so blindingly eclipsed by Dean's magnificent Stetson.
The expected shower came in the middle of the afternoon: not so much a shower of rain as a tropical downpour, heavy enough to stop play for a short time. During this period everyone put on some sort of headgear apart from Ian Parkinson; perhaps he felt that the hair plastered close to his head helped create the smooth-headed Monsieur Michelin look.
At the end of Day One, everyone had played three games, and those who wanted to had played four. Overnight leader (of the croquet tournament), and showing a welcome return to form, was Neil Chalmers on +16 index points, followed by Dean Bennison on +12 and Terry Mahoney on +8; Mike Porter and Ian Storey were still in with at least a theoretical chance on +6. And so we all retired home or to our lodgings. But for five competitors and the manager (plus a couple of hangers-on) the evening was to continue with a splendid pub meal. Five players was a disappointing response to such an enjoyable evening, we all thought, but the full horror was only revealed to us when the reason became apparent as we opened our newspapers the next morning. The Eurovision Song Contest! Shame on them all!
The weather forecast for the Sunday was grim indeed: rain, torrential rain, and then a bit more rain. We needed to squeeze in two more rounds of play, so play started promptly. Not much activity in the Fashion department, I am sorry to say, apart from by George Woolhouse, who had discarded his white cap in favour of the tweed one that had earned him last year's soubriquet of "Paraffin Head" (the proofing, you see). On the face of it, of course, a disaster to appear in last year's model, but George turned the tables (and his cap) brilliantly to combine the old favourite with his new Louis Bleriot look. Well done George, I think we can all say that Tweed is the new White; I'm sure we shall all be following your lead this season. At the other end of the scale, Laughing Boy Winder tried desperately to gain some credibility by turning his baseball cap back-to-front, illustrating only how out-of-touch he is, and Neil Chalmers actually wore a hoodie, topped, rather incongruously, with his NCC hat. There were mitigating circumstances, in that Neil was not feeling well: not, I can attest, due to any over-indulgence the previous evening, but to the onset of a virus. Nevertheless Neil, there are limits . . .
Meanwhile, in the croquet tournament Neil had fallen victim to the steady play of Ken Pickett, but Dean and Terry had both won their first games, setting themselves up for what proved to be an exciting final. This, and everyone else's second games, had started before lunch. No significant rain yet. During lunch, the manager played for everyone's entertainment "Croquet Habits" by Freeny's Barn Dance Band, a record which will be familiar to all subscribers to the Croquet internet newsgroup. For those who don't know it however, this recording was made in the late 1920s or early 1930s and appears in a recently-published compilation of ultra-rare Jazz and Blues records from that period. Not to everyone's taste of course, but all those present seemed to enjoy it, and after the doors were unlocked play continued.
Sadly, a few people drifted away as their games finished (to avoid the "inevitable" downpour) but enough held on so that by the time the final finished at about 3:30 there were still about a dozen of us left to applaud Terry Mahoney, who had beaten Dean Bennison +6. Meanwhile, Mike Porter had performed very strongly in his last two games to come second, pushing Dean back into third place. After the presentation, the few outstanding games were finished and everyone had left by about 4:00 to avoid the heavy rain that really seemed imminent. In the event, it never materialised (there were showers, but no big storm)
The Fashion Parade was very much a straight competition between Dean and George Woolhouse, and after much deliberation I have awarded the honour and the title of "Fashion Guru" to George: the triumph of ingenuity and inventiveness over clear technical superiority. Sounds a bit like George's croquet, come to think of it.