Budleigh Salterton May Tournament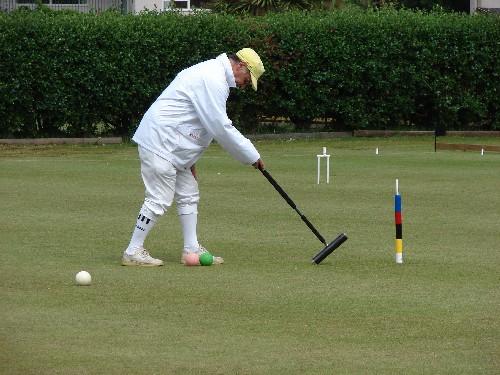 Alan Pidcock (Photo: Patricia Duke-Cox)
by Patricia Duke-Cox
7th June 2007 (
Other News
)
The May tournament at Budleigh Salterton attracted 52 entrants. Everyone was made welcome and enjoyed the week in spite of a change in the weather which was somewhat damp. There were 48 in the Class events, 36 in the Knockout which was a new event this year, and 20 pairs competing in the Handicap Doubles. There was a most convivial evening when competitors came together to enjoy a meal held at the clubhouse and that concluded with a musical quiz with small prizes.
In the Singles event, Division 1 Block A for the Godfrey Turner Challenge Cup there was a best of three final between James Tuttiett (Littleton) and Richard Griffiths (Bowdon) that James Tuttiett won +16TP and +16.
Also in Division 1 Block B/C for the Woodlands Quaich there was again a best of three final between Chris Donovan (High Wycombe) and Jim Field (Glastonbury/Nailsea) that saw Chris Donovan win +10 and +23 bringing his handicap down from 5 to 4.5.
In the Division 2 Block D/E for the J. K. Brown Memorial Challenge Cup the final was between Peter Hills and Peter Miller both from Sidmouth. Peter Hills won + 9T.
In Division 3 Blocks F/G played for the Pat Tunmer Cup. The final was between Elaine Norsworthy and Jack Thompson both of Budleigh Salterton. Elaine Norsworthy won + 7T
In the new Knockout event the final was between John Morgan (Cheltenham) and David Temple (Sidmouth). David Temple won +16 and gained his Bronze award in this game.
In the X Doubles the final was between Ken Wood with Elaine Norsworthy (Budleigh Salterton) and James Tuttiett (Littleton) with Margaret Piper (Sidmouth). James and Margaret won +1T
In the Y Doubles the final was between Rodney Parkins (Medway) with Jane Babbage (Budleigh Salterton) and Susan Rogers with Sheila Blenkinsop both from Sidmouth. Susan and Sheila won + 12.
The Egyptian was won by Roy Edwards of East Dorset. Graham Harford won his Silver against Jane Hull winning +26. At the end of the week 8 players' handicaps came down and the whole competition was ably managed by Julie Horsley.
---