Stephen Mulliner won the European Golf Croquet Championship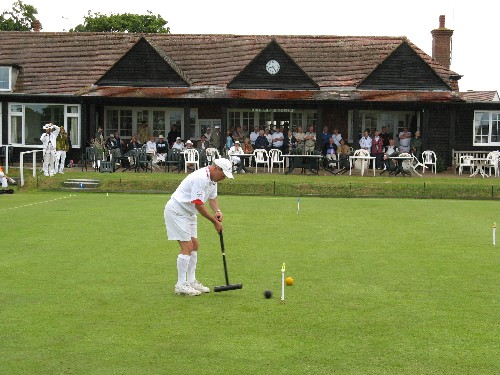 The Winning Shot
by Tim King at Budleigh Salterton
18th June 2007 (
GC
)
Day 4 Preview
Semi-finals today are Stephen Mulliner (England) versus Pierre Beaudry (Belgium) and Andrea Pravettoni (Italy) versus Evan Newell (Ireland). 30 players played in three all-play-all blocks of ten and then the knockout started with a round of 16.
All matches in the tournament have been best of three games. Mulliner has only lost a single game (a great effort by Richard Thompson of England) in 11 matches and looks in good form. Pravettoni has shown some impressive shooting ability, defeating the previously unbeaten Tim King in the quarter-finals.
Sweden has sent six competitors and in particular the young players in the team are making rapid progress and getting some good results as they play for the first time on courts of a consistent decent standard.
The weather has been showery but players have only been forced off the lawns for the briefest of spells. The Budleigh Salterton members are providing excellent hospitality for the tournament.
The Final Day
Stephen Mulliner (England) beat Andrea Pravettoni (Italy) in the final 7-1, 7-2. Unfortunately, Andrea failed to find his game and the match was less of a spectacle than most had hoped. Stephen faced his greatest test in the semi-final against Pierre Beaudry (Belgium). Pierre ruined his chances of taking the first game by playing one of Stephen's balls to approach hoop 13. However, Pierre won the second game 7-5 and Stephen only really started to play with his usual consistency halfway through the third game to win 7-6.
Pierre beat Evan Newell (Ireland) in the playoff for third place, 7-3, 7-4. Evan had lost in the semi-finals 6-7, 7-2, 4-7 to Andrea. Some sense of Stephen's dominance was his total game record of 26 wins out of 28 played. Pierre had the second best record with 23 out of 31.
David Walters (Wales) played well above his handicap of -1 to finish in fifth place. He appeared to grow in confidence as he discovered how to make his accuracy count against those players of a more aggressive nature. The other highlight was the performance of Anders Moldin (Sweden) who finished twelfth. He beat some far more experienced opponents and took a game off Andrea. Kevin Ham (Wales) won the plate after a titanic struggle against Horst Haack (Germany).
The Budleigh Salterton club hosted the Championships on Saturday evening in the main club house. The atmosphere was convivial and all celebrated and enjoyed strengthening the bonds of the European croquet family.
---