Patricia Duke-Cox won the Hunstanton Over 50s Handicap Tournament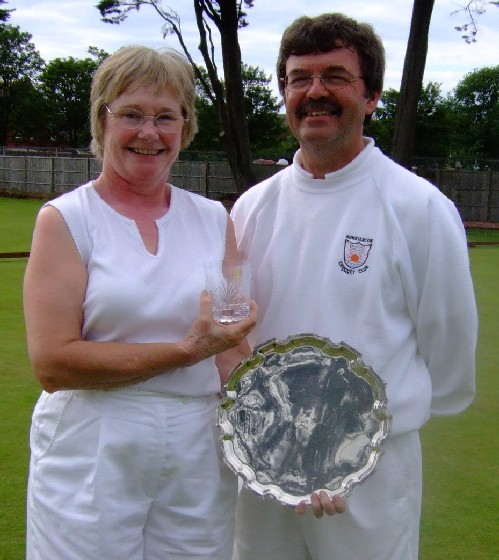 Patricia Duke-Cox with the Manager after the presentation (Photo: Ian Storey)
by Jonathan Toye at Hunstanton
15-17 June 2007 (
AC - Handicap
)
A delightful three days spent at Hunstanton for their Over 50s tournament. 21 entrants - an extra player arrived on the first morning - but ably sorted and managed by Ian Storey. Sunshine against all predictions, although we did experience a half hour of monsoon on Saturday, (witnessed in splendid isolation from the shelter on Lawn 5 by your correspondent as everyone else cowered in the Clubhouse).
Excellent food and a friendly, relaxed atmosphere. Umpteen games played, as everybody was so keen to get on to Hunstanton's immaculate sward (very well kept by groundsman Jeff Race who takes a personal interest as his own game improves on an exponential basis).
The devious Egyptian points system meant that we never really knew who was going to win until the last game on Sunday. Chris Donovan was in the lead at the close of Day 1, with Terrey Sparks lurking. Terrey surged into pole position on Day 2 with Patricia Duke-Cox and Jonathan Toye close behind. On Sunday afternoon it looked as if Terrey would retain the trophy that he had won in 2006 but the doughty David Tutt had other ideas.
After an hour's play the bisques were gone and Terrey had one ball on peg the other on rover, with David on hoops 1 and 2. In a fascinating comeback, following the croquet player's motto of nil desperandum, David crept up and overtook his opponent to win by 3, knock Terrey into second place and present Patricia D-C with another Jane Neville-Rolfe Salver.
Handicap Changes
Don Cornelius 7 to 6
Bryan Saddington 5 to 6
Terrey Sparks 3.5 to 3
---