Oxford won the student team championships; Marcus Evans won the singles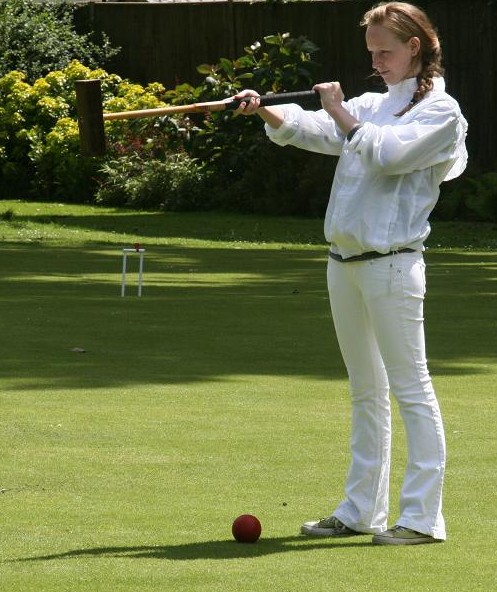 Trinity player Ciara Byrne lines up a shot
by Eugene Chang at Oxford
17-18 June 2007 (
AC - Championships
)
Oxford won the student team championships with a +8otp win over Nottingham. The singles trophy was won by Marcus Evans (Nottingham).
Twelve players from four universities gathered in Oxford over a wet weekend to contest the Student Team and Individual trophies. Players varied widely in ability, ranging from internationals to beginners who had just been taught the four-ball break on their journey to Oxford using Jelly Babies to represent balls!
The singles trophy was duly won by Marcus Evans of Nottingham who was simply too good; his shooting and break control were far superior despite some spirited hit-ins from his opponents. The real surprise was in the other half of the knock-out draw, where last year's beginner Rob Wilkinson shocked third and second seeds Eugene Chang and Conor Broderick respectively to reach the final with some very accurate and consistent breaks.
The team (doubles) competition generated several spectator-friendly games, with one featuring cavalier but spectacular tactics from Trinity College Dublin; catching up against Oxford's peg and rover, a Trinity player went to peg and pegged out both his opponent's ball and his own by accident, leaving 1-back vs. rover. Oxford eventually scraped home +3 after some good shooting from the other Trinity player, then easily defeated Nottingham B to reach the final against Nottingham A on Sunday morning.
Oxford began the final strongly with Tom Whiteley going to 4-back on the fifth turn, only for Marcus to hit in and complete a TPO. The subsequent three ball ending was fascinating to watch, with Marcus trying to shepherd his junior partner around and achieve a rare +TPOT win. However, a fired up Rob Wilkinson had other ideas and hit in frequently against the odds. The tactical inexperience of the Oxford players was apparent as they shot aggressively on every turn rather than take position. Indeed when Nottingham left themselves cross wired at 4 and Rob near his hoop at 2, Rob was overheard saying to Tom: 'But we HAVE to shoot, haven't we?!' and proceeded to hit.
Despite Marcus and Ed's best efforts, Rob managed to finish +8OTP with ten minutes remaining and Oxford retained the Edmund Reeve Cup.
This was all the more impressive given that Tom and the third Oxford player Harry have only been playing croquet for 6 weeks; Tom was down to 8 already and Harry to 14 only due to a 2 week exam break! Hopefully these students and others will keep playing and that there is enough local competition for them.
The consolation Golf Croquet event was won by Enda Coyle of Trinity College Dublin. Social events included the annual visit to the Indian restaurant on Saturday night followed by a sample of Oxford's finest nightlife. Well done to the eventual winners of the tournament for leading the charge on to the dance floor!
Many thanks to Oxford University Croquet Club for hosting the tournament, to Rob Wilkinson for managing it, and to Bernard Neal for driving down to Oxford to present the trophy.
Teams
Nottingham A - Marcus Evans, Ed Keene
Nottingham B - James Phillips, Georgina Allured
Imperial/Oxford - Eugene Chang, Harry Fisher
Oxford - Rob Wilkinson, Tom Whiteley
Trinity A - Enda Coyle, Conor Broderick
Trinity B - Ciara Byrne, Emily Jeffers
Results
Nott A beat Imperial/Oxford +17t (21-4)
Oxford beat Trinity A +3
Nott A beat Trinity B +6t (12-6)
Oxford beat Nott B +26
Oxford beat Nott A +8otp (Evans)
Singles
Marcus Evans -2
Eugene Chang 2
Conor Broderick 0.5
Enda Coyle 12
Rob Wilkinson 8
James Phillips 24
Harry Fisher 14
Tom Whiteley 8
Ed Keene 24
Results
Harry beat Ed +21
Rob beat Eugene +18
Marcus beat Harry +24tp
Conor beat James +?
Tom beat Enda +10
Rob beat Conor +3
Marcus beat Tom +24
Marcus beat Rob +22
---