Alan Edwards won the Colchester Handicap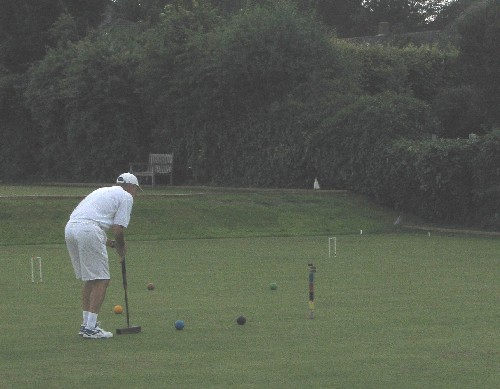 Alan Edwards pegging out to win the tournament
by Jonathan Hills
26-28 June 2007 (
AC - Handicap
)
There were 16 competitors for this event, which was run as an egyptian.
Handicaps ranged from 0.5 to 18. The lawns were easy paced with generous hoops, although some hoop approaches were decidedly indifferent.
The singles was won by Alan Edwards (Woking) and the doubles by Jane Collier and Alan Edwards.
Day 1 saw Terry Mahoney leading, followed by Gill McDiarmard, Jane Collier and George Winder. The most notable event was a claimed draw on lawn 4 where unaccountably, the competitors lost track of the score during time.
Day 2 ended with George Winder in the lead with Alan and Terry 2nd and 3rd. George played a tight game against Terry winning the 3 ball ending due to keeping a bisque up his sleeve. In attempt to ensure he ran rover, he managed to run to the boundary, however he made the 9 yard return roquet appear trivial. John Andrews failed to learn from his previous day's error and again went to the peg with no significant progress on his backward ball to be pegged out by the opponent.
Day 3 saw what was effectively 2 semi-finals in the morning. Alan Edwards achieved another +26 demolition, this time over Terry Mahoney (at least the end was swift!), taking time to demonstrate the 17 yard take off through hoop4. George Winder eventually triumphed over Jonathan Hills in another 3 ball ending (this time with no bisques). Hills made progress with his back ball with careful wiring until he left blue visible 4 yards off the south boundary. As Winder was 1 yard off C2, this seemed safe. Winder shot and ran rover from 28 yards to finish!
Hills declared himself dodecahedrally gutted!
The final, on paper, seemed evenly balanced with Edwards playing well and with 2 bisques; Winder welcomely playing above handicap to his standard of a couple of years ago. However, there were no significant breaks and for once, Winder's form deserted him as he sent the croqueted ball off the lawn going to hoop 4 during a 4 ball break leaving Edwards and easy pick up. A later take off over the boundary also proved costly and he could not regain the innings after that. Edwards held his nerve to play some positive shots under pressure to win +18.
The doubles was played at the end of the each of the first two days. The manager set a challenging time limit of 1¼ hours for a 14 point game with 50% of games going to time. One partnership managed to complete their 3 games before time including a 6 hoop break and peg out in under 8 minutes, showing that the time limit was achievable. Jane Collier decided to dispense with Chris Clarke's assistance and teamed up with Alan Edwards. This proved to be an astute choice as they dispatched the reigning world mixed senior handicap doubles champion pairing of Colin Hemming and Violet 'Strawberry' Lester in a rain soaked final +7.
Thanks go to Colin Hemming for his smooth, organised running of the tournament, though he did have a few players worried when he admitted he was not fully up to speed on the new impasse rules!!
Handicap Changes
Alan Edwards 9 to 8
Jane Collier 18 to 16
Jonathan Hills 0.5 to 0
David Haslam 5 to 6
Nigel Gardener 5 to 6
George Woolhouse 3.5 to 4
---