Robert Halpin won the 'The Chalkhill Mallet'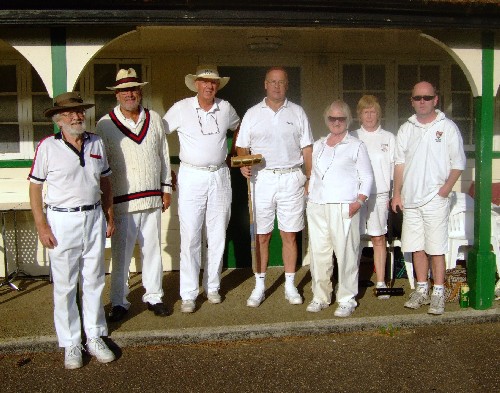 Sunday Die-hards (Photo: Ian Storey)
by Neil Chalmers
30 June-1 July 2007 (
AC - Handicap
)
Ten regulars (six from Norwich) and two newcomers assembled on Saturday morning under the threat from the forecasters of heavy rain for both Saturday and Sunday. In the event, Saturday started a bit drizzly, but brightened to sun in the afternoon while Sunday was sunny all day apart from one torrential downpour of 10 or 15 minutes duration. 36 games were completed of which 17 were on the Sunday when several die-hards were still playing at 7 o'clock, unusual in my experience, but good to see.
Played as an Egyptian, the tournament produced quite an eventful week-end with the first three places being separated by single points, 2 silver awards, 5 Handicap changes and a whirlwind +25 victory by youngster Callum Ringer (9) over Ian Storey (2) in 45 minutes.
Robert Halpin of Norwich figured in three of these successes, winning the tournament losing only to the runner-up, and gaining both a Silver Award and a handicap reduction from 12 to 11. This was considered to be not nearly enough by his victims on Saturday when he won his 4 games with scores of +23, +21, +26 and +26, your reporter being one of the 26s!
Harry Bruford of Bodham and Norwich was runner-up, again losing only one game and the only one to beat Robert. He also gained a handicap reduction from 12 to 11.
The aforementioned Callum Ringer of Bodham and Norwich came third (just failing to beat Harry, his first mentor), gained a Silver Award and a handicap reduction from 9 to 8 all in his first tournament as a Junior Member of the CA. Are we looking at a star of the future?
I am happy to record that one of our first-time visitors Gill McDiarmid (4) from Woking came fourth after a hesitant start, but perhaps a veil should be drawn over the lower placings.
The sad news is that two of the handicap moves were upward, Ian McDiarmid from 10 to 11 and Feargal Smith from 3 to 3.5. At least he is back in Longman Cup contention!
---