Jacob Carr and William Gee won the Junior Championships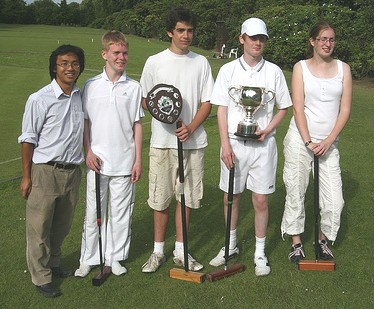 L-R: Eugene Chang (manager), James Carr, Will Gee, Jacob Carr, Rachel Rowe
by Eugene Chang at Nottingham
17th July 2007 (
Other News
)
The 2007 Junior Championship was won by Jacob Carr of Tyneside Croquet Club, whilst the Junior Golf Croquet championship was won by William Gee of Nottingham.
Attracting 4 entrants on the day, the competition was a round robin tournament playing 18-point handicap advanced for the association event and level play in the golf, and was thoroughly enjoyed by players and spectators alike. Moments of drama were provided by Will losing three balls into the stream beyond the lawns - well done to everyone who took turns raking the mud banks and finding them some six hours later! It was good to see promising youngsters who all played below their handicaps; with enough coaching, games and local support, they will soon be making their mark on the tournament circuit in the next few years!
With the success of this year, hopefully a larger entry can be attracted next year, so that other formats might be organised, including the revival of the Schools Championship. If you know of any budding youngsters in your local club or area who would be eligible to compete next year, please contact me at etychang#gmail.com.
Many thanks to Nottingham Croquet Club for hosting the event and to Patricia Duke-Cox for her support before and at the event.
Players
William Gee (Nottingham) - 1.5 Association, 0 Golf
Rachel Rowe (Ashby) - 16 Association, 0 Golf
Jacob Carr (Tyneside) - 14 Association, -1 Golf
James Carr (Tyneside) - 20 Association, 2 Golf
Association Results
Will beat James +7
Jacob beat Rachel +4
Jacob beat Will +6
Rachel beat James +10
Rachel beat Will +15
Jacob beat James +12
Golf Results
Will beat James 7-6
Rachel beat Jacob 7-5
Will beat Jacob 7-5
Rachel beat James 7-2
Will beat Rachel 7-6
Jacob beat James 7-6
---