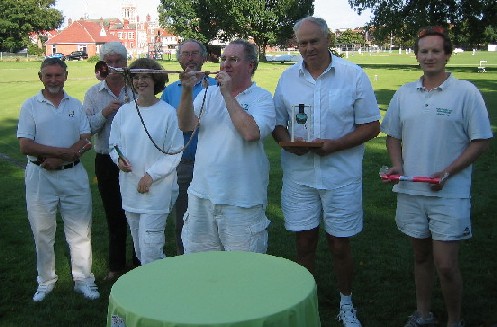 Winners and runners up
by Roger Wood at Compton
31st July 2007 (
AC
)
Compton Open Weekend, Eastbourne: weather warm and partly cloudy by day with heavy, prolonged rain on Friday and Saturday nights; lawns moderate to slow (measured at about 10 seconds on Saturday evening), very green for this time of year in this exceptionally wet summer, but thankfully not liable to flooding; hoops, difficult to get firm in the damp ground. Entries: fewer than in recent years (clash with Eastern Championship?) but we were pleased to welcome newcomers Jonathan Lamb and Richard Dickson.
Perhaps the only surprise in the early rounds of the knock out was the premature demise of Richard Dickson who lost to Louise Bradforth's resolute play - indeed this took her through to the semi-final where, having taken the first game from Tim Wilkins, she narrowly lost the third thereby depriving herself of the chance to meet Dave Kibble in the final.
In the first game of the final Tim Wilkins had the first break to 4-back only to see himself pegged out following Dave Kibble's well controlled TPO. Tim then over-hit the contact croquet stroke and went off. After a turn or two Dave established a 3 ball break but unaccountably stuck in 3-back off partner. Despite missing the lift Tim progressed to H6 before Dave finished. The second game was a rather long drawn out affair. Along the way Dave laid a perfect diagonal spread after his first break and had two peels of the triple in the second before again sticking in 3-back. Thereafter the innings changed hands many times during which time Tim had rather a spectacular failure to cross-wire the opponents at H1, Dave had one or two narrow misses and got himself hoopbound after 4-back before clinching his second COWhorn win (first in 2001).
David Parkins strode steadily through the Swiss, winning all his games convincingly to take the COWbell. There were rather fewer peeling finishes this year, despite the relative slowness of the lawns, and Ian Vincent's tally of two, one a quadruple peel, assured him of the Ace Peeler's accolade. The Kibble kountback in the knockout targeted a reluctant Gordon Hopewell as the recipient of the COWpat. The sun shone on the prize giving with the COW loot displayed on Jill Carpenter's elegant presentation tablecloth decorated with the badges of 47 croquet clubs from around the world.
Knockout for the COWhorn
Round 1
Louise Bradforth beat Richard Dickson +13
Jerry Guest beat David Parkins +6
Tim Wilkins beat Dennis Shaw +15
Kevin Carter beat Tom Weston +15
Jonathan Lamb beat Ian Vincent +8
Dave Kibble beat Andrew Gregory +25
Round 2
Louise Bradforth beat Gordon Hopewell +9
Tim Wilkins beat Jerry Guest +23
Kevin Carter beat Jonathan Lamb +5
Dave Kibble beat John Low +24
Semi-Finals
Tim Wilkins beat Louise Bradforth -17 +26(TP) +4
Dave Kibble beat Kevin Carter +16(TP) +5
Final
Dave Kibble beat Tim Wilkins +8(TPO) +17
3rd Place
Louise Bradforth beat Kevin Carter +4
Swiss for the Cowbell
Winner: David Parkins (5 wins)
4 wins: Jonathan Lamb, John Low
3 wins: Richard Dickson, Ian Vincent
2 wins: Andrew Gregory, Jerry Guest
1 win: Gordon Hopewell, Tom Weston
0 wins: Dennis Shaw
Ace Peeler: Ian Vincent; Runner up: Dave Kibble
COWpat: Gordon Hopewell
Swiss Results
J Low beat G Hopewell +20
A Gregory beat T Weston +17
I Vincent beat D Shaw +26(QP)
D Parkins beat R Dickson +15
J Lamb beat A Gregory +24
J Low beat J Guest +24
R Dickson beat T Weston +20
D Parkins beat D Shaw +26
I Vincent beat A Gregory +11(TP)
J Lamb beat J Low +25
R Dickson beat J Guest +15
D Parkins beat T Weston +5
D Parkins beat J Lamb +24
J Low beat I Vincent +6
R Dickson beat A Gregory +20
J Guest beat G Hopewell +18
T Weston beat D Shaw +8
D Parkins beat A Gregory +17
J Lamb beat R Dickson +17(TP)
I Vincent beat J Guest +7
J Low beat T Weston +14
G Hopewell beat D Shaw +13