2007 National Golf Croquet Doubles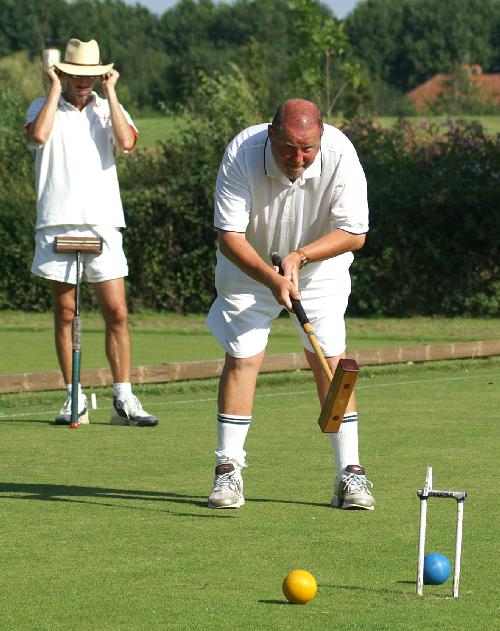 Ivor Brand & Richard Thompson - one of them looks sure! (Photo: Tim King)
by Timothy King at Surbiton
4-5 August 2007 (
GC
)
Just ask Lewis Hamilton; he will tell you the trials and tribulations of teaming with a partner. The real drama of sport is the human dimension rather than the seconds per lap or the number of hoops run. So what was to be the story of the 2007 National Golf Croquet Doubles?
Would the 2005 winners rediscover how to gel? No: King and Ware, 8th.
Would the milkman and his "mum" show how well they know each other's game? No: Gaitley and Hamilton (Mark not Lewis!), 7th.
Would the first-time partnering evergreens bring out the best in each other? No: Hopkins and Strover (Dick), 6th. Would the veterans teach the young "whipper snappers" a thing or two? No: Arliss and Old (Derek), 5th.
Would family ties be strongest from the father and the son who first played last Tuesday (well, on a proper court anyway)? No: 3rd equal but an incredibly impressive debut from Ed, helped along by father Chris in yet another variation on the pairing Sheen and Sheen.
Would the double female touch take a grip of the competition? No: Jackson (Carole) and Vitty, 3rd equal. Would the deciding factor be the benefit of local experience as the Surbiton lawns played fast in the recently unfamiliar decent weather? No: Beck & Moonie, 2nd.
Wrong on all counts; the story was actually that the first trick is to send a twin brother on holiday to distant shores and then pair up as a last-minute partnership. Ivor Brand and Richard Thompson showed all the strengths of careful thought and determined precision in only losing one game all weekend (one block of all play all, semi finals and then a final). Don Beck lost his shooting form in the final, which made the job less difficult for Brand and Thompson but they played with admirable consistency and deserved success. Richard Brand now has to discover whether he can break up a winning team or perhaps there will be a Spanish bloke looking for a new partner next year (although he has more experience in a fast car than with a mallet)?
Congratulations to Chris Sheen for managing through various alterations to the expected cast of players. Surbiton was the usual excellent host venue (as always, thank you to George Noble for hoop setting and cooking!). And the only other thing to add is that there is plenty of space in the tournament and pairs of any standard are more than welcome to join the fun; whether winning or learning is your primary objective.
---