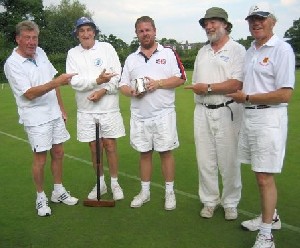 Six sextuples, one triple - he did it his way! (Photo: Phil Errington)
by Derek Watts
6th August 2007 (
AC
)
Even with a depleted entry this year, TCC were treated to some awesome croquet displayed by the Manager Dave Maugham. He competed six consecutive sextuples and one triple. The rest of us sat back in absolute amazement at his display and left us all exhausted with his skills.
When he was advised that there were only 5 instead of the customary 8 players, Dave said "Fine, we will play each other twice over the 2 days getting in 8 games and use just 1 lawn".
It soon became quite apparent that Dave was going to do sextuples in all his games and we were all duly cross wired at hoop 1. Some of us were able to hit in from hoop 1 to the single ball in corner 3 but we could not capitalize on it. The two noticeable exceptions were Phil Errington who came closest to upsetting the apple-cart and gave Dave a few uncomfortable moments but Phil was not just able to finish, and David Turner reduced him to "only a triple"!. Dave's display certainly gave us all something to aim for but we all agreed that he is from another croquet planet and we all still have so much to learn.
It says something that a player of his standing was still prepared to travel 300 odd miles round trip to manage and play in our tournament, to which we are extremely grateful.
Peter McDermott summed it all up - "I may not have won many games this weekend but this is the best tournament I've been to this year". The weather was sunny and the lunches & teas supplied by Sheila Watts were superb as usual.
Peter McDermott (writing on the Nottingham list) adds: It was just one month ago when a mud slide covered the Tyneside no.1 lawn to depth of 2". After much cleaning up work the members got it and lawn no.2 ready for their annual open A level tournament which was played over last week-end.
Normally a well attended meet with good players from outside clubs and locals making up the numbers this year Derek Watts, for whatever reason, could only muster four plus the manager. David Maugham has been a manager and player in this tournament for the last six years. Derek, with some trepidation, rang David who cheerily replied "no probs. we will use one lawn everyone plays everyone else on both days" - and so we did on no. 1 lawn which was clean, fast and true.
The players were myself (1.5), Derek (2.0), Phil Errington (2.5), Dave Turner (4.5) and David (-2.5). The only other but important member present was the ever reliable Sheila Watts (The Cook).
When David won the first three matches with sextuples then Phil (a doughty chap) decided the answer was not to shoot but stick a ball in corner 4 - to no avail David did his fourth sextuple. Day two started much the same way I succumbed and, whilst Derek did hit in from the mandatory 33 yards, he missed a short roquet and his moment of fame had gone. Dave completed his 6th successive sextuple.
Phil, having slept on this and seen Derek's effort, shot and hit across those 33 yards. He then peeled David through hoop one ( he figured that would make the sextuple more difficult ) and got round to 4 back. The match continued in a ding dong battle with David trying to complete his sextuple and Phil hitting in to spoil his day. With Phil miles ahead David reverted to a common triple in an effort to win. When he broke down Phil's moment had arrived but there was no fairy tale ending as David scraped home +4. Dave Turner also had his moments and denied David a sextuple but lost 18TP. But hey, SIX CONSECUTIVE SEXTUPLES ! That must take some beating.
What happened in the other matches is by the by, suffice to say Derek was unbeaten in these and his handicap came down to 1.5.
What shines through clearly is that it is special people who make tournament croquet the enjoyable game that it is. We are all indebted to the Secretaries, the Tournament Managers and the Cooks who year in and year out keep the show on the road. David personified this by playing and managing we journeymen at this particularly difficult time for the Tyneside Club.
Results
Dave Maugham (-2.5) beat David Turner +26sxp & +18tp Peter McDermott +25sxp & +26sxp, Derek Watts +26sxp & +26sxp, Phil Errington +23sxp & 4.
Derek Watts (2) beat David Turner +1t & +2t, Peter McDermott +4 & +5, Phil Errington +14 & +19.
Phil Errington (2.5) beat Peter McDermott +12, David Turner +1t.
Peter McDermott (1.5) beat David Turner +15 & +22.
David Turner (4.5) beat Phil Errington +19.
or
D Maugham beat D Turner +26sxp
P Errington beat P McDermott +12
D Watts beat D Turner +1t
D Maugham beat P McDermott +25sxp
D Maugham beat D Watts +26sxp
P Errington beat D Turner +1t
D Watts beat P McDermott +4
D Maugham beat P Errington +23sxp
D Watts beat P Errington +14
P McDermott beat D Turner +15
D Maugham beat D Watts +26sxp
D Turner beat P Errington +19
D Maugham beat P McDermott +26sxp
D Watts beat D Turner +2t
D Maugham beat P Errington +4
D Watts beat P McDermott +5
D Maugham beat D Turner +18tp
D Watts beat P Errington +19
P McDermott beat D Turner +22
Final Standings
Maugham 8
Watts 6
McDermott 2/7
Errington 2/7
Turner 1
Handicap Changes
Derek Watts from 2 to 1.5