Derek Old won the Alan Oldham Memorial (Golf Croquet Veterans)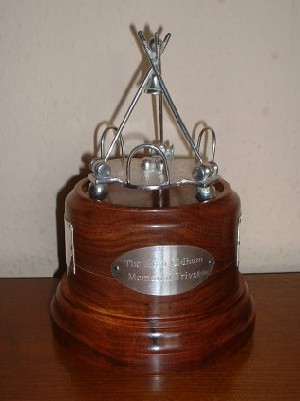 The Alan Oldham Memorial Trophy (Golf Croquet Veterans)
by Bill Arliss at Southwick
1-3 August 2007 (
GC
)
It was probably the first time in many weeks that there had been three consecutive days without torrential rain at some time and this event was blessed with two days of perfect sunshine and one cloudy but dry day. Thanks must go to Chairman Jon Isaacs and his wife Chrissey who organised a first class buffet lunch each day for this first Golf Croquet Veterans Tournament.
Entry was rather low with only 16 players but Manager John Low had chosen a two block all-play-all twice format with play-offs in a knock-out for the top four in each block. Unfortunately two players did not turn up leaving blocks of seven, however John filled the schedule with additional inter-block games, which kept all players busy without a too demanding schedule.
Block play followed its normal pattern with approximately one in three games resulting in a one game each result and by the end of the blocks there was no obvious winner in sight. There were several unexpected results. Eileen Buxton, playing superbly claimed games off both Derek Old and Tom Weston and Jennet Blake recorded a win over Bill Arliss. Daphne Gaitley showed a big return to form, regularly running hoops from the boundary. The eventual line up for the quarters was Carol Jackson vs. David Hopkins, Dick Strover vs Tom Weston, Daphne Gaitley vs. Jack Davies and Roy Ware vs. Derek Old. Carol, Dick Daphne and Derek emerged as winners. On the final morning Daphne's shooting partially deserted her and gave Derek a fairly easy game of 7-2 but she came back somewhat in the second with a 7-5 loss. The other semi was a lengthy struggle with Dick Strover just reaching the winning post first with a 7-6, 6-7, 7-4 score sheet.
Derek started the final with a runaway first game of 7-1 and it looked like an early tea time but Dick moved up a gear to claim the second 7-1. The final game was more balanced but Derek eased ahead and was up 6-3 as they approached the tenth. Dick managed to position both his balls in good running positions with one of Derek's balls behind the hoop with his second still at hoop nine. Unfortunately for Dick, there was just room between his two balls for Derek to make the final hoop from 20 yards.
Alan Oldham and the Trophy
When the event was originally envisaged, the Golf Croquet (GC) Committee looked for ways to make this competition rather different from the others in the CA lists and the idea of making this a memorial event was suggested. Alan Oldham had played croquet for very many years and had served on the CA Council for most of that time. During recent year he had been an ardent supporter of Golf Croquet, had chaired the GC Committee for one year and had a major input to the development of this format of the sport. Naming this tournament after Alan was felt to be a very fitting tribute to all that he had done for the game. The question was; what kind of a trophy shall we have? Searches were made around the silversmiths for some croquet related trophy but nothing was really found. It was then discovered that about 20 years ago, the CA had purchased a silver plated trivet depicting croquet mallets, hoops and balls. It had become part of the CA archives and its guardian was the CA archivist, Alan Oldham. Apparently Alan was very fond of this piece and it had been stored in his study for many years. If this could be mounted on a suitable base we had found an ideal trophy. The photo shows our trophy on its new rose wood base. We were delighted that Jane Oldham, was able to visit Southwick and present the trophy to Derek Old.
The history of how the trophy came into the CA's possession is worth a mention. A Mr George Batty who lived some time in Malta, and some time in Sheffield found the trivet in street market in Valleta in the late 1980's. He describes himself as a general collector but with a preference for articles made by Sheffield craftsmen. Our trophy has a Mapin and Webb stamp on its base (they had a Sheffield factory long since closed) and a design stamp that would date the item in the mid 1800's but no later than 1883. When he came back to England, Mr Batty saw an article on croquet written by Edgar Jackson, then President of Cheltenham, and wrote to Edgar offering the piece for sale to the CA at the price he had bought it, a mere £35. Edgar then passed the matter on to Alan who was CA Treasurer at the time. The rest is history but we now have all the hand written letters between all three people involved. It is believed that this piece is not unique but part of a small limited batch. We know that our present Treasurer, Roger Bray, has one but have heard of no more. If anyone has seen similar pieces, the CA would be please to know of them.
---