Chris Clarke and Jenny Williams won the British Mixed Doubles Championship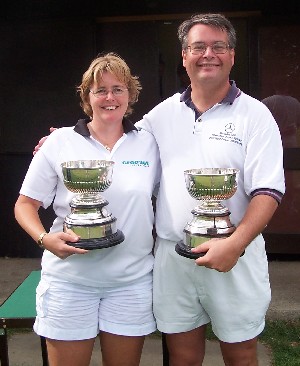 (Photo: Nelson Morrow)
by Jenny Williams at Surbiton
11-12 August 2007 (
AC - Championships
)
With 8 pairs entering, including several past champions, and a change to a full best-of-three knockout this year's event promised to be a good contest. Manager David Foulser imposed time limits of 3.5, 5.5, 7 (with a 9-hour final) to keep the tournament on schedule, and the games were all single-banked. The Surbiton lawns are in lovely condition - about 10-11 seconds, with a good covering of grass and hard underfoot they are a credit to George's efforts and Bob's mowing. Tight hoops added to the challenge, though they relented somewhat on the second day after many balls had been slammed through. Catering was the usual exceptional Surbiton fare, complemented by a well-stocked bar, with George and Christine doing the honours on day 1 and Celia providing lunch on day 2.
Chris and Jenny started strongly winning a quick two-TP match against Craig and Sue Edwards, and the most exciting round 1 game saw David Magee pegging out George Noble with George's partner Chris still on 1-b. Making 1-b, Chris hit the Magees' balls in corner 4 and took a decisive lead with time fast running out, eventually pegging out with 5 minutes to spare. In the other first-round matches David Foulser and Carol Smith won 2-0 against Mark Hamilton and Daphne Gaitley, with a narrow victory in the second, and Chris Daniels and Julie Hudson had a slow start, losing 2-0 to David Openshaw and Kathleen Priestley.
After a 5-hour wait Chris and Jenny met George and Chris in the first semifinal. ChrisC quickly raced to 4-b, but then the match stalled with many errors before the favourites won +13. The second saw another poor start before Chris got in (for hoop 2) with Jenny for hoop 5. He started a delayed octuple which was close to perfection. He had ideal position with 6 peels done when he mis-approached 3-b from 5 yards straight. Another +13 soon followed.
David and Kathleen won their semi with two +17 wins, though it took David 7 attempts to finish from 3-b and peg, leading to a pegging down over night and an early start on Sunday to finish the game off for a 2-0 match win.
The single-game plate event matched up pairs as they became available. Two pairs finished with no game wins, and two pairs finished undefeated in plate games, with winners David Foulser and Carol Smith having 4 wins counting main event games. David Magee found his form in the plate with a TP late Saturday evening, and Carol and David came back from well behind to beat George and Chris after Chris missed the pegout, David hit and George missed several shots before Carol pegged out, +1.
The main-event final started at 11 on Sunday with Jenny struggling to hoop 3 before Chris had an optimistic attempt at a dectuple. The first peel, before hoop 2, went through cleanly and was initially on target to also go through hoop 4. A failed rush peel and Chris went to 3-b leaving David's ball in the jaws of 4. David was clearly over his problems of the previous game, centre-balling the lift and proceeding to 4-b. Defensive play was punished when Kathleen picked up two breaks after the opponents cornered, and the first game finished shortly after Jenny had struggled to 2-b and Chris had taken his 3-b ball to 4-b with a cross-wire at 2-b and laid up in corner 3. DKO centre-balled the tea-lady. +10 to David and Kath. Chris & Jenny levelled the match in game 2 with a tidy 6th turn TP by Chris after David hit a poor lift leave but failed hoop 1 to leave Chris a double with his ball at hoop 2.
In game 3 David got the first break - and stopped at 2-b to discourage popping by Chris. Jenny got to hoop 2 in several turns and Kathleen picked up a well-constructed break before sticking in hoop 4 with all the hard work done. Jenny went to 4-b with a defensive leave which David hit, but he failed 2-b giving Chris another tidy TP to take the match.
Bernard and Liz Neal were welcome guests on the final day, and Bernard presented the Mixed Doubles trophies.
Full Results
Round 1
Chris Clarke & Jenny Williams beat Craig & Sue Edwards +25TP(C), +26TP(C)
George Noble & Christine Osmond beat David & Eileen Magee +8 +3T
David Foulser & Carol Smith beat Mark Hamilton & Daphne Gaitley +16 +4T
David Openshaw & Kathleen Priestley beat Chris Daniels & Julie Hudson +18 +20
Semi-Finals
Chris Clarke & Jenny Williams beat George Noble & Christine Osmond +13, +13
David Openshaw & Kathleen Priestley beat David Foulser & Carol Smith +17 +17
Final
Chris Clarke & Jenny Williams beat David Openshaw & Kathleen Priestley -10, +26TP(C), +16TP(C)
Consolation Event
single game - includes game wins in the main event
Chris Daniels & Julie Hudson
beat Craig & Sue +14, Mark & Daphne +20, George & Christine +23
David & Eileen Magee
beat Mark & Daphne +19TP (?), Craig & Sue +17
David Foulser & Carol Smith
beat George & Christine +1, David & Eileen +15
Consolation event was won by David Foulser & Carol Smith with 4 wins.
---