The Musk's Cup 2007; with apologies to Fawlty Towers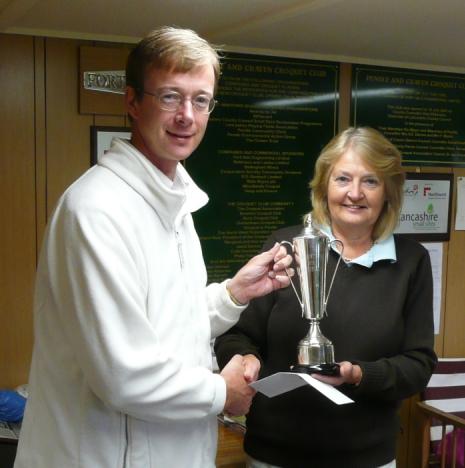 Ian Lines receives Musk's Cup from Caro Sheen
by Tim King at Pendle and Craven Croquet Club
2007-08-18 and 19 (
GC - Championships
)
[In a newspaper office near you ...]
Editor [tall and somewhat manic looking]: Now then, about your report on the most prestigious sporting event of the past weekend.
Reporter [short, dark-skinned and with a confused look]: The Musk's Cup at Pendle and Craven Croquet Club.
Editor: Yes. I told you not to mention the World Championship.
Reporter: But how much more tension can you get than the combination of three of the selectors, two of the World Championship selections and three of the e-mailing protagonists on the selection controversy? Freda Vitty was the only neutral present and must have felt like Henry Kissinger.
Editor: This is a serious newspaper and we stick to the observable facts; not trying to hype up the alleged human drama. What do you think this is? Big Brother?
Reporter: So you are happy that I mention the strong early showing from Freda who was unbeaten on the Saturday.
Editor: Yes. But you can scrap the line "Freda (23) threatened to strip off in the crowded clubhouse". This is not the Daily Star and there are more than enough discussion points in Golf Croquet without mentioning ages.
Reporter: So how about "By contrast, having also had poor singles results at the Inter Counties Championship the previous weekend, manager Tim King had a shocker on the Saturday, failing to win a match. Perhaps his mind was on having already been selected for the World Championship?"?
Editor: Are you from Barcelona? I told you not to mention the World Championship.
Reporter: Que? I think I might have got away with it. Is "Mark Hamilton, Ian Lines, John Spiers and Richard Thompson were also in good shape at the end of the Saturday" better?
Editor: What about important details like the weather?
Reporter: Well, fairly grim. Never quite a complete downpour but very steady and eventually Court 3 became unplayable. The local club members provided wonderful hospitality and catering though.
Editor: No rats in the kitchen then; but also no Musk's sausages. I am afraid you will have to drop the reference to them being available in all good Waitroses; your report is not an advertorial! And what is this confusion over Court 5 being Court 4?
Reporter: Those diligent folks at Pendle had reconfigured the court layout with proper clearances at the boundaries and boundary boards to keep everyone safe from the hooligan Golf Croquet element.
Editor: So Sunday was a tense day then?
Reporter: The weather was dismal when everyone arrived, although the Pendle faithful had managed to mow the courts. Court 3 was even more sodden than the day before, so the tournament had to continue with double banking on one court. Fortunately, the manager had been camping to the west of Earby and the weather had cleared over there during the morning, so the decision was to keep to the original format and within half an hour of play starting, everyone had removed their waterproof jackets.
Editor: John opened up the competition by beating Freda in the first round of Sunday matches then.
Reporter: And Mark began to emerge from the pack with a win over Bill Arliss. But then he had a misfortune on the 13th hoop of the third game against Tim, who, thus, had won two matches in a row!
Editor: I see in that penultimate round, John beat Bill and Ian beat Freda, so defending champion John (4 wins) and Ian (5 wins) became the front runners.
Reporter: Ian had the advantage of having beaten John on the Saturday but Tim now had a potentially pivotal role. Tim was playing Ian but also the match between John and Tim from Saturday was suspended at one game all. As the final round began to unfold a major shift had taken place. Whereas on the Saturday cries of anguish and self disgust had frequently emanated from Tim, John was now going through the agony of having lost his top form.
Editor: I am not sure that we can afford Keith Aiton but it would be great to have a side column on the mental dimension to King and Spiers: so destructive at their best and yet is that a fragility that lurks beneath?
Reporter: Tim beat Ian in the first game but John also lost to Richard. Then Ian and John both came back in the second: either of them could still win the Cup. In the end, John and Richard finished first and, thus, Richard winning the third game determined the result: Ian had won and, although he did not know so at the time, he crowned his success with victory in a tight third game against Tim.
Editor: Ian was a clear winner on six wins, I see.
Reporter: Yes, Mark, John, Richard and Freda all had four match wins but net games separated them in that order. Although Chris Sheen had dropped being manager this year, he never quite found the form that he was hoping for as a consequence and once again someone else walked away with his prize money.
Editor: Both Ian and Mark earned handicap reductions to -4. And Caro Sheen presented Ian with the trophy and his winnings. A good end to the story.
Reporter: Ian certainly justified his being on the plane to South Africa next March.
Editor: How well will he do in the World Championship?
Reporter: Now you are mentioning that controversy.
Editor: You started it.
Reporter: No it was definitely the Golf Croquet Selection Committee. They picked the four players.
Editor: Hang on a minute; is that a rat over there ... ?
The Musk's Cup 2007
A
B
C
D
E
F
G
H
Match wins
Net games
Points for
Net points
Position
Notes
MHN
ILS
JSS
CSN
RTN
BAS
TKG
FVY
A
Mark Hamilton
7
7
4
7
5
2
4
7
7
7
7
7
5
6
7
7
4
4
96
5
2
5
6
7
5
7
7
7
6
6
4
4
5
7
7
5
3
B
Ian Lines
5
6
7
7
7
6
7
6
7
7
7
7
5
7
7
7
7
6
7
112
31
1
7
7
3
4
5
7
6
7
3
1
3
4
7
6
5
2
4
C
John Spiers
7
5
7
3
4
2
7
7
2
7
4
7
7
7
3
7
7
4
3
93
4
3
Match versus TKG incomplete at 1-1.
4
7
5
7
7
7
5
6
7
3
7
4
2
1
7
4
6
D
Chris Sheen
7
7
5
7
6
7
5
6
5
2
7
7
7
4
3
5
2
2
-3
92
-3
7
2
4
7
6
7
2
7
7
7
7
4
4
3
7
7
7
7
E
Richard Thompson
6
6
7
3
1
7
3
7
7
7
7
7
7
5
7
7
5
2
4
2
101
3
4
7
7
6
7
7
2
7
4
5
2
4
4
5
7
6
4
7
7
F
Bill Arliss
4
4
3
4
4
2
4
4
4
4
2
7
7
2
6
1
-11
61
-39
8
7
7
7
7
7
7
7
7
7
7
7
6
3
7
7
G
Tim King
5
7
7
7
6
5
1
7
3
7
7
5
7
6
7
6
3
5
3
2
-3
104
-6
6
Match versus JSS incomplete at 1-1.
7
5
6
5
7
7
7
3
7
4
3
7
5
7
2
7
7
7
7
H
Freda Vitty
5
3
2
4
4
6
7
7
4
7
7
7
7
7
7
4
1
84
5
5
7
7
7
7
7
7
5
2
7
5
2
2
6
5
3
---