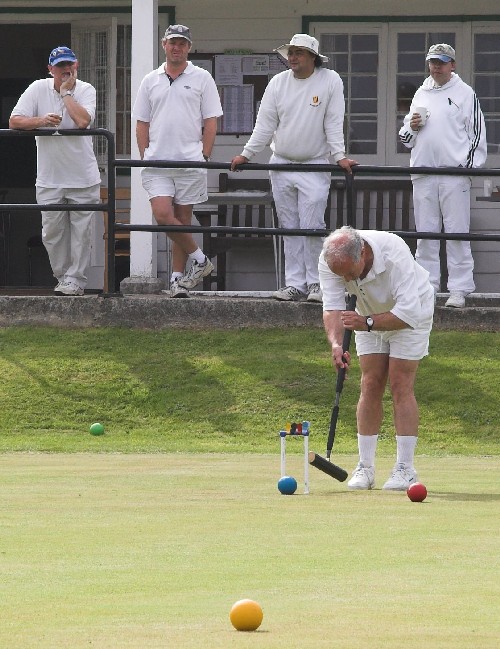 Paul Smith in play (Photo: Roy Tillcock)
by Richard Griffiths at Ryde
10th September 2007 (
AC
)
Members of the Ryde club extended a warm and friendly welcome to the sixteen players assembled for the Selectors' Weekend 2007. This is the first time that the club has hosted a national CA event, this year being also the club's Centenary. Asking around a couple of weeks ago about the character of the lawns, your reporter had heard opinions based on visits 5 years back, and the descriptions received were not encouraging. However, since those dark days a tremendous amount of work has been done under the direction of the club's Maintenance Committee, and the lawn condition is now transformed to a very good standard, with good even grass coverage. Work is continuing to iron out one or two remaining wobbles on the north boundaries, which lie along a bank sloping down to the tennis courts. On the first morning a speed test gave 8 to 10 seconds, with the grass just mown, but still damp from the morning dew.
With a handicap range from 2 to -1, the players were mostly well-established with many years of croquet experience, along with a few relative newcomers who have been playing for only 3 or 4 years. All were visitors to Ryde except for local player Phillip Kennerley (1), who, for the second time in as many months, found himself called upon to replace Mark Hamilton, who had withdrawn at short notice. Phillip went through a two-hour warm-up routine by mowing all four lawns before start of play every morning (for which, many thanks from the rest of the players).
Cliff Jones was the Manager, and James Hawkins the RoT. Games were played without a time limit. Play in the two blocks was rather slow on the first day, producing 6 games pegged down overnight. Day 2 went at a brisker pace, with all 7 rounds of the block games finished before dusk.
Block A was dominated by Paul Smith (-1) on 6 wins, with William Gee (0), Dick Knapp (0) and Martin French (0) on 4, James Hawkins (0) and Peter Thompson (1) on 3, Brian Fisk (0) and Martin Stephenson (2) on 2. Block B was closer, with the result of the pegged-down game between Mike Town and Richard Griffiths determining whether there would be a 4-way tie on 5 wins, with who-beat-who putting Richard (if he had won) as the block winner. However, the game went the other way, giving a 3-way tie with who-beat-who yielding Cliff as the winner.
Block B wins were Cliff Jones (-1/2), Paul Castell (-1/2) and Steve Woolnough (0) on 5, Mike Town (1) and Richard Griffiths (0) on 4, Jonathan Hills (0) on 3, Phillip Kennerley (1) and Mary Knapp (2) on 1.
As to triple peels, there were none in Block A, and two in Block B, one from Cliff (against Steve) and another from Jonathan (against Cliff). In the play-offs between corresponding block positions Brian completed a triple (against Phillip).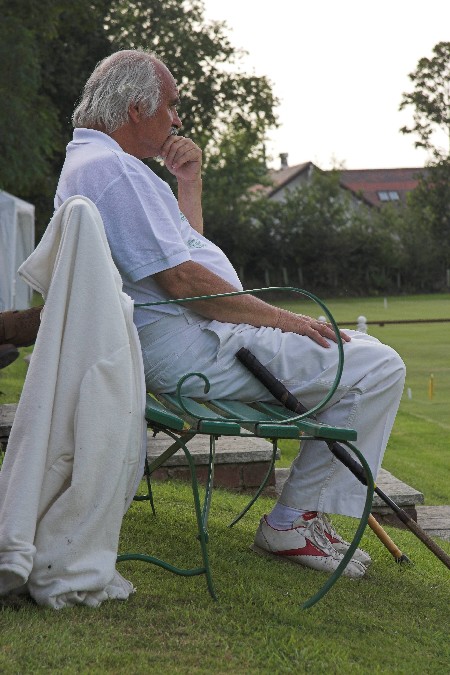 Cliff Jones (Photo: Roy Tillcock)
The final was thus a Smith and Jones event, with Paul winning the first +26. Cliff came back in the second with +14, and the third was a nervy nail-biter, to-ing and fro-ing as each handed the game over to the other countless times. In the end Paul prevailed +14 to take the Ranelagh-Weightman Cup.
Diverting entertainment was provided by several players. William Gee, hitting hard as usual, shot his 4th-turn Red from B-baulk, missed, went over the bank and ended up lost underneath the equipment hut floor. Subsequently he had to leave the ground to retrieve the ball from a similar shot that went through the fence and onto Playstreet Lane. James Hawkins, playing yellow for 3-back, croqueted his red (for 4-back) right in front of its hoop, then coming out of 3-back rushed Black to 4-back, Black hitting Red and promoting it into the jaws (though he did not secure the straight triple that was thus offered). Martin French and Paul Castell, with all four clips on Rover, and all four balls congregated at the hoop, spent four more turns to conclude the game in the greatest concentration of bad luck to afflict two players for many a year.
Thanks must go to Cliff Jones and James Hawkins as Manager and RoT respectively. Cliff's customary preparation and high-tech management software ensured that all went smoothly. Thanks in exceptional amounts must go to the members and committee of Ryde LT&CC for their tremendous efforts and superb hospitality. Alan Truckel (Chairman) and Roy Tillcock (Secretary) were always present to assist, and the numerous club members provided superb catering at just the level required. Brian Fisk was transported each day to his caravan site by Pam Sim and Dave Willett (many thanks for that), Brian's Land Rover having a failed starter motor. As was remarked, Brian was the only player to suffer a break-down before even putting a ball on the lawn.
Finally, it is understood that Ryde plan to extend their Isle of Wight Championship (early June) from 2 days to 4 days. On behalf of all the players at the 2007 Selectors' Weekend, our experience says that Ryde LT&CC is a splendid venue, and the club deserves our support in its future events.
Full Results
Martin French beat Martin Stephenson +6
James Hawkins beat Peter Thompson +17
Dick Knapp beat William Gee +18
Paul Smith beat Brian Fisk +3
Jonathan Hills beat Mary Knapp +19
Mike Town beat Phillip Kennerley +10
Richard Griffiths beat Paul Castell +3
Cliff Jones beat Steve Woolnough +22 TP
Paul Smith beat Dick Knapp +14
William Gee beat Brian Fisk +4
Martin French beat Peter Thompson +13
Martin Stephenson beat James Hawkins +25
Steve Woolnough beat Richard Griffiths +15
Cliff Jones beat Paul Castell +12
Jonathan Hills beat Phillip Kennerley +22
Mike Town beat Mary Knapp +9
James Hawkins beat William Gee +21
Paul Smith beat Martin French +2
Martin Stephenson beat Brian Fisk +18
Peter Thompson beat Dick Knapp +14
Paul Castell beat Mike Town +20
Steve Woolnough beat Jonathan Hills +12
Cliff Jones beat Mary Knapp +2
Phillip Kennerley beat Richard Griffiths +3
Brian Fisk beat Martin French +2
Dick Knapp beat James Hawkins +23
Peter Thompson beat William Gee +6
Paul Smith beat Martin Stephenson +7
Jonathan Hills beat Cliff Jones +24 TP
Mike Town beat Richard Griffiths +15
Paul Castell beat Phillip Kennerley +6
Steve Woolnough beat Mary Knapp +11
Paul Smith beat Peter Thompson +13
William Gee beat Martin Stephenson +9
Martin French beat Dick Knapp +11
James Hawkins beat Brian Fisk +22
Steve Woolnough beat Phillip Kennerley +23
Paul Castell beat Mary Knapp +3
Richard Griffiths beat Jonathan Hills +6
Cliff Jones beat Mike Town +9
Dick Knapp beat Martin Stephenson +5
Brian Fisk beat Peter Thompson +7
Paul Smith beat James Hawkins +13
William Gee beat Martin French +5
Richard Griffiths beat Mary Knapp +10
Cliff Jones beat Phillip Kennerley +24
Steve Woolnough beat Mike Town +20
Paul Castell beat Jonathan Hills +22
William Gee beat Paul Smith +5
Martin French beat James Hawkins +5
Peter Thompson beat Martin Stephenson +25
Dick Knapp beat Brian Fisk +10
Paul Castell beat Steve Woolnough +2
Mike Town beat Jonathan Hills +11
Mary Knapp beat Phillip Kennerley +8
Richard Griffiths beat Cliff Jones +15
Paul Smith beat Cliff Jones +26
Cliff Jones beat Paul Smith +14
Paul Smith beat Cliff Jones +14
Paul Castell beat William Gee +1
Martin French beat Steve Woolnough +25
Mike Town beat Dick Knapp +12
Richard Griffiths beat James Hawkins +23
Jonathan Hills beat Peter Thompson +13
Martin Stephenson beat Mary Knapp +15
Brian Fisk beat Phillip Kennerley +24 TP