Louise Bradforth won the Treasurer's Tankard (4th Eight)
Louise starting a triple (Photo: Dave Kibble)
by Dave Trimmer at East Dorset (Parkstone)
10th September 2007 (
AC - Championships
)
At the end of day four, our esteemed manager, Dave Kibble, at last got Nelson to teach us how to play golf croquet but as he (Nelson) played the wrong ball three times before we'd got past hoop two and the fact that the most advanced advice he gave his partner was "go for the hoop", neither Dave or myself felt any wiser after the event. Maybe these GC aficionados are sworn to secrecy concerning in depth tactics or perhaps "go for the hoop" is code for something else. Or did Nelson consider it would be a case of pearls before swine? I guess we'll never know.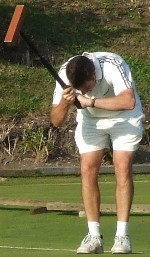 Dave Trimmer making a long roquet
As day five dawned, there was the possibility of a three way play off, as Bradforth was leading with nine wins, Kibble and Trimmer on eight.
Steve Lewis kept the possibility alive by beating Bradforth with a triple.
Trimmer twenty-sixed Kibble. (DK's shooting was rubbish but as we don't wish to give him a complex about it, we'll put the word around that all his shots hilled off!) Bradforth 9. Trimmer 9. Kibble 8.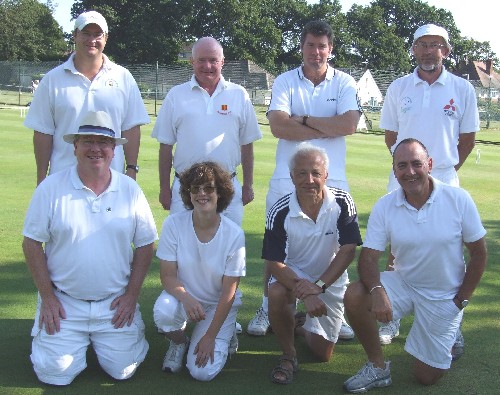 (L-R, B-F: Nick Butler, Bruce Rannie, Dave Trimmer, Ian Vincent, Dave Kibble, Louise Bradforth, Steve Lewis, Nelson Morrow
The final round saw Trimmer going round fourth turn, with a (very uncharacteristically) neat diagonal, and Nick Butler miss hit the shot down the east boundary to the right by about two feet and hit the inner ball. A tidy Tpo followed, finishing with an accidental peg out of both balls. 1 v 1. After some interaction, (and crap tactics from Trimmer) Nick picked up a good two ball break and finished.
Ian Vincent, after having had quite a bad tournament, suddenly remembered how to play and beat Dave Kibble. (or did all the manager's shots hill off again??)
Meanwhile, Louise Bradforth was maintaining her smooth style against Nelson.
There was great hitting in from both of them but after a final classic "Nelson Twitch" at a four foot penult, Louise won the game and, well deservedly, the Tankard.
PS. There were loads more triples in the TT than in the Spencer Ell !! What happened lads??
The lawns were timed on day 3 at just over 11 seconds.
No.
Player
1
2
3
4
5
6
7
8
Won
Total
Pos.
1
Bradforth

-1
+11tp

+3
+11

+13
-17

+23
+4

+8
-14tp

-4
+5tpo

+24
+11

5
5

10
1
2
Trimmer

+1
-11tp

+24
-8tpo

+14tp
+26

-17
+25

-5
+26tp

+17
-25

+26
+16

5
4

9
2
3
Butler

-3
-11

-24
+8tpo

-10
-9tpo

-16
+24

+16
+16

+5
+22

+17tp
+20

3
5

8
3=
4
Kibble

-13
+17

-14tp
-26

+10
+9tpo

-25
+4

+26tp
+26

+26tp
+19

-16
-16

3
5

8
3=
5
Morrow

-23
-4

+17
-25

+16
-24

+25
-4

-26
+12

-4
-6

+22
+25

4
2

6
5=
6
Lewis

-8
+14tp

+5
-26tp

-16
-16

-26tp
-26

+26
-12

+17
+25tp

+13
-5

4
2

6
5=
7
Rannie

+4
-5tpo

-17
+25

-5
-22

-26tp
-19

+4
+6

-17
-25tp

-17tp
+16

2
3

5
7
8
Vincent

-24
-11

-26
-16

-17tp
-20

+16
+16

-22
-25

-13
+5

+17tp
-16

2
2

4
8
---