Tony Le Moignan retained the Wine Cup (Austrian Open)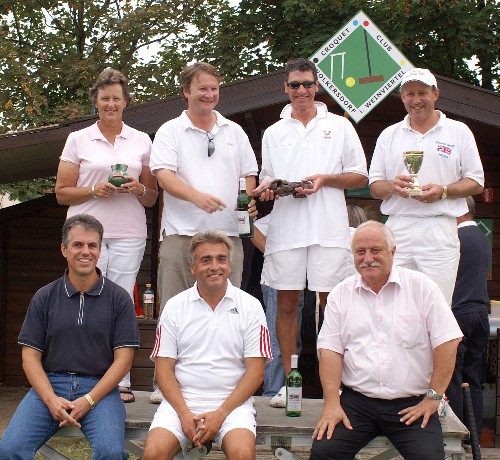 (Photo: Heinz Hackl)
by Stephen Mulliner
13th September 2007 (
International
)
The 4th Wine Cup for the Austrian Open was held from 31 August to 2 September 2007 at Wolkersdorf, a small town of 6,000 people about 30 km NNE of Vienna.
The entry of 12 consisted of eight Surbiton members, hardened travellers and bon viveurs, Le Moignan father (holder) and son (James, 17) and two local players, namely Heinz Hackl and Leopold Walderdorff. Heinz is Wolkersdorf's answer to George Noble, a croquet enthusiast who, with the help of 12 fellow club members, has developed a really excellent 2 lawn club on what was a "Fistball" court (a German version of handball in which the ball can bounce once). The Fistballers have moved onto other premises, leaving the croquet players with sole use of an area 80 yards long by 40 yards wide. At present, there are two 6/7th size courts (24 x 30 yards) but, given the plans to erect a large climbing wall within a few yards of Court 1's north boundary, money will be made available to move the courts away from the wall and turn them into full-size courts. The soil is basically clay, giving firm hoop settings, and Heinz mowed the lawns every morning before play with the result that the speeds were best described as Friday "very nice", Saturday "quite pacy" and Sunday "distinctly quick". They were the fastest surfaces I have played on in two seasons. A few slopes were evident but taking them into account was fair compensation for the smaller size. When they are full size, if mown to the same level, they will be a considerable challenge.
In the photo: back row l - r: Mary Knapp (winner of the plate), Chris Patmore (3rd), Tony Le Moignan (winner), Stephen Mulliner (runner-up)
front row l - r: Paul Bohm (president of the local sports federation), H. Hackl (organiser and player), DI N. Heurteur (mayor)
Play was divided into two blocks of 6 with the players seeded by grade. This placed Stephen Mulliner and George Noble in Block A and Tony Le Moignan and Chris Patmore in Block B. Tony and Chris dominated their block but Tony took the top spot with a bloodless +26tp against Chris on Saturday morning. In Block A, Stephen had to peg back a long Noble lead before edging home +2 to complete a clean sweep. However, perhaps of more interest is the fact that he completed the first sextuple on Austrian soil against James Le Moignan on the opening day. The finish was assisted by the fact that the straight peel at penult put the peelee almost into the jaws of rover! The other five Block 1 players ended on two wins each and a slightly surprised George Noble found himself in a semi-final against Tony. It should be said that James Le Moignan only had to beat Leopold in the final round to reach three wins and made an impressive overseas debut given the difficulty of the conditions. He is a national standard badminton player and should go a long way in croquet.
Tony and George had a fairly interactive opening game in their semi-final but Tony eventually took it +9 and then sealed his place in the final with a quick +26tp. Chris is probably still kicking himself for contriving to lose to Stephen in the other semi. He took the first after employing one of his unconventional openings - first ball placed 6 inches or so SW of c3 in the hope that the oppo will think it is in c3 and reply by ball in c1. Then CP will take his rush from c3 and try and get a cannon in c1, the peg hopefully not intervening. Stephen was sceptical enough to go and check and took the rush himself and got going on a 2-ball break which foundered at hoop 6 when the SB found one of the steeper slopes. Chris hit from B-baulk and, despite not getting away immediately, survived the shot and won in two turns with a nice delayed tp. In game 2, he completed all three peels of a standard tp before sticking in a slightly angled 4-b. Stephen took his hoop 6 ball to the peg and pegged out the forward ball, leaving 1 and peg against 4-b and box, and then won the pegged out game. The following morning, Stephen completed a swift 26tp to reach the final.
The final provided some good audience material. In game 1, Stephen laid for the sextuple and had completed four peels before failing an angled 3-b. Tony hit the lift and won in three turns, surviving two lift shots on the way. The second game looked to be heading for a routine +17tp to Tony as he embarked on a delayed tp. However, with one peel done, a bit of hill on a 3 yard roquet before 1-b allowed Stephen in to take his 4-b ball to the peg. Tony missed and Stephen had a routine break with K to equalise the match. However, nothing is routine on a challengingly quick lawn and Stephen under-approached 3, allowing Tony to take Y to rover and join R in c4. Stephen hit a 15 yarder and promptly under-approached 4 as well. Tony now took R to the peg, declining to risk the single peel on Y on the grounds that he could not lose in the conditions if he had two balls off leaving rover v 4 but he might lose if he blew up around rover. Stephen did his best to disprove Tony's theory by hitting, rolling to 4 from above 2-b and making 4 and 5. However, the approach to 6 was too bold and the hoop was failed into position. Tony shot and missed at K which then took pos at 1-b while Tony took pos at rover with Y. Stephen ran 1-b by only a little and missed Y, hitting rover and staying nearby. Tony now hit and made no mistake in finishing and successfully retaining the Wine Cup. He had played solidly and sensibly throughout and fully deserved his unbeaten record.
The Plate was run as a handicap Swiss with James Le Moignan cut from 7 to 3 beforehand. Mary Knapp proved to have the surest touch on the speedy lawns and won with 4/4.
Various local notables attended the prize giving, including the Burgomeister (mayor) and local sports centre chief. Heinz and his team were thanked profusely for all their efforts in making the event the success that it was. The social side of the event is a major attraction with trips to a local pub on Thursday, restaurant on Friday, gala dinner on Saturday and, for those staying beyond Sunday night, a meal in a restaurant high up in the Vienna Woods with a superb view of the city below. Next year, the plan is to hold it in Salzburg and then back to Wolkersdorf and its two full-sized lawns.
---