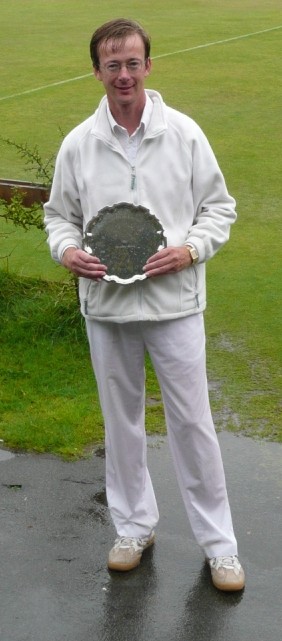 by Ian Lines
17th September 2007 (
AC
)
15 players gathered at Southport in glorious warm sunshine on Saturday morning to compete for the Sandiford Salver. The format was a simple knockout with a consolation flexible Swiss event - all with no initial time limits.
There were few surprises in the early rounds on Saturday, although Gordon Hopewell had a good win over Charlie Askew. The lawns didn't look too difficult, playing at about 10 to 11 seconds, with reasonably tight hoops which weren't too difficult in the soft Southport soil. However, there were a few fast patches and the odd slope near some hoops, which perhaps explains why most games took over 3 hours, despite 9 of the 15 players having handicaps of 0.5 or better.
As the sun set on Saturday, Ian Lines was 1-0 up in a best of 3 semi-final against Alan Pidcock, and Richard White was pegged down in a scrappy first game against Dean Bennison in the other semi, with Ian wondering about the need for imposing time limits and his best laid plans for a best of 3 final.
On Sunday morning, Alan gave Ian a scare before allowing him to win +5, whilst Richard and Dean continued their long battle, until Richard eventually won +3. Richard managed to finish the next game +17 shortly after lunch, by which time the hopes of a best of 3 final had vanished.
Most of the games over the weekend must have had at least 50 turns - or maybe it just seemed that way. The final was (a little) better...
RW wins toss and elects to go first...
RW anti duffer.
IGL hits and crosswires at peg.
RW lags level with peg.
IGL misses 16 yarder from S boundary.
RW fails to get in front of 1 (up hill slope) and goes to C2.
IGL misses 15 yarder at partner (shooting from N to S boundary).
RW joins up in C2 with rush to C3 (IGL now mid lawn and on S boundary near 1).
IGL mid lawn ball to near C4 - very wide join - probably wrong?
RW goes to 4 back with good DS.
IGL misses long lift.
RW goes to peg with less good DS (leaving 12 yarder at hoop 2 ball) - turned down tricky stp on the way.
IGL hits hoop 2 ball, starts to rain, blops in jaws of 1.
RW joins up on E boundary.
IGL runs 1 hard, hits 9 yarder at partner, takes off into peg, hits 16 yarder, goes to 4 back with good DS.
RW misses long lift with his 4 back ball.
IGL plans to start delayed tp, but take off after 3 is 7 yards short, so makes 4 off partner. Had also left RW's peg ball 3 inches due S of 4 back (so missing 7 yarder at RW's 4 back ball in C4 would not have been clever!). Struggles round to make 1 back and has leave in C2, with RW's 4 back ball back near C4 and his peg ball near peg.
RW lifts 4 back ball and misses into C2.
IGL goes to peg, pegs out RW's forward ball, has 16 yard wide join on W boundary/C2.
RW misses 16 yarder at IGL's peg ball in middle of W boundary.
IGL has leave in C4, leaving RW in C2.
RW lurks near C3 - raining heavily now.
IGL has guarded leave in C3, putting RW near hoop 1.
RW in torrential rain does the decent thing and shoots.
IGL finishes +4 as puddles develop.
so only slightly fewer than 50 turns!
The Consolation Swiss was won with 3/4 wins by Tom Weston, who also earned a handicap reduction from 1.5 to 1. Also of note was Peter Dorke's ftp, just missing the 5 yard pegout, and Mike Sandler ending his streak of 13 consecutive losses.
Many thanks to all those who provided the excellent Southport catering, and to Keith Roberts and Ray Lowe for setting the hoops so well.
Full Results
First Round
Ian Lines beat Peter Dorke +25TP
Dean Bennison beat Tom Weston +5
Ray Lowe beat Keith Roberts +14
Paul Rigge beat David Barrett +12
Richard White beat Colin Southern +10
Andrew Winn beat Michael Sandler +4
Gordon Hopewell beat Charlie Askew +5
Second Round
Ian Lines beat Paul Rigge +24TP
Richard White beat Ray Lowe +22
Alan Pidcock beat Andrew Winn +10
Dean Bennison beat Gordon Hopewell +17
Semi Final
(best of 3)
Ian Lines beat Alan Pidcock +26, +5
Richard White beat Dean Bennison +3, +17
Final
Ian Lines beat Richard White +4
Consolation Plate
David Barrett beat Colin Southern +19
Tom Weston beat Peter Dorke +7
Charlie Askew beat Michael Sandler +16
Ray Lowe beat Colin Southern +23
Peter Dorke beat Paul Rigge +3
Tom Weston beat David Barrett +16
Peter Dorke beat Gordon Hopewell +24
Charlie Askew beat Andrew Winn +9
Michael Sandler beat Colin Southern +2
David Barrett beat Peter Dorke +17
Paul Rigge beat Ray Lowe +2
Tom Weston beat Charlie Askew +14
Andrew Winn beat Colin Southern +2
Summary
Ian Lines (-2) 5/5
Richard White (-1) 4/5
Tom Weston (1.5) 3/4
Ray Lowe (0) 2/4
Dean Bennison (0.5) 2/4
David Barrett (0) 2/4
Charlie Askew (-0.5) 2/4
Andrew Winn (0) 2/4
Paul Rigge (0.5) 2/4
Peter Dorke (4.5) 2/5
Alan Pidcock (-0.5) 1/3
Gordon Hopewell (2) 1/3
Michael Sandler (3.5) 1/3
Keith Roberts (5) 0/1
Colin Southern (2.5) 0/5