Rutger Beijderwellen won the Ascot Cup (the English National Golf Croquet Championship)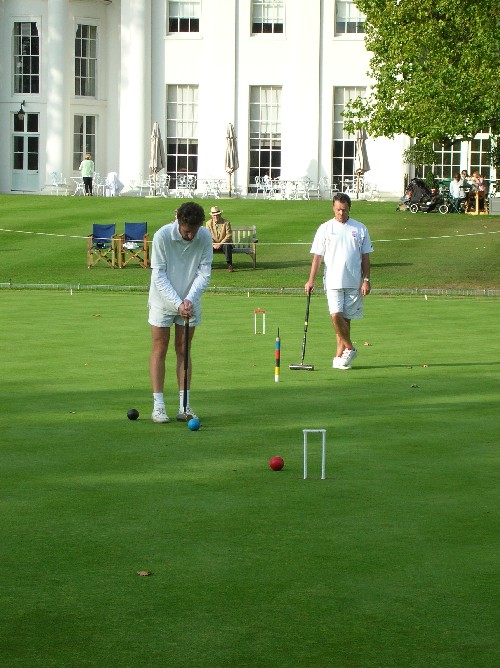 Rutger Beijderwellen and Chris Farthing at hoop 6 (Photo: Richard Hoskyns)
by Tim King at Hurlingham
2007-09-22 & 23 (
GC - Championships
)
Marcus Evans (Block 1), Chris Farthing (2), Ian Lines (2), John Spiers (1), Ivor Brand (1) and Rutger Beijderwellen (2) were the top seeds for the Ascot Cup on the true, fast courts of Hurlingham. The format was two blocks of eight, all playing all in a pair of 13-point games. The top two from each block were to qualify for the semi-finals (best of three games). Everyone enjoyed a tough competitive weekend. Almost certainly for the first time ever the field consisted entirely of -4 and -3 players (4 of the former).
In block one, Marcus as top seed should have had progressively harder games but Tim King had such a poor recent run of form that he was seeded seventh in the block. Thus, they met in only the second round and shared a game each. Having thus had his progress disrupted, Marcus struggled to find his best form for the rest of the block, although he eventually pulled through to finish second. Tim had found his best form and embarked on a run of 11 straight wins to finish top with 12 wins out of 14 games.
In block two, Rutger was the star performer, also achieving 12 wins out of 14. Chris Farthing eventually drew clear of the other challengers and came second. However, Chris then carried well into his semi-final and beat Tim 7-5, 7-6. Rutger disposed of Marcus with a slightly wider margin. By this stage, the major challenge was fitting in the final as double banking and the pace of the courts had made for some lengthy games. As manager, Richard Hoskyns had the invidious task of intervening in some games to impose time limits of ten further minutes to play (plus eight shots). The record was a 2-1 (yes, hoops) scoreline.
Anyway, the final got underway at 16:30 on the Sunday. Rutger produced impressive clearances and the ability to run hoops cleanly to within striking distance of the next hoop. However, Chris was undaunted and showed great tenacity through his good judgement of pace. He also demonstrated that getting stuck in the jaws (even if not always deliberately!) is also a powerful tactic. Rutger was able to execute one jump shot without problem to score in these situations but had a series of failures at lengths that are not typical in a game of Association Croquet. Thus, Rutger never got away and after an hour of play, Chris won the first game 7-6. Now the clouded sky and the gathering dusk began to pose a real concern, so Richard decided to warn the players that they would have eight further shots at 19:10.
Rutger showed good form early in the second game and the dwindling collection of spectators began to speculate that the third game would be the second in the weekend decided on the third hoop! Especially as Chris refused to give any quarter and kept on coming back. This time, Rutger had first approach to hoop 13 though and won 7-6. The pair managed to judge their timing perfectly; they continued to trade hoops but without getting bogged down and Chris ran hoop 12 to go 6-6 in the third, with two minutes remaining. Time was no longer an issue but seeing was not easy! The lights from the Hurlingham house were beginning to shine brightly.
At least the spectators could gather round corner III and watch the tension come to a climax. The play eventually fell into the pattern of the whole match. Chris had an attempt to win with red, failed to get through but ended up in front of the hoop. Rutger now faced a difficult choice. If he had full confidence in his jump shot then clearing yellow to the South boundary with black would leave blue with a five-foot jump shot. However, he spent a fair time trying to find an alternative line of play; to no avail and he went ahead and cleared yellow. Chris could do nothing with the long shot back and, for the third year in a row, the Ascot Cup was about to be decided on the thirteenth hoop. Rutger, like all worthy champions, dug deep and went to places that even he was not fully sure he could reach, executing the jump shot successfully!
Those who had stayed were able to witness a good match. The debate about Association versus Golf Croquet will no doubt continue, although many will point to the action on the court having the final say. Four high-ranking Association players played during the weekend, each showing determined intent to win. What is interesting is that two of them, Rutger and Marcus, have a harder hitting style that is similar to Golf Croquet specialists Tim and John. In contrast, Chris and Ian are similar to Ivor and (for example) Freda Vitty, who was the only female player in the field, in generally choosing precision as the weapon of first choice. From this fundamental variation, the patterns of play begin to emerge.
By playing a few tournaments the high-ranking Association players begin to see different situations and develop their range of play. As Rutger admitted after the match, Chris stayed in contention by being successful with his tactical decisions. Not that this should imply that Rutger was noticeably poor in this respect. Of course, he is also likely to apply his talent to developing confidence in his longer jump shots. He will be back (and even better)!
The other highlights included David Willett playing his first major tournament away from Ryde. He gave all his opponents a tough game and will have learnt much. Paul Strover, in his 80th year, played his last competitive singles tournament (but watch out on the doubles circuit!). Those half his age were in awe of his stamina.
List of Players
| | | |
| --- | --- | --- |
| H/C | Name | Club |
| -3 | Don Beck | Surbiton |
| -3 | Rutger Beijderwellen | Surbiton |
| -4 | Ivor Brand | Worcester |
| -4 | Marcus Evans | Nottingham/Nailsea |
| -3 | Chris Farthing | Surbiton |
| -3 | Mark Hamilton | Sussex |
| -4 | Tim King | Ashby |
| -4 | Ian Lines | Bowdon |
| -3 | Nelson Morrow# | Hurlingham |
| -3 | Chris Sheen# | Colchester |
| -3 | John Spiers | Blewbury |
| -3 | Dick Strover# | Colchester |
| -3 | Paul Strover | Colchester |
| -3 | Freda Vitty | Auckland |
| -3 | David Walters | Bowdon |
| -3 | Dave Willett | Ryde |
# GC Referees
Full Results
Willett vs. Evans 5-7 3-7
Spiers vs. Brand 6-7 5-7
Walters vs. Beck 7-4 7-1
R Strover vs. King 5-7 7-4
P Strover vs. Farthing 5-7 6-7
Lines vs. Beijderwellen 7-6 2-7
Morrow vs. Mrs Vitty 7-5 6-7
Hamilton vs. Sheen 7-5 6-7
King vs. Evans 5-7 7-2
Brand vs. Beck 7-2 7-3
Willett vs. Spiers 4-7 7-6
Walters vs. R Strover 4-7 5-7
Sheen vs. Farthing 4-7 7-5
Beijderwellen vs. Mrs Vitty 7-4 7-1
P Strover vs. Lines 3-7 5-7
Morrow vs. Hamilton 6-7 7-1
R Strover vs. Evans 5-7 5-7
Walters vs. King 5-7 5-7
Spiers vs. Beck 7-1 1-4T
Willett vs. Brand 4-7 1-2T
Hamilton vs. Farthing 7-6 2-7
Morrow vs. Sheen 7-1 7-4
Lines vs. Mrs Vitty 7-6 7-1
P Strover vs. Beijderwellen 4-7 3-7
Evans vs. Beck 7-2 7-6
Spiers vs. R Strover 4-7 7-4
Brand vs. King 2-7 3-7
Walters vs. Willett 7-3 7-3
Farthing vs. Mrs Vitty 7-4 7-5
Lines vs. Hamilton 5-7 5-7
Beijderwellen vs. Sheen 7-5 7-4
Morrow vs. P Strover 7-2 5-7
Evans vs. Walters 6-7 3-7
King vs. Spiers 7-1 7-2
Beck vs. Willett 7-5 7-3
Brand vs. R Strover 7-6 3-7
Farthing vs. Morrow 6-7 7-6
Sheen vs. Lines 6-7 5-7
Mrs Vitty vs. P Strover 7-3 7-3
Beijderwellen vs. Hamilton 7-0 7-6
Evans vs. Brand 7-3 7-5
Beck vs. King 4-7 3-7
Spiers vs. Walters 7-4 6-7
R Strover vs. Willett 7-6 7-4
Farthing vs. Beijderwellen 3-7 4-7
Mrs Vitty vs. Sheen 7-1 3-7
Lines vs. Morrow 7-3 5-7
Hamilton vs. P Strover 5-7 7-5
Evans vs. Spiers 7-4 3-7
Brand vs. Walters 5-7 7-3
Beck vs. R Strover 6-7 2-7
King vs. Willett 7-3 7-6
Farthing vs. Lines 7-5 7-3
Beijderwellen vs. Morrow 7-5 4-6t
Mrs Vitty vs. Hamilton 5-7 6-7
Sheen vs. P Strover 7-4 7-2
Semi-Finals
(Best of 3 13-pt games)
King vs. Farthing 5-7 6-7
Evans vs. Beijderwellen 4-7 5-7
Final
Best of 3 13-pt games
Farthing vs. Beijderwellen 7-6 6-7 6-7
---