Stephen Stuart-Matthews won the Chapman Challenge Cup at Guildford and Godalming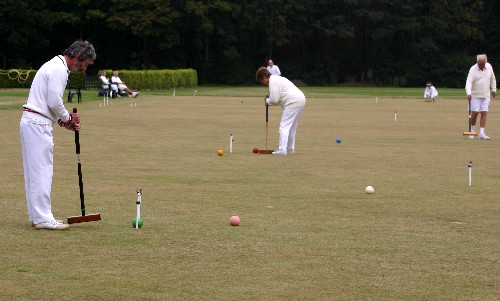 Neil Coote and Maggie Holland in play
by Mike Huxley
28th September 2007 (
AC - Handicap
)
A full complement of 12 players contested the High Bisquers Tournament at Guildford and Godalming on the weekend of 15th to 16th September. The weather was kind and the beer in the Jolly Farmer, Bramley was even kinder. Handicaps ranged from 9 to 18, and there were at least two competitors entering their first tournament.
Day 1 saw Stephen Stuart-Matthews and Bernard Jones winning 3 games out of 3. Sunday morning's encounter between Stephen and Bernard won convincingly by Stephen, putting him on 4 wins out of 4. There were, however, several players with 3 wins, and an exciting finish was in prospect. Indeed that was what happened. In the fifth round, Michael Holland win plus 1 on time, leaving three players - Michael, Stephen and Bernard on 4 wins and one loss. Under the rules of this competition, the two players with the best net points (Michael and Stephen) qualified for a 14 point play-off. It was a cautious affair resulting in Stephen grinding out a win plus 3 on time in his first tournament. Congratulation to him, and commiserations to Michael.
Special thanks to David Boyd, who stood in as substitute manager on Saturday while your's truly returned from Pisa (don't ask!).
Results
Stephen Stuart-Matthews (unattached) 4/5
Michael Holland (Woking) 4/5
Bernard Jones (Woking) 4/5
Patricia Duke-Cox (Woodhall Spa/Hunstanton) 3/5
Ashton Hulme (Ramsgate) 3/5
Martin Mander (Woking) 3/5
Mike Thompson (Guildford and Godalming) 2/5
Wendy Spencer-Smith (Enfield) 2/5
Neil Coote (Reigate Priory) 2/5
Audrey Porter (Hurlingham) 2/5
Maggie Holland (Woking) 1/5
Annette Jacot (Woking) 0/5
Stephen Stuart-Matthews won after the play-off
Handicap Change
Wendy Spencer-Smith 16 to 18
---