Blewbury beat Ashby at Kenilworth to win the 2007 Golf Croquet Inter-Club Championship 6-1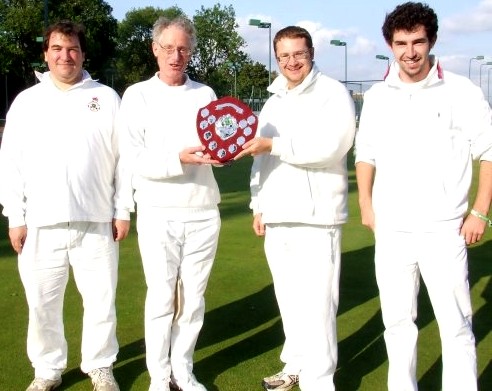 (Photo: John Spiers)
by John Spiers at Kenilworth
30th September 2007 (
GC - Inter-Club
)
Scores
J Spiers & N Butler beat T King & R Mounfield: 7-4, 7-5
B. Spiers beat D. Buxton 6-7, 7-4, 7-5
R. Brown beat M. O'Brian 7-6, 6-7, 7-4
J. Spiers beat T. King 7-5, 5-7, 7-5
N. Butler lost to R. Mounfield 7-6, 4-7, Scratched
B. Spiers beat M. O'Brian 5-7, 7-6, 7-6
R. Brown beat D. Buxton 7-3, 7-4
The final was played at Kenilworth in fine conditions. Ashby reached the final after securing an excellent win against Surbiton - champions in 2005 and 2006. Blewbury made one change to their Semi-Final team, bringing in Robin Brown (UK AC ranking 42) for only his second GC tournament.
Blewbury made a poor start in the doubles, going 3-0 down and facing the likely loss of hoop 4 until Spiers Senior managed to get in the jaws from 25 yards. From thereon they began to hit straighter while King & Mounfield had several close misses. On the singles courts both matches were very tight and went to the third but overall at lunch Blewbury had the comfort of a 3-0 lead. Having nearly thrown away a similar advantage in the first round the captain tried unsuccessfully to restrict the food intake of his team. The deciding match was won by Robin Brown who made up for an inevitable shortfall of GC tactical knowledge with some precision shooting. Butler retired after getting the shakes (he was present against doctor's orders). Benson Spiers came back after losing the first game of the match for the second time that day with some characteristic long range hoop shots.
For the fourth consecutive year Blewbury had succeeded in winning a CA National Tournament (Longman 2004, Mary Rose 2005, Secretary's Shield 2006) and two of the players in this side were involved in each of those campaigns. Increasingly it appears that there are benefits in playing both AC and GC. The former develops good skills for cut rushes and positioning around hoops, the latter improves shooting.
---