The 2008 World Championship - the story so far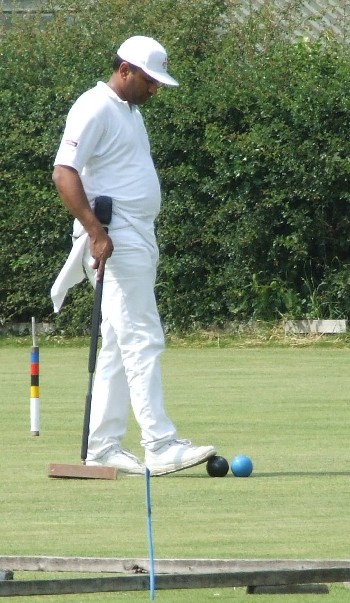 Samir in play (Photo: Dave Kibble)
by Samir Patel
9th February 2008 (
World Championship
)
Sunday February 2nd saw the formal opening of the 11th WCF World Championships. All living previous World Champions are playing, as are all of the current World top-10 ranked players; indeed only 2 of the top 25 ranked players are missing. While few would look beyond the top 6 for this year's Champion, current champion Reg Bamford isn't looking past his current #1 ranking, although five-times champion (and current #3) Robert Fulford is many people's favourite.
While formal practice started yesterday, United Croquet Club was kind enough to allow travelling players to start their warm up earlier in the week. Fresh from the 24hr+ flight and with freshly set hoops, it was quickly clear we were in for a challenge. It would appear that Christchurch is built on a foundation that allows for solid hoops, which, together with the work put in by both the hosting clubs and the organising committee, will result in a challenge for all.
Wednesday saw the outdoor wedding of Jenny Williams and Chris Clarke on the banks of the river Avon, which not only was a beautiful occasion, but also now holds the record of the highest ranked wedding (grade 2597) and a congregation not far behind (especially if one includes the celebrant Charles Jones). Despite the best efforts of Mother Nature (and the bride's decision to arrive by punt), the wedding went off without any hitches (other than the couple's) and I'm sure all readers will wish Mr and Mrs Clarke all the best for the future.
The tournament itself got underway, launched by a host of local dignitaries, including the Mayor of Christchurch and the New Zealand Minister for Sport.
At mid-afternoon today, the lawns (at United) were running at slightly over 12 seconds with everything set for a perfect tournament. Unfortunately, the forecast isn't good, with rain forecast overnight and the wind having picked up dramatically. We all await the morning to see what Mother Nature gives us for day one of the blocks.
Day 1: Sunday
The first day of block play saw the 1st seeds play 8,9,10 in their block, and there were few surprises as a result. Keith Aiton was the only one to drop a game, to Peter Parkinson. David Hajn from the Czech Republic got as far as a second break before losing out to Reg Bamford, while Robert Fulford had a peel-free day.
Of more interest were the middle games in the blocks, with 2, 3, 4 playing 5, 6, 7. Jeff Newcombe, Toby Garrison and David Openshaw did the best of the lower seeded.
17 players are still unbeaten - Bamford, Kirby, Clarke C, Gibbons, Fulford, Dumergue, Maugham, McBride, Landrebe, Openshaw, Mulliner, Clarke J, Skinley, Wright, Patel, Jackson, Beijderwellen.
18 players are yet to record their first win.
Day 2: Monday
The overnight rain never came meaning day continued with more of the same tough conditions. At the end of the day's play, United lawn 6 was timed at 12.5 seconds, suggesting 13-14 for the midday games.
By the end of the day's play, the blocks had started to take shape, and while no one was yet certain of qualifying for the knockout, others had already progressed to the plate.
Top 4 seeds in all blocks are in contention, although Forster and Hogan probably need all three games tomorrow, and with those seeds playing each other, that may be a tough ask. Of the lower seeds, Bassett, Davis, Openshaw and Newcombe look to be in good shape, while Johnston, Beard, Bennett, Bald, Murphy and Garrison will fancy their chances.
Various combinations are still possible, with a possible 5 way tie on 7 possible in block A.
Day 3: Tuesday
Overnight and continuing rain took the edge off the lawns for the final day of block play, bringing Cashmere down to just over 9 seconds and no faster than 8 during the showers.
With many players needing not only wins, but other results to go their way, there was much interest across venues which kept all venue managers and the webmaster busy, and players on the cusp of qualification on edge - even some top seeds, including Stephen Mulliner and Rutger Beijderwellen, were not sure of qualification as they started their last game.
3 blocks have a play-off tomorrow - AJ Reid vs. Jeff Newcombe, Brian Cumming vs. Shane Davies vs. Marcus Evans (for 2 places), Kevin Beard vs. Phillip Drew.
Jerry Stark and Stephen Forster are shock exits, while Jonathan Kirby and John Gibbons are the only players to have not dropped a game.
Day 4: Wednesday
Today saw the start of the knockout stages of the 2008 World Championships.
With the challenging conditions at United, games were expected to be long, with the 4/7/10 time limit of relevance. The late starts got underway at around 11am, 2pm, 3pm and 4pm.
Early games produced some shock results with Lowe, Openshaw and Garrison going game up against Mulliner, Maugham and Aiton, but the four seeds all recovered to take the second.
Fulford, after a slightly shaky first few hoops, was clinical against Reid, winning +26tp +26tp.
The biggest shock of the day was Bamford who, despite winning the first, lost to an excellent under pressure TP by Shane Davis, who won +8 -22 +17tp.
All other top 8 seeds found themselves safely through (Clarke C vs. Johnson is still in play) with Beijderwellen having a tidy enough win against Drew +15stp +18tp.
Of those seeded 9-16, only Chapman (+5 in the 3rd vs. McBride), Dumergue (+1 on time with all round 3-ball break with one peel in the time turn of game 3 vs. Clarke J) and Westerby survived to the next round, the others having lost to Wright (2-1 vs. Landrebe), Patel (2-0 vs. Fleming), Lines (2-0 vs. Bryant, but 20-19 in the second), Jackson (2-0 vs. Kirby), Skinley (11-8 in the third vs. Gibbons).
The second round starts at 9am tomorrow.
Day 5: Thursday
Knock-out day 2 saw the seeds in the bottom half of the draw (Fulford, Aiton, Death, and Clarke) through in straight games (against Skinley, Dumergue, Patel, Jackson).
The top half saw another seed, Beijderwellen, fall to Westerby -25 +17tp +13, and Maugham beat Chapman 2-0 to play Westerby tomorrow.
The two late starts (Davis vs. Lines, Wright vs. Mulliner) ended up with Mulliner winning +26, -3, +6 and Davis vs. Lines was 1-1 at 1900 hrs.
There has been something of a players' revolt over the plate format, with non-qualifiers arguing that the original format meant they could not qualify for the knockout. The revised format instead appears to ensure that knockout losers cannot qualify apart from losing quarter finalists who get automatic right of entry to the plate quarter finals.
Lawn Hoops are being re-set into new holes for the quarter finals.
Day 6: Friday
Yesterday's quarter-finals saw three quick matches.
Clarke overcame Death, who while shooting well even when hoops were in the way made too many errors in break play. Aiton found himself unable to make 3-back (twice) which was too much of a handicap against Fulford. Mulliner vs. Davis was tightly contested, but with Mulliner having enough of an edge to take all three games.
Maugham vs. Westerby was much more tightly contested, with game 2, and a 1-1 scoreline being reached mid-afternoon. Both players inevitably had had lots of play, but both were making errors. The game was finally pegged down at almost 9pm, with Westerby 2-1 up and with the innings and for 1 and peg vs. 4-back alone.
The resumption this morning saw a tactical chase around the lawn with Westerby making a hoop at a time; with Dave spending much of it in corner II waiting for lifts. However, he missed his opportunities when they came and Westerby took the fourth game to win 3-1.
The semi-final line-up is Clarke vs. Fulford and Mulliner vs. Westerby, and will be underway shortly.
Day 7: Saturday
Today's Semi's saw a real classic match between Robert Fulford and Chris Clarke.
Robert took a quick +26tp +26tp lead which seemed decisive, particularly when an examination of the rankings failed to find and when Chris had ever come back from a 2-0 deficit in a best of five (Rob's last defeat from a 2-0 lead was against Dave Kibble in 2005).
Post-lunch and with the lawns speeding up, Robert also gained the first break in the third, and at this stage Chris was yet to take croquet in the match. However, he nailed the short lift off Rob's spread and took on a brave TPO. Rushing into 2-back, after the hoop looked to be turn ending, but Chris played an excellent rush on peelee (then for rover) to 4-back, and completed the break with a tidy leave.
During the three ball ending, with Chris having failed hoop 2 (and rejected to W boundary) and Robert for 3 shot from hoop 3 at the hoop 2 ball rather than the much shorter and more defensive shot at Chris's peg ball. Robert missed, and Chris followed it with and excellent croquet stroke to load 3 and get a rush to hoop 2, from which he finished, and from there Chris hit most of his shots (while Robert went a little off the boil) resulting in a 3-2 win for Clarke.
In the other semi, Stephen Mulliner beat Aaron Westerby 3-0 and reports a few errors on a tricky lawn:
Game 1: Stephen failed a tight 2-back, Aaron croqueted off the boundary when approaching 2-back when seeking to run it at pace and also failed hoop 1 off partner.
Game 2: In the pre-pegged out phase both failed to approach 2-back and Aaron failed 6. There was admittedly some interactivity in the pegged-out phase but Aaron only made one hoop.
Game 3: Stephen I hit in turn 3 and laid; Aaron hit in turn 4 and went to 4-back, Stephen hit in turn 5 and went to 4-back and to peg in turn 7 and out in turn 9 with Aaron missing lifts in turns 6 and 8.
Details can be found on the tournament website www.worldcroquet2008.com/
---